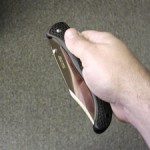 Any folding knife — regardless of whether it has a thumb stud, thumb hole, or other means of one-hand opening — can be opened with one hand by taking advantage of centripetal force. That's a fancy way to say that you can snap your wrist hard and make the blade snap open into place.
It was during my college days that my friend Jay, a self-described redneck from rural Ohio, first taught me to open a lockback folder using the wrist snap. (It was Jay who first taught me to carry a boot knife inside the waistband of my pants rather than in my boot, too.) He was using the plastic-handled version of the Buck 110 (this was before one-handed tactical folders were well known), which required a tremendous amount of force to open with wrist action only. He performed the move without fail, though — and so I learned to do so, too.
When I read Michael Janich's Street Steel: Choosing and Carrying Self-Defense Knives, I was delighted to see the wrist snap illustrated in it. (The book is an excellent one that describes things a lot of "knife people" take for granted.) Reading it prompted me to post a description of the technique here.
To perform the wrist snap, follow these instructions. If you are left-handed, simply mirror the movements here.
PERFORMING THE WRIST SNAP
Step 1: Grasp the folding knife as hard as you can to keep it from flying out of your grip. You must use the pressure of your fingers to retain the knife because you can't take a true grip on it. Your fingers must be clear of the blade so they will not intercept its arc as it opens.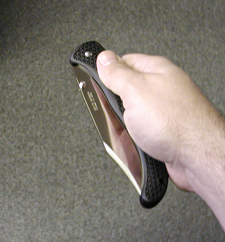 Step 2: Snap your wrist in a tight circular arc counter-clockwise. If you were to stop moving after this step, you'd probably find the blade half-open and pointing at a right angle to your wrist. On some very loose folders, this action alone is enough to snap the blade in place, but don't count on that happening.  It's important that you remember you are rotating your wrist, not trying to snap the knife forward, back, up, or down.  It's the rolling of the wrist (as if you are turning a doorknob) that makes this technique work reliably.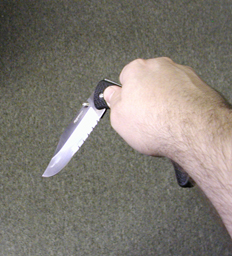 Step 3: Snap your wrist in a tight circular arc clockwise. The blade will open the rest of the way and snap in place. Once this movement is complete, shift your thumb to take a proper grip on the handle.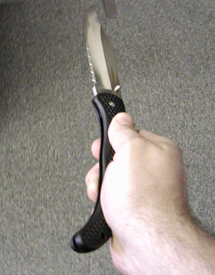 Practice this until you can perform it in a single, smooth motion rather than in two discrete jerks.
The wrist-snap is not subtle and will startle people who fear knives because it can make any knife (particularly those that are very loose when closed) look and sound like a switchblade. Snapping a knife open in this manner also increases wear and tear on the locking mechanism, as parts that lock into place when the knife is simply thumbed open are slammed into each other when it is wrist-snapped open. (This increased wear is usually negligible in a well-made knife.)
LIABILITIES
From a "tactical" perspective, the wrist-snap has other liabilities. Making too wide and open a motion leaves you vulnerable during the snap. Snapping with the arm extended too far from the body leaves you similarly vulnerable during the motion. There is also the chance that, despite exerting all the pressure you can, you could snap your knife right out of your hand, throwing it across the room when you need it most.
CONCLUSIONS
My friend Jay first learned to do the wrist snap because his lockback had no other means of one-hand opening. Working on a campground, he frequently found himself in the field needing to deploy his knife while his other hand and arm were occupied.  The knife industry has since introduced many one-hand opening methods, especially for "tactical" knives.  In most cases, it is not necessary for you to use a wrist snap to deploy a blade.  However, on those rare occasions when you need to open a knife with one hand and there is no other way to do it, the wrist-snap is a useful skill to possess.