CRKT E-Lock
Review by Phil Elmore
The Elishewitz E-Lock by Columbia River Knife and Tool is a precision CNC-machined pocket "gent's folder." It employs a stainless steel rocker-bar that is disengaged using a wide lever in the handle. The blade is a modified Wharncliffe featuring a very, very subtle curve offering ever-so-slight cutting belly. The open frame is mirror-polished, black titanium-nitride-coated 420J2 stainless steel, inset with black polycarbonate scales. Specifications are as follows:
Blade Length: 2.87 inches
Blade Steel: AUS 8
Closed Length: 3.87 inches
Frame: 420J2 with Black Zytel (plastic) Spacer
Pocket Clip: Stainless Steel
Weight: 3.6 ounces
The knife opens smoothly using the attached thumb stud, which is shaped like a graduated ramp. The knife is set up for right-hand, tip-down carry only; the pocket clip is not removable (at least not easily). The blade locks positively with no play. Ergonomics are good; the knife is comfortable in my hands and the textured polycarbonate scales, combined with the contours of the handle, provide decent traction.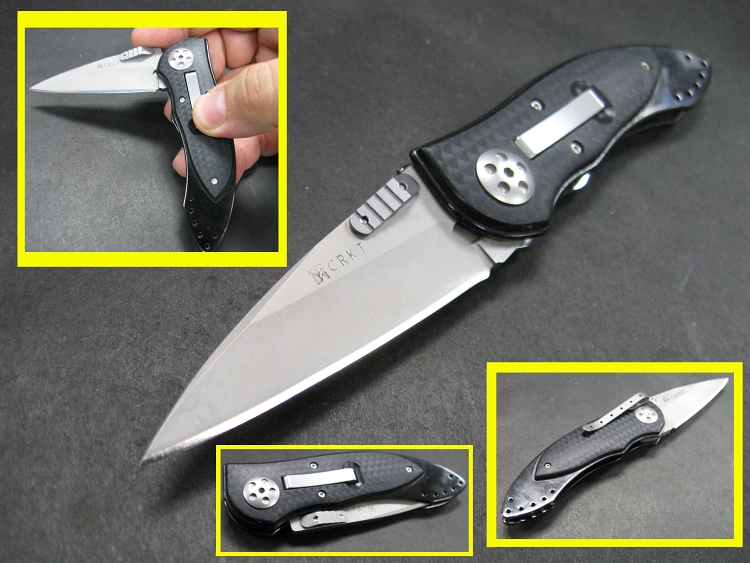 The blade is ground on both sides and shipped with a razor-sharp edge, including a needle tip. It cuts as well as any Wharncliffe I've owned. The subtle curve is so slight that it doesn't really make a any functional difference.
The low-profile pocket clip was just the right tightness from the box, but it's very, very thin. This is an aesthetic choice, for a knife like this, but I really don't prefer a clip that is that skinny.
This is not a "tactical folder." This is a classy little gent's folder with a fair amount of heft in a slightly chunky but attractive package. It cuts decently and would serve well for the mundane daily chores that a pocket knife of this type is designed to perform. >>
<< PhilElmore.com
::
Go Home