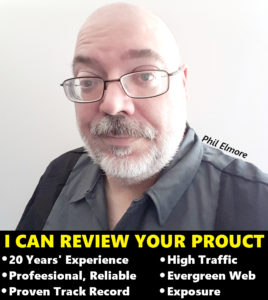 My name is Phil Elmore, and for almost twenty years I've been writing articles online and for major trade magazines and websites about self-defense, survival, firearms, knives, and related subjects. In that time I have reviewed countless products, generated content for dozens of Internet marketers, written and ghost-written instructional materials, textbooks, and marketing lead-generation documents. In short, I am an old hand at product reviews, editorials, informational and instructional material, and think-pieces in these subject areas. I would welcome the opportunity to review your product or service and bring news of it to my extensive readership.
My work has been featured in such publications as WND News, the Midnight Sun News, Tactical Knives Magazine, Personal and Home Defense Magazine, Special Weapons Magazine, Concealed Carry Magazine, Survivor's Edge Magazine, Real World Survivor, Tactical Life Gun Magazine, Personal Defense World, and many others. I am well known among the "tactical community" and my websites receive thousands of unique visitors… all of them pre-selected, through their readership of my work, as a prime demographic for your products. In other words, the folks who read my websites are inclined to buy what you're selling, which makes negligible the expense of submitting products to us for review.
A review at one of my sites is "evergreen" in terms of the marketing value it produces for your business. Every time a prospective customer searches for you or your service, he or she will find our third-party testimonial to the benefits of your product. Our coverage is some of the best press you'll ever get — all of it honest, down-to-Earth, and backed by knowledge and experience in the field.
To submit your product or to conduct an interview with The Martialist, contact me today:
Phil Elmore
300 Hylan Drive #227
Rochester, NY 14623
US +1.315.391.1626