CRKT Side Hawg
Review by Phil Elmore
The Columbia River Knife and Tool Side Hawg is one of those curious little keychain knives that comes along once in a while. It's essentially a small fixed blade with an open "sheath" that is just a plastic guard. Designed to be light and handy, the Side Hawg is an attempt to put the strength and ready utility of a fixed-blade knife in your pocket, where a folder would normally ride.

Blade Length: 1.625 inches (cutting edge)
Blade Steel: 420J2
Overall Length: 4.5 inches
Weight: 2.7 ounces
The blade is obviously of low-grade steel, intended to be as rust-resistant as possible. It takes a good edge and mine was nicely sharp out of the box, but of course it requires relatively frequent resharpening. The blade shape is a modified-drop point that is all belly for slicing. It is ground on only one side because the opposite side is flat to mate with the plastic "blade plate."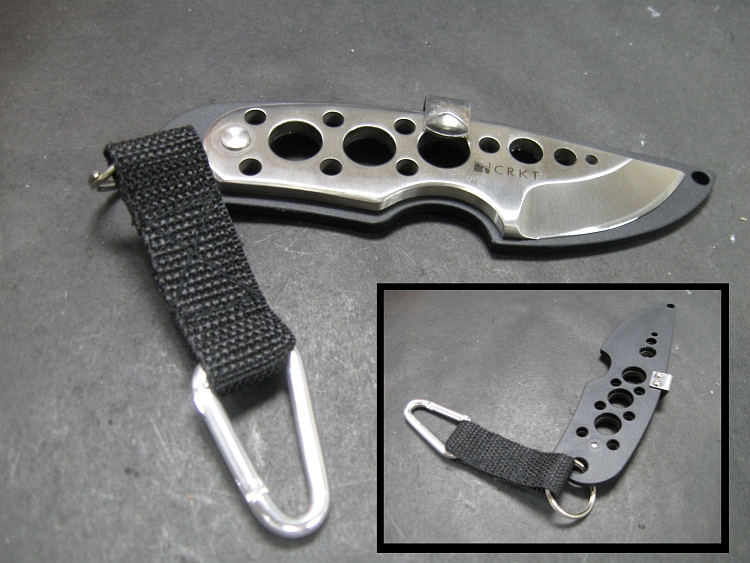 That brings us to the knife's "sheath." It's a shaped piece of plastic with an attached keychain lanyard. The knife fits onto a metal peg at the rear of the cover and then rotates into position under a metal clip. Here it is held securely in place until you slide it down to dislodge it.
I found it was easy to manipulate the knife with one hand, sliding it open and then closed again without ever removing it from the sheath completely. Once you take it off the mounting peg, you'll need to hands to get it properly re-"sheathed."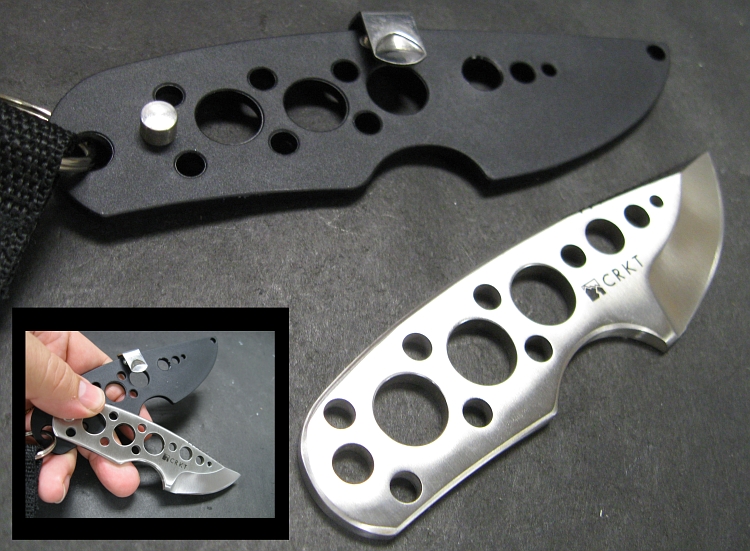 The deep finger choil and the serrations on the blade spine provide a positive grip. I found myself orienting my grip on the knife even when it was in its plastic cover, the shape of which conforms to that choil. This is good, because it helps you orient the knife properly even in the dark.
I hesitate to call this a "novelty blade" because that doesn't do it justice. It's a serious, if a bit unconventional, daily carry utility knife. A fixed blade in this size and weight is a handy package that is worth considering. >>
<< PhilElmore.com
::
Go Home