Recently, The Martialist received an inquiry from Rod Freeman of Talon Tactical, Inc. Located in Surrey, British Columbia, Talon is the labor of one Rod Freeman, a self-described family man who loves knives. "I have been collecting, modifying, and playing with knives for over 35 years," Rod told The Martialist. "While I haven't ever worked formally in the knife industry, I do have some experience with machining and manufacturing. I am also a former nightclub doorman and Canada Customs Officer. Ever since I've been a little kid, I have torture tested, modified, and even built a few usable, functional knives. Almost all of them ended up too ugly to sell or even trade."
Rod is also a martial artist, having trained since he was a kid. Over the past decade, he has focused entirely on Reality Based Self-Defense and scenario-based training. It is because of this training that he believes a self-defense knife must be usable while in an adrenalized state, when one's gross motor skills are one's only reliable method of employing technique. Further, Rod contends that the failure rate for drawing and deploying a folder during simulated assault at full speed and resistance is extremely high — close to 100 percent.
"My training partners and I began experimenting with a variety of small fixed blade knives carried in different ways," he says. "We found that the most reliable knives to successfully access and deploy under stress were firmly fixed to the body in a way that would not change as your body shifted, attached somewhere near or around the waistline, featured a handle that could be quickly indexed using gross motor skills, and incorporated a hole or holes in the handle, which decreased the chance of accidentally dropping the knife."
Rod subsequently modified the carry systems for a number of knives that featured a hole in the handle. He also experimented with cutting or adding material to handles to improve retention and general hand-to-knife ergonomics. Then he began mocking up his own designs from polymer. The result was the Talon Knife company, which features products inspired by the HideAway Knife, the CRKT Bear Claw, the Brous Silent Soldier, and the Benchmade 7 Safety Tool.
The Talon
The Talon sample submitted to The Martialist shipped with a Kydex sheath, a clip assembly (which can be attached to the sheath to keep it in your pocket for a pocket-draw), a breakaway bead chain, two zip-ties (for attaching the sheath to MOLLE straps or wherever else you wish to put it) and several pieces of paracord wrap (designated as extras).  All of these items were contained in a black velvet bag.  Also included was an instruction manual.
My Talon shipped with only a moderately honed edge, but it touched up nicely with a diamond rod. The subtle recurve edge is about 1-3/4 inches long and features a very nice set of thumb grooves that bite well for traction.  The steel is 1.4116 (X45CrMoV15), Rockwell hardened to 59-60.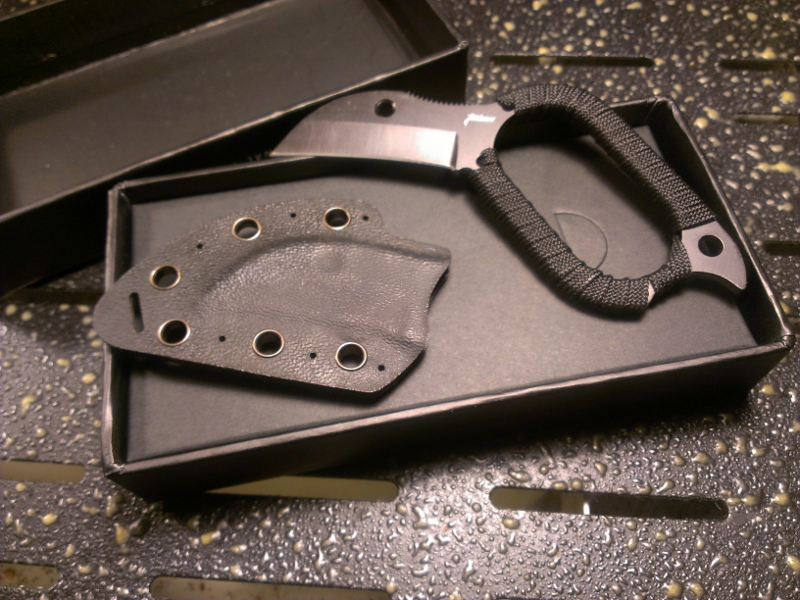 Both the knife and the Kydex sheath — which is absolutely no larger than it needs to be (a nice touch) seem to be well executed, with good attention to fit and finish. The Talon seats positively in the sheath with a little bit of wobble (not enough to rattle) and draws easily into a two-finger grip.  The size shipped to me was the largest of the 5 offered by Talon; it barely fits my sausage-sized index and middle fingers.  The elongated tail braces against the underside of my ring finger and helps stabilize the knife in the hand.
The size of the Talon means you barely know it's there.  It handles quickly and can do serious damage to an adversary in very little time, becoming an extension of the hand while leaving you the use of most of your fingers. The thoughtful extras provided with the knife also make it easy to adapt it to a variety of carry platforms.  That's the name of the game when it comes to a self-defense blade like this.
Controversies and Challenges
Talon knives are made in China by the same factory that produces a line of knives for a major American sporting knife manufacturer. The product line consists of 5 different handle sizes to accommodate most users' finger measurements. Knives are retailed through the company website right now, but Rod is currently exploring relationships with a number of online and brick-and-mortar retailers.
The appearance of the Talon immediately drew comparisons to other knives on the market, some of them quite unfavorable. Most notably, the Talon has been called a "rip-off" of the HideAway design — a design of which Rod says he was aware when the Talon was created.
"In our opinion, HideAway makes excellent knives," Rod says. "Their high-end models feature custom workmanship and proprietary steel choices. I would encourage anyone who is interested in a truly custom made, two-finger EDC knife to check them out. I personally own a number of Hideaway knives and enjoy carrying and using them."
Rod believes the Talon differs significantly, however, in several ways. The handle design extends to include the ring finger and reduce torsion during cutting, he explains, while the Talon incorporates a different, more aggressive thumb position (and jimping). The blade-to-hand geometry is also different, he says, and he believes the Talon's sheath is of a superior design.
"Anyone who frequents the many knife forums is familiar with the fact that knives that are extremely similar in design are preferred by different users — sometimes to the point of fanaticism," Rod says. "Pick up a Talon and it feels different in the hand than the Hideaway. When it boils right down to it, isn't that the reason why most of us choose one particular knife over another?"
William Ericson of HideAway Knife disagrees. "I hate it when someone rips off my designs and produces them in China to sell here in the USA," he says. "Some of my customers do not realize they are buying a ripoff of my designs. [Talon] sells 5 sizes — eliminating inventory cost — but not achieving perfect fit for all, so the odd fingers lose."
The problem goes beyond similar blades like the Talon and extends to outright counterfeits, William explains. "On some sites, even my FS trademark is copied exactly. I understand capitalism — so I will offer a 5-sized identical model to any ripoff at half the prevailing rip-off cost."
Ericson even threatens to undercut his competitors. "My customers advise me not to produce a competing model to a rip-off in China," he says, "but I think that might be required to drive the profit levels to the point where there is no profit for these folks."
Rod Freeman sees the label "rip-off" differently. "It is an accusation that is thrown around liberally in virtually every aspect of manufacturing today," he says. "The first maker to incorporate a single finger hole in the handle of a small fixed blade knife was, to the best of my knowledge, Fred Perrin. Subsequently, a large number of makers and manufacturers have produced small, minimalist knife designs that incorporate a single finger hole in the handle… It isn't until you pick each of them up and put them in your hand that you realize their distinct differences."
The Future
While there aren't currently many knives like the HideAway or the Talon incorporating a double finger hole design, Rod asserts, there will almost certainly be more in the future. He contends that with fixed blades — one of the first tools produced in human history – form follows function. "We hope that other makers and manufacturers continue to build on our existing knife designs," he says, "to continually improve on what is available in the marketplace."
As for the future of Talon, Rod says he will continue to make unique, affordable, and high-quality EDC knives for the general public. Some of his plans include a "Lady Talon" model designed specifically for female customers, and (possibly) a replaceable utility-blade version of the Talon. "We are continually experimenting with alternative knife designs based on user feedback," he says.