It's not every day that you get a new "favorite" knife. Mine is the Dirk Pinkerton Claw XLRT, a knife its maker has recently reformatted. It is finger-ring hawkbill fighter with a minimal handle and a n0-nonsense, low-profile Kydex sheath. For what it is, it is as close to ideal in a personal slash-and-thrust belt companion as you're likely to find.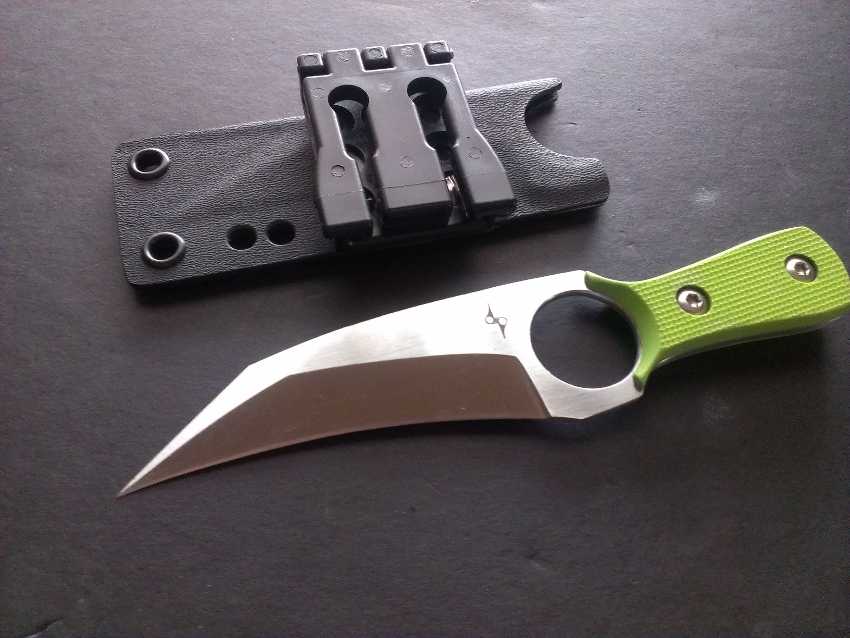 "I'm exploring a couple of ideas," writes Pinkerton. "With the earlier Claw XLRT, I only made them from .25-inch stock. …It wasn't the plan; it was just what everyone ordered. The Claw [sent to The Martialist] is .125-inch thick. At half the thickness of the others, this should prove to be a very wicked slicer."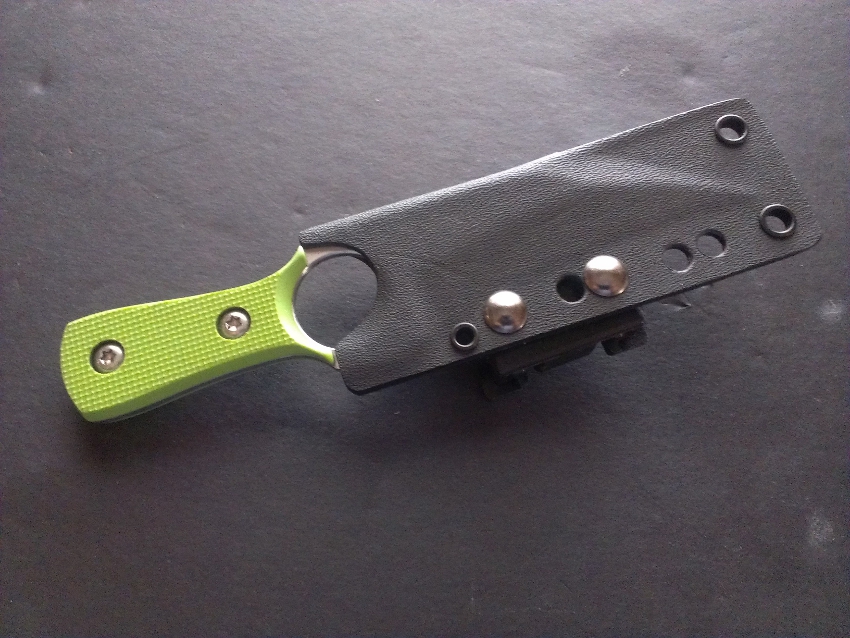 It is a very wicket slicer indeed. Your index finger naturally finds the molded contour of the knife's finger hole. The "toxic green" G10 handle scales — probably my preferred handle material because of the great traction the G10 affords — disappear in my palm, perfectly fitting the hollow of my palm and locking the knife in place.  Once there, it's as if I've grown a D2 tool steel claw of my own. The knife moves fast, slices deep, and penetrates well, although its needle tip is meant for the soft parts of an attacker and not for harder resistance.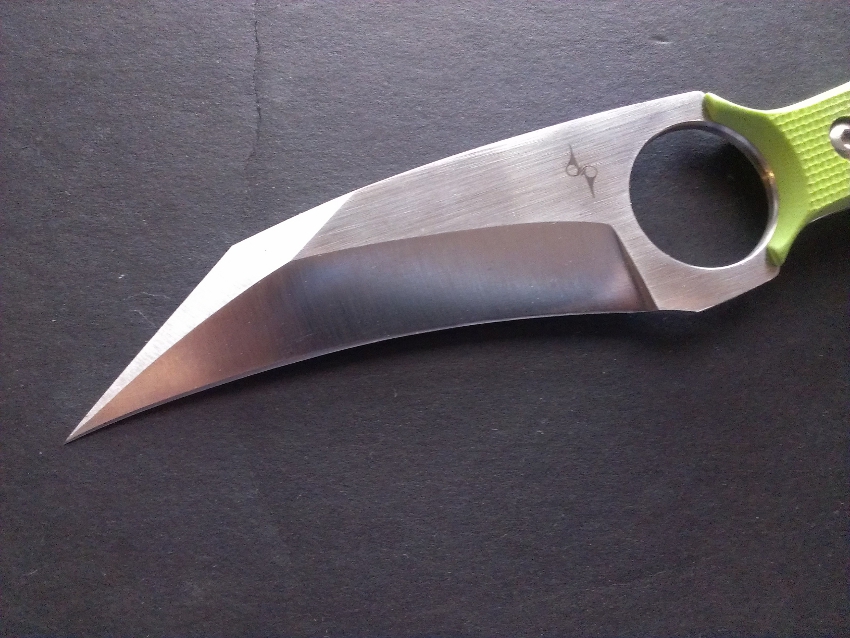 "Because of the thinner stock and the way it is ground," Pinkerton explains, "the tip is thin. It is not meant for heavy impact."
Interestingly, one of the first things I told myself I wanted was thumb grooves on the spine.  Pinkerton was, at the time of the knife's manufacture, debating this himself. "While I find [jimping] essential for some knives," he writes, "I am unsure for this knife. I have had mixed input from customers on this."  While I think I would prefer the grooves if they were an option, I find that in practice I don't miss them while wielding the Claw XLRT. This is due to the excellent way the knife fits my hand. It's hard to find such a great match-up wanting, grooves or no.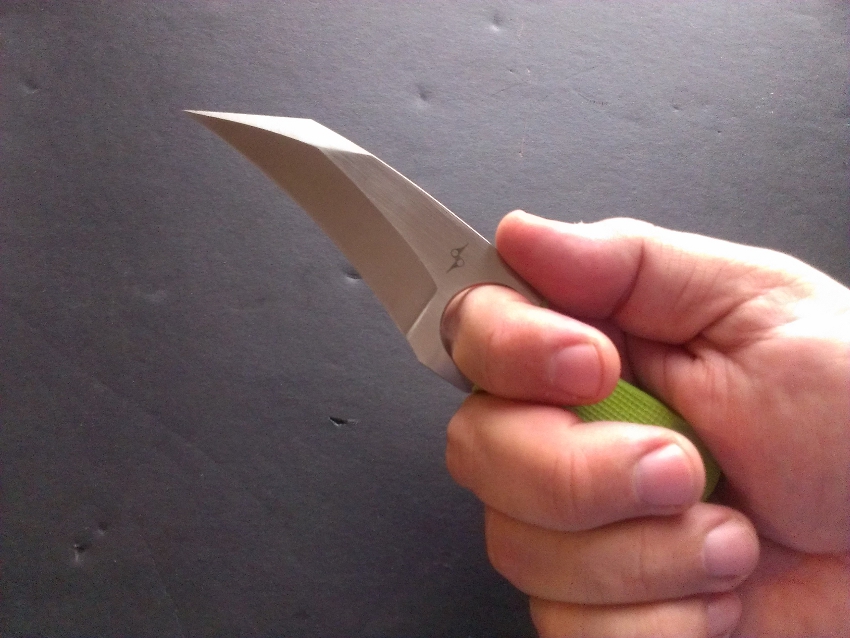 The Kydex sheath secures the knife positively and is admirably slim. Holes cut in the sheath are spaced at one inch to allow the use of a Tek-Lok or other belt device.  (I supplied the Tek-Lok shown; one is not provided with the knife.) Fit and finish of the knife itself are also excellent.  Dirk Pinkerton is a man who knows his craft — and I've found him to be quite personable, too.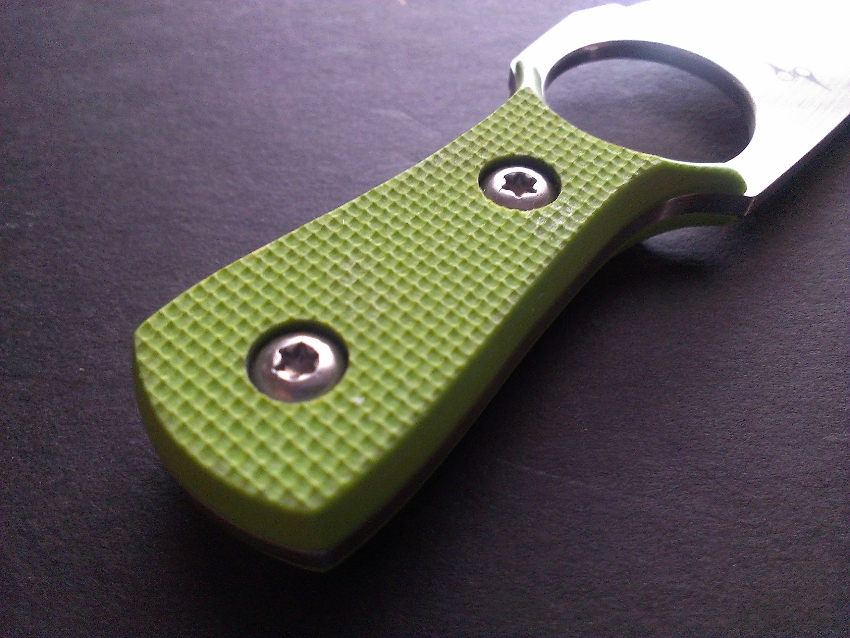 The Claw XLRT is a superb knife. It's no larger than it needs to be, nor does it try to be all things to all people. It's a simple, well-executed slashing and thrusting tool, which can be carried comfortably and concealed easily. That's all I could ask for in a personal defensive fixed blade. I imagine this one would serve you well, too.