Using his empty Colt like a truncheon, he smashed down hard on the head of the nearest of the smugglers, then wheeled around. A turban-clad man with a long-bladed knife charged toward him. Rourke sidestepped. He dropped the Python back into its holster – no time to reload. As the Pakistani smuggler charged toward him again, Rourke edged back and grabbed his A.G. Russell Sting 1A boot knife.
The smuggler slowed, then dove forward. Rourke sidestepped the knife and whipped down with his small, double-edged blade against the right side of the man's neck, slicing open an artery. Wheeling again, Rourke drew his right arm up, deflecting a blow from another nearby smuggler. He lost his blade and now, tucked into a crouch, his left fist smashed up, into the Pakistani's stomach, while his right hand knifed forward, palm upward, fingers extended. The blow connected with his attacker's throat and crushed the windpipe…
---
So begins Total War, the first book in The Survivalist — itself the series for which the late author, Jerry Ahern, is best known. As a young man, I discovered the series long after it was out of print, but Jerry Ahern and his wife Sharon quickly became my favorite authors. I made trip after trip to used book stores, tracking down the issues of The Survivalist that I did not have. When I was done, I went after the other books Jerry and Sharon wrote together, including the Track series, the Indiana Jones-inspired Takers series, the dystopian gun-control fiction The Defender (a series) and The Freeman (a standalone), and even the fantasy-meets-firearms tale The Golden Shield of IBF.  Somewhere in all that I found time to write Jerry Ahern a fan letter, and received a letter in response not long afterward.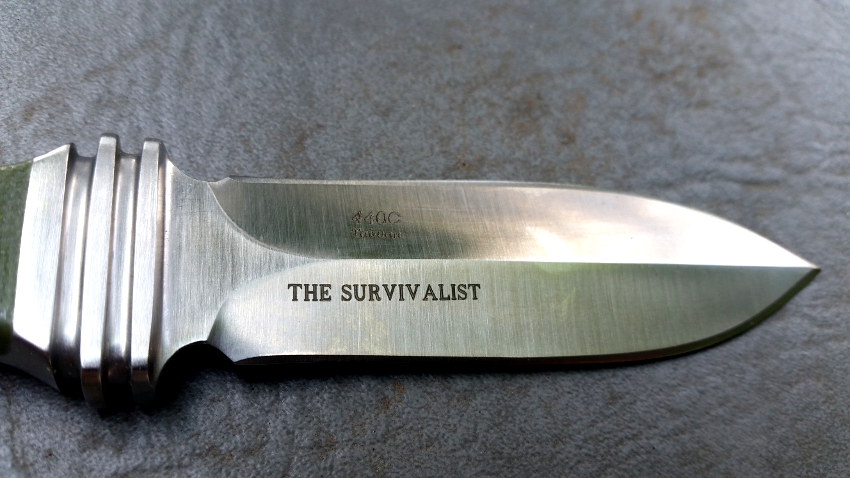 Inescapable during the years Jerry Ahern and I corresponded was his magazine work, in which he wrote for various gun magazines and publications. Excepting those pieces Jerry wrote, I probably learned more practical knowledge about firearms and other weapons from Jerry and Sharon's novels, in my younger days, than I did from the gun magazines to which I subscribed. Mr. Ahern was a man who knew his weapons, and this knowledge found its way into his writing with regularity. Jerry Ahern's books were, in fact, among some of the first fiction in which I saw characters acknowledge the practical realities of using a blade against another human being — such as contamination of the blade with blood-borne diseases, and whether one should resheath such a knife before disinfecting it.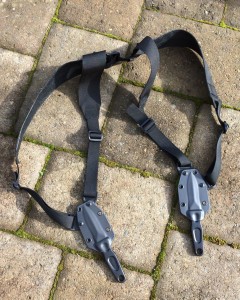 The Survivalist's main character, John Thomas Rourke, was known for his dual shoulder holster rig, in which he carried a pair of .45 caliber Detonics pistols. He also carried, as his constant companion, an A.G. Russell Sting1A dagger. From the first days that I read about that knife, I wanted one, and when Columbia River Knife and Tool began offering an affordable factory version of the knife, I bought several. I'm not ashamed to say that the dual Sting shoulder holster rig I commissioned from Bob Humelbaugh was itself inspired by John Thomas Rourke.
It is therefore with an emotion close to glee that I am privileged to review A.G. Russell's latest version of the Sting, an officially licensed version that commemorates the Aherns' Survivalist series and which bears John Thomas Rourke's brand.
"For as long as I knew him, which was over fifty years," writes Sharon Ahern, "Jerry loved flashlights and gadgets and handguns and knives.  Having columns such as Terrain & Situation in Soldier of Fortune magazine, Field Issue in Gun World and Under the Gun in Dillon Blue Press as well as a column in Gun Week, where he could write about 'stuff,' was a perfect excuse to maintain his gadget hound way of life.  Jerry got to play with new products, ask the manufacturer or distributor questions concerning them, test the product and tell others about the results."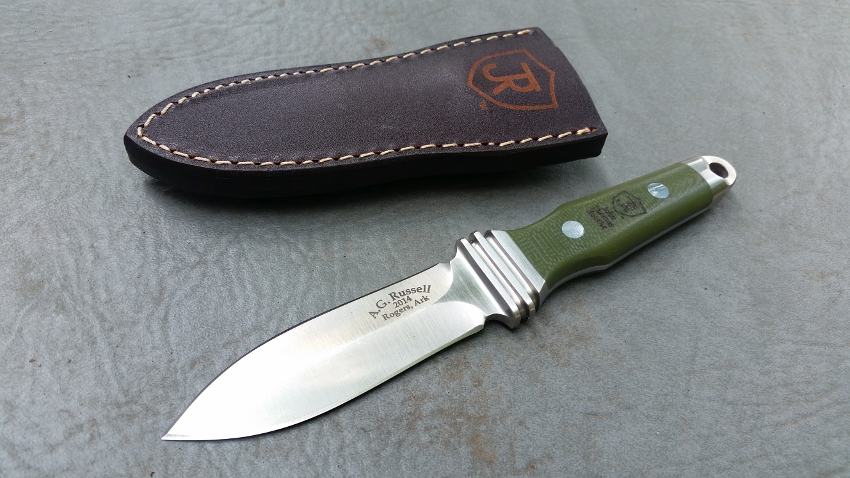 Sharon goes on to explain that the original Sting 1A was designed by A. G. Russell in 1976 and was fitted with wooden handle slabs.  The knife was a double-edged dagger with an overall length of 6.5 inches, designed to be concealable and fit well in the palm of the hand. When A.G. Russell later introduced a skeletonized version of the same knife, Jerry fell in love with it, looking at it as both a working knife and a last-ditch defensive weapon.
"About this time, the seed for The Survivalist was growing in Jerry's brain," Sharon says. "The late 70s proved to be an unsettled time between the United States and Communist Russia.  Our [then] liberal government under Jimmy Carter didn't seem to have the strength or conviction to fight off the wave of Communist takeovers happening around the globe… [M]any Americans were worried and afraid that if trouble came to our shores, it would be too late to respond.  A new lifestyle was becoming popular here, one that promoted self-reliance and planning for the worst but still hoping it didn't happen."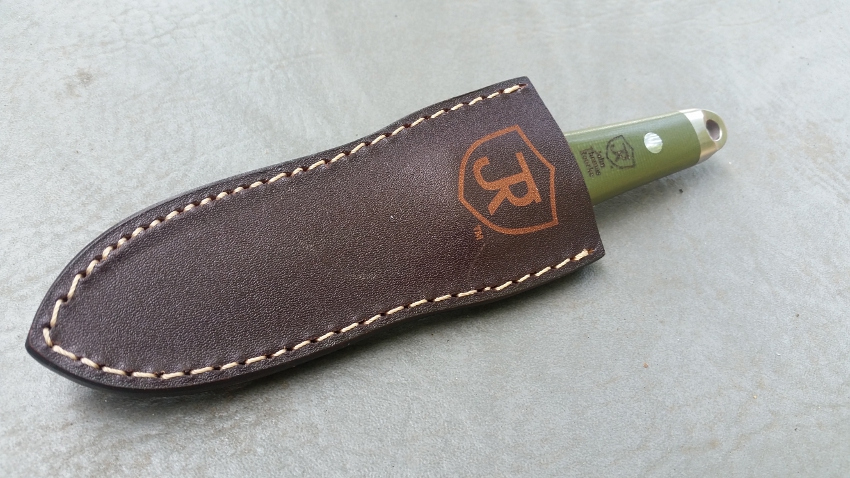 The Survivalist series was a fictional account of that feared disaster made real, one that saw John Thomas Rourke first fighting to rejoin his family, then facing a variety of post-apocalyptic foes. Through it all, his Sting 1A remained his constant companion. Sharon says that over the years, many readers have written to say they've purchased various guns, knives, or other gadgets because Jerry covered them in his columns. "Quite a few readers purchased a Sting based on the Survivalist books and were impressed with its looks, durability, and sharp double edge," she goes on. "Many still own their original and came back for more.  John Thomas Rourke's family has been fighting the bad guys for thirty-four years now — and his Sting 1A remains at his side, just like Jerry would have wanted it."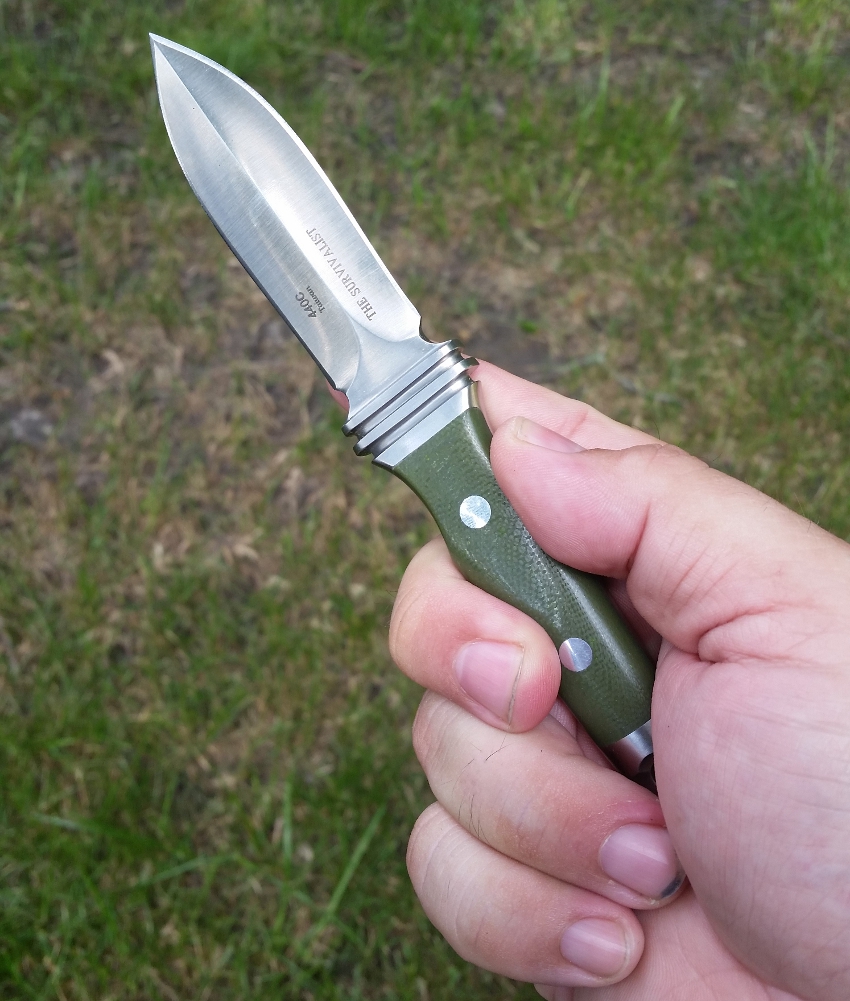 Fans of the series may not realize that Sharon and author Bob Anderson are now producing new episodes of the series, not to mention a tie-in series told from the perspective of John Thomas Rourke's faithful sidekick, Paul Rubenstein. Released to coincide with the 34th anniversary of The Survivalist and with the release of the series 33rd book, Deep Star, the John Thomas Rourke version of the A.G. Russell Sting (produced in coordination with Bob Anderson's Lancer Limited LLC, a company named for a fictional weapons firm in The Survivalist) is drop-forged from German 440C steel. The double-edged, hollow-ground blade is 3.5 inches long, while the knife measures 7.125 inches overall.  Bearing both the JTR  and A.G. Russell brands, the knife weighs just 3.9 ounces and ships with a classically styled leather sheath with a spring steel boot/belt clip.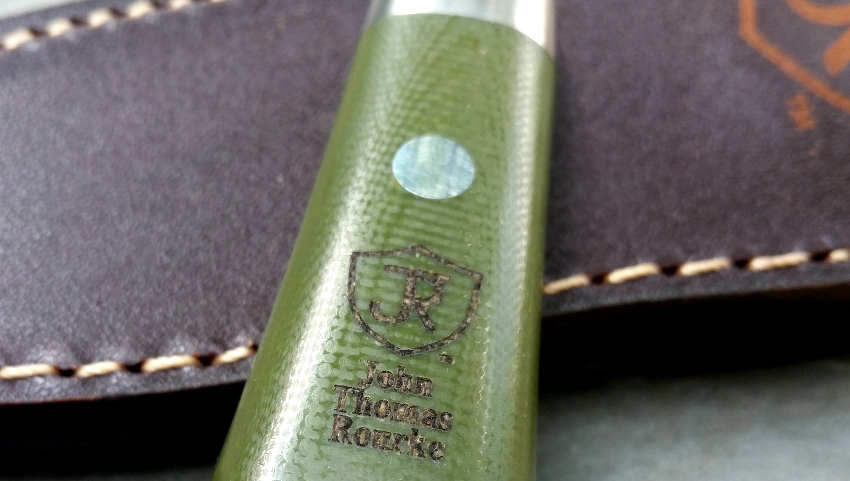 Handles are green micarta. Rockwell hardness of the knife is between 57 and 59. It is not suitable for throwing, therefore, but will make a good working knife and self-defense tool. As A.G. Russell points out, when one side gets dull, you can just turn it over, which makes it potentially useful as a hunting knife.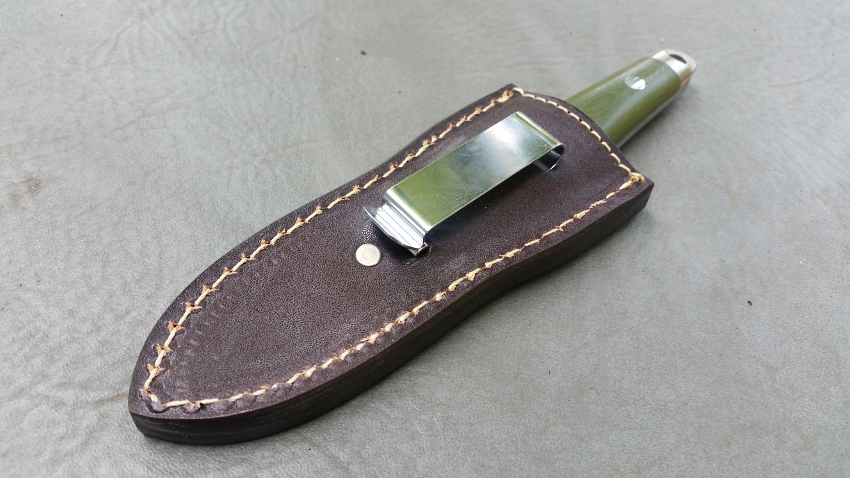 Various versions of the Sting, through the years, bear subtle differences, so as not to affect the collector value of earlier editions. This version of the Sting, therefore, is instantly distinguishable from either the blade that inspired it and the CRKT factory version. (At one time, at least very briefly, Choate even produced what was evidently an unlicensed version with a coated handle, examples of which turn up on the secondhand market from time to time.)
This is a handy, attractive little knife. I have large hands, so the handle is slightly short for my grip, but the handle nonetheless fits into the palm of my hand and can be braced there easily. (For this reason I am grateful that the pommel, which has a lanyard hole, is rounded rather than pointed.) The grooves that form a subtle integral guard, of sorts, also provide purchase for the thumb and thus greater control. The contours of the handle naturally draw the thumb and forefinger, and while the micarta handle is quite smooth, it does not feel inordinately slippery. Overall the little knife is very comfortable, very classy, and extremely agile in the hand.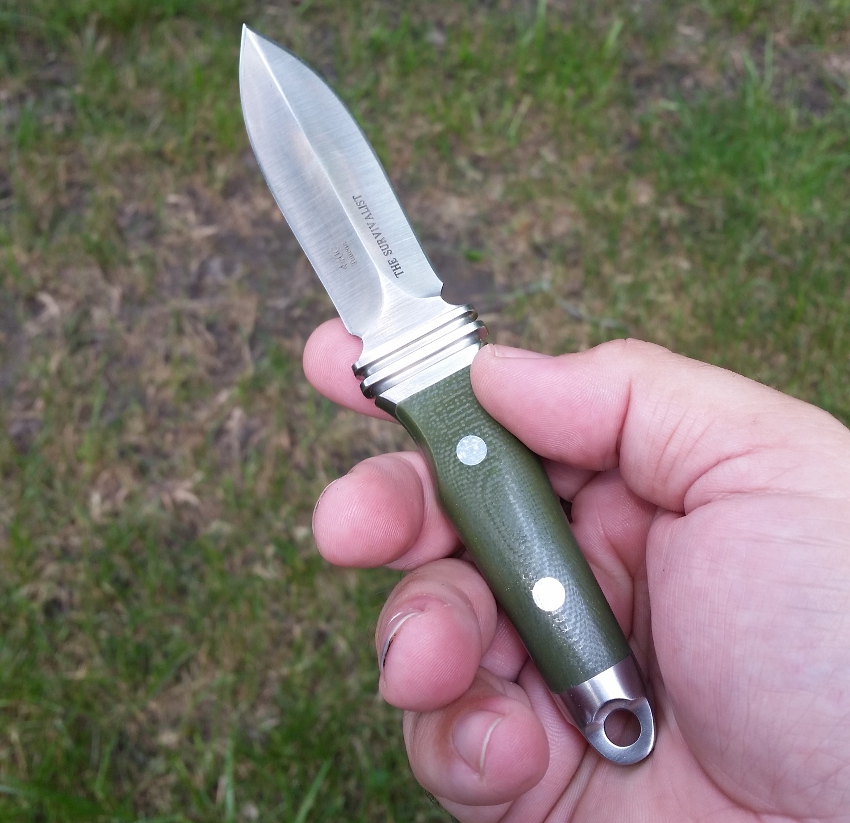 Fit and finish are good, while the knife's leather sheath is a welcome departure from the glut of MOLLE compatible tactical super-sheaths now on the market. This is a boot knife the way boot knives were done in the 1970s, from that perspective. The leather sheath has no retention strap, either. It is long enough that it envelops a portion of the handle as well as the blade, preventing the knife from leaving the sheath accidentally while still leaving enough handle to give your fingers purchase for the draw. As the leather ages and wears, it will take on a unique character that most users find quite beautiful.
The knife shipped from Taiwan with a nicely sharp factory edge. Given how small and light it happens to be, it moves quickly and penetrates deeply. There is enough "belly" to the cutting edges that it is an able slicer that can see double-duty as both defensive and utility piece. I used my Sting for a variety of mundane cutting chores around my brother's farm before stabbing some stacked cardboard test blocks to make sure I could bury it to the hilt every time. The impact in my palm of the rounded pommel was noticeable when meeting heavy resistance, but not painful.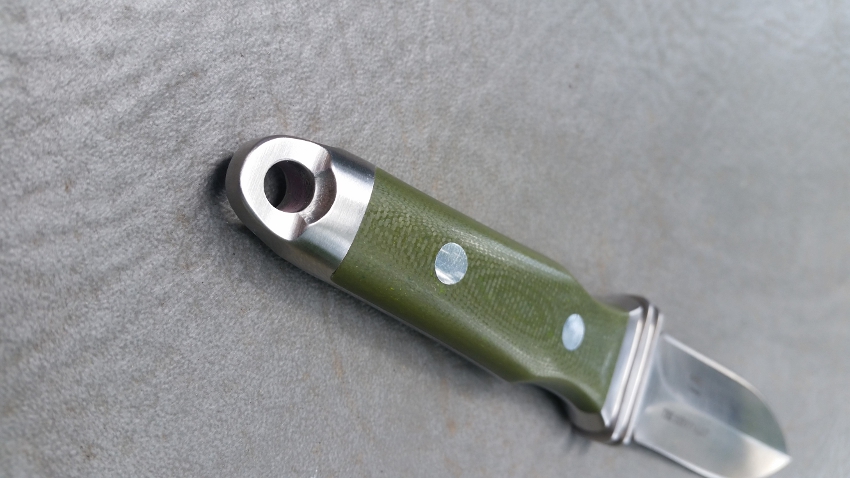 As a fan of The Survivalist, it would be difficult for me not to like this knife. Nonetheless, I appreciate it, not just for its legacy and its licensing, but on its merits. This is a classy looking, concealable, useful little blade that is almost a "gent's dagger" before it is anything else. Both fans of the Aherns' work, as well as fans of small double-edged knives, would be well served to purchase A.G. Russell's latest example of this well-traveled design.
For more information on The Survivalist and its tie-in series, as well as licensed merchandise, visit www.LancerOnline.net and www.JerryAhern.com.