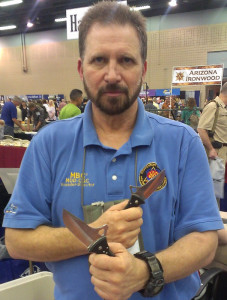 Over the years, The Martialist has had the pleasure of profiling multiple knives conceived by martial arts and self-defense instructor Bram Frank. Bram was among the first advertisers at the earliest version of The Martialist. He was also personally supportive of our efforts here, encouraging us to build an online magazine that has remained a driving force in the online "tactical" community since 2003. It is therefore with a mixture of pleasure and nostalgia that we profile the latest incarnation of the knife that has come to define Bram and his self-defense system: The LLC Gunting Bowie.
Other versions of Bram's knife have been made by companies like Spyderco and Cherusker Messer over the years. The Standard and Magnum sized Gunting Bowies seen here were manufactured overseas in a small factory that Bram says is dedicated to producing his products. He takes a very practical view towards the use of weapons in self-defense, and his training programs reflect this.
"Human beings are tool users," he says. "Given a choice of 'tool' or 'no tool' we will invariably choose to use a tool. Since tools exist to make work easier and to allow us to function at peak efficiency… we willingly seek out tools to accomplish even the simplest tasks."
The founder of Common Sense Self-Defense/Street Combat, Bram Frank has spent nearly fifty years training in the martial arts. He holds an 8th dan Modern Arnis. Given this, there's no doubt that Filipino martial styles and systems heavily influence his methodology, right to the name of the "Gunting" self-defense knives and tools he first designed years ago. (A gunting, in Filipino martial arts, is a "scissors" maneuver). Over the course of his career he has done a variety of self-defense instructional videos, through companies like Paladin Press and Video Quest, and has been featured in publications ranging from SWAT, Guns and Ammo, Police Journal, Tae Kwon Do & Korean Combative Arts, Filipino Martial Arts, and Tactical Knives.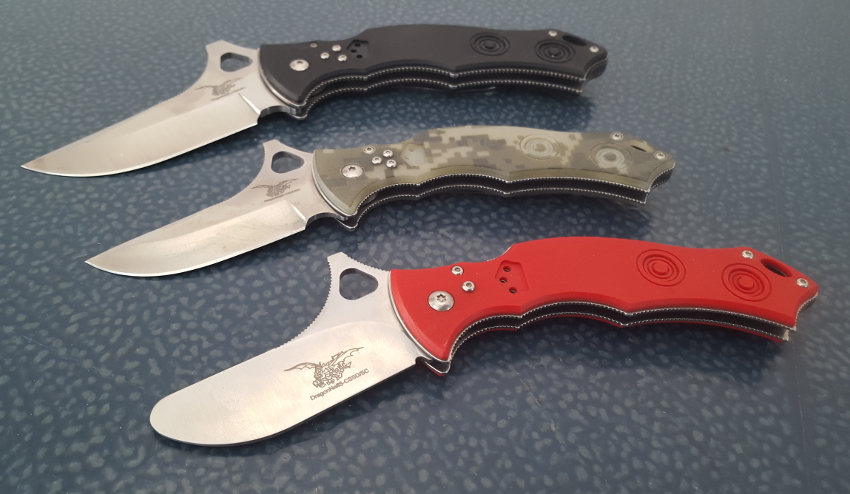 Don't let the perspective of some of these photos fool you: the LLC Gunting Bowie comes in two sizes, Standard and Magnum. The pronounced ramp, or "Bramp," has two uses: It can be used to open the knife kinetically on an opponent's body (but NEVER on your own limbs, as you could be cut) or, when closed, it can be used to deploy the tool like a tiny hammer or hatchet. In hatchet mode the Gunting delivers painful, even debilitating strikes and could even be used to facilitate pressure point strikes and joint locks. The butt of the knives is also designed for blunt strikes.
The knives feature multiple indexing points, including the spoon-shaped divot in the pocket clip. The "post in the hole" indexing circles are intended to facilitate grip changes, in fact. There is also a triangular hole in the Bramp for more conventional one-hand opening. The pocket clip is reversible for right- or left-hand use, oriented for tip-down carry only. The handle shape is marketed as "bio mechanical" for ergonomics and retention under stress, allowing a locked three-finger grip similar to what you might use on a firearm.
The Magnum-sized LLC Gunting Bowie is six inches closed, with a four-inch blade. The Standard-sized knife is 5-1/5 inches long overall with a three-inch blade. Blade steel is 8Cr13M0V steel, the Chinese equivalent to AUS-8, hardened to HRC 56-58.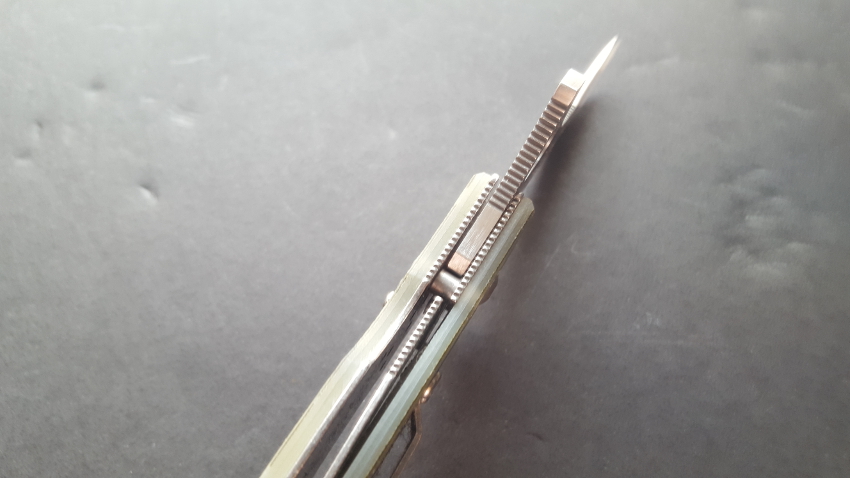 Handle scales are G10, which provide excellent traction. Fit and finish is good, with a little bit of lateral blade play (a number 10 Torx put a stop to that) and no vertical blade play to speak of. There is plentiful jimping for retention (it is everywhere, in fact).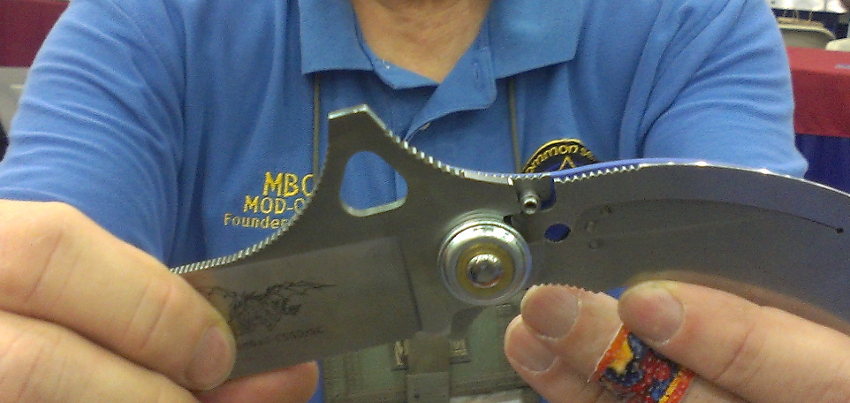 The liners are hardened steel, while the dual-access pivot pin is polished. The "compound puzzle lock" is a dovetail joint-into-blade arrangement similar to the "compression lock" found on some other knives. (The lock is actually an improvement on the compression lock, as it features a stop pin for, as Bram puts it, "Mr. Murphy." It looks like nothing so much as a liner lock in the dorsal, rather than the ventral side of the handle. Lock-up was positive, although (and this my personal failing, not a criticism of the design) I have never been completely comfortable disengaging one of these with just one hand. I have plenty of FMA-derived martial arts training, but I have never taken one of Bram's classes, so I can't speak to his methods specifically.
The blades of the knives were nicely sharp out of the box and offer plenty of curved "belly" for cutting and slicing. Thanks to the blade geometry, they also penetrate quite well; I murdered several stacks of cardboard in testing these. The standard Gunting is substantial enough, but the Magnum-sized knife is an absolute beast. It has a very reassuring heft, with a thick blade that snaps open with authority. The Magnum quickly became my favorite and I could see carrying it daily for self-defense purposes. All of these knives lock securely into the hand, but the Magnum was most comfortable in my bear paws (I wear size XL gloves).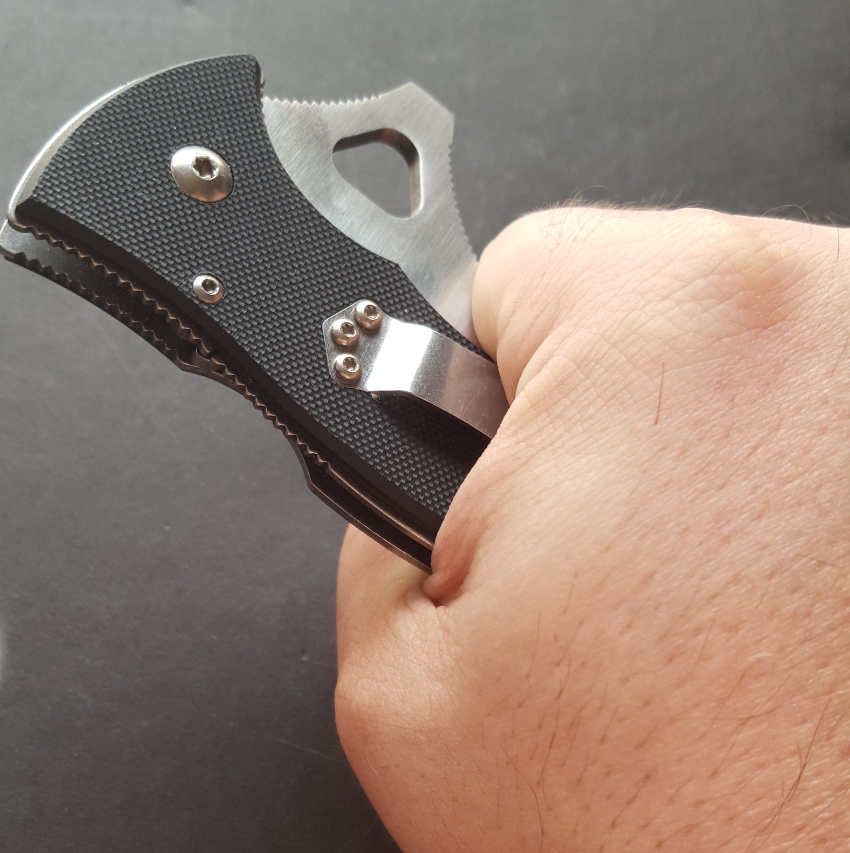 Matching unsharpened drones for training, with red handles, are also available (the standard-sized drone is shown here). Bram also offers Standard and Magnum sized CRMIPT2 tools, an impact device marketed to law enforcement. This is the Close Range Medium Impact Tool, the latest incarnation of a device that, like his knives, Bram has been showing people to use for years. The CRMIPT2 is, in fact, already SOP with the Hialeah, Florida police department under Chief Mark Overton.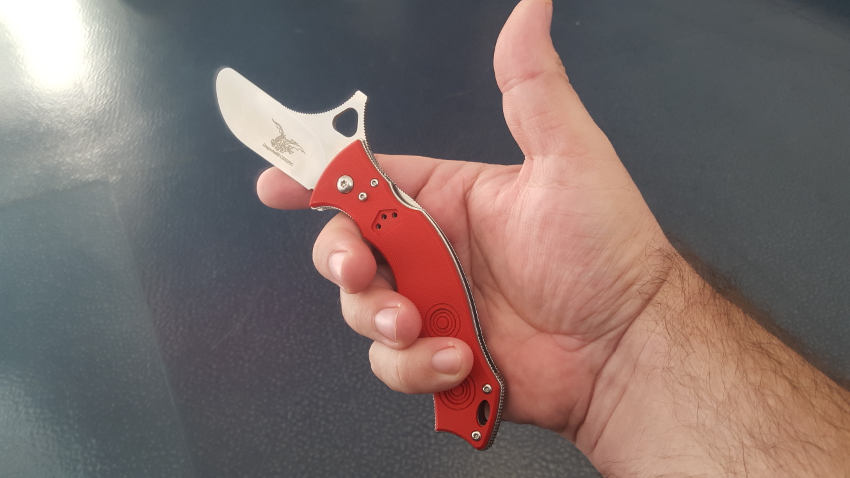 Color-coding is important to Bram. His training drones always have red handles, while the CRMIPT2 always have blue (for law enforcement). The LLC Bowies are available with black, desert tan, red-and-white checked, or digital camouflage pattern handles. New blade shapes, and matching fixed blades, are forthcoming from Bram's company.
"The fixed blades are identical in size to the folders," Bram explains. "They just don't fold. The new holsters [for them] will accommodate all five standard blade size knives (the same with the Magnum size) regardless of blade shape, and will accommodate all the folders in an open and locked position. I'm trying to make a modular family of knives, regardless of whether they are fixed or folding."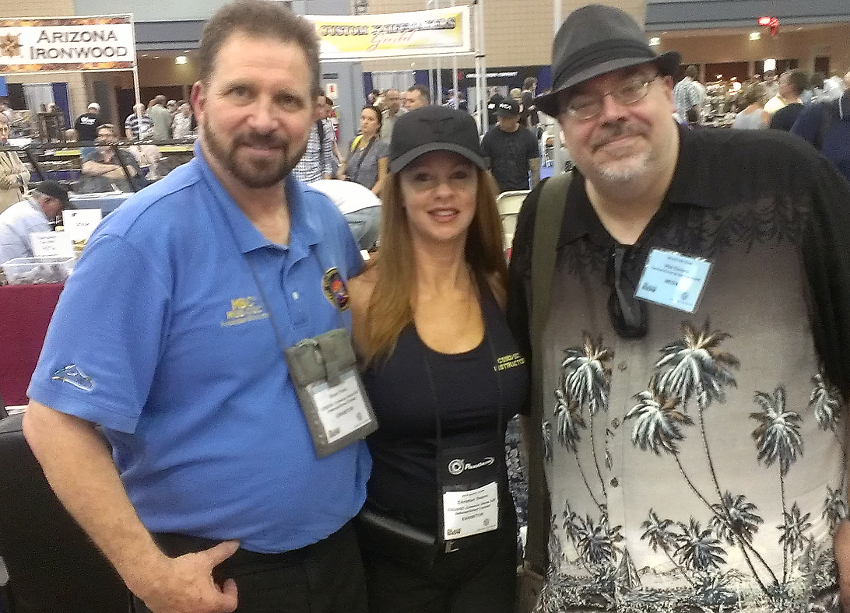 I've come to take Bram Frank for granted on the tactical-knife-and-self-defense scene. With any luck, he and his Gunting and CRMIPT2 tools will be around for a long time to come. These are excellent self-defense knives for general use. You'd benefit from training with Bram if you choose to carry one of them, but the knives, in and of themselves, are worthy of consideration as the versatile self-defense tools they are.