Ashida Kim — who in his own words and through associates has accused others of plagiarizing his work over the years — recently reiterated some of these claims of perfidy in a new self-published book, Last Ninja Standing.  You can imagine our surprise here at The Martialist when we learned that the cover and the title of the book appear to directly imitate Barron Shepherd's Koga Ryu Ninjutsu Blog.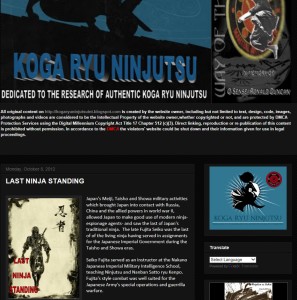 Specifically, in October 2012, a posting at the blog about Seiko Fujita includes an image titled "Last Ninja Standing" that depicts a determined looking figure walking toward the viewer.  This image was used with permission on the blog (and Barron does not assert ownership of it).
The image, right down to the outline around the picture and the ideograms in the upper right corner, appears to have been imitated and reproduced by a less skilled artist as the cover of Ashida Kim's Last Ninja Standing, first published in June of 2013.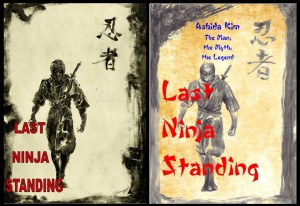 The image from Shepherd's blog is on the left, while the cover of Ashida Kim's book is on the right.