They call him Johnny Mayhem.  He's a sideshow performer who does everything from sword-swallowing to straight jacket escapes (on stilts). He's been known to jump on broken glass and smash heavy objects on his junk while lying on a bed of swords. He also breathes fire. The name of his performing group, Mayhem, Inc., could not be more accurate.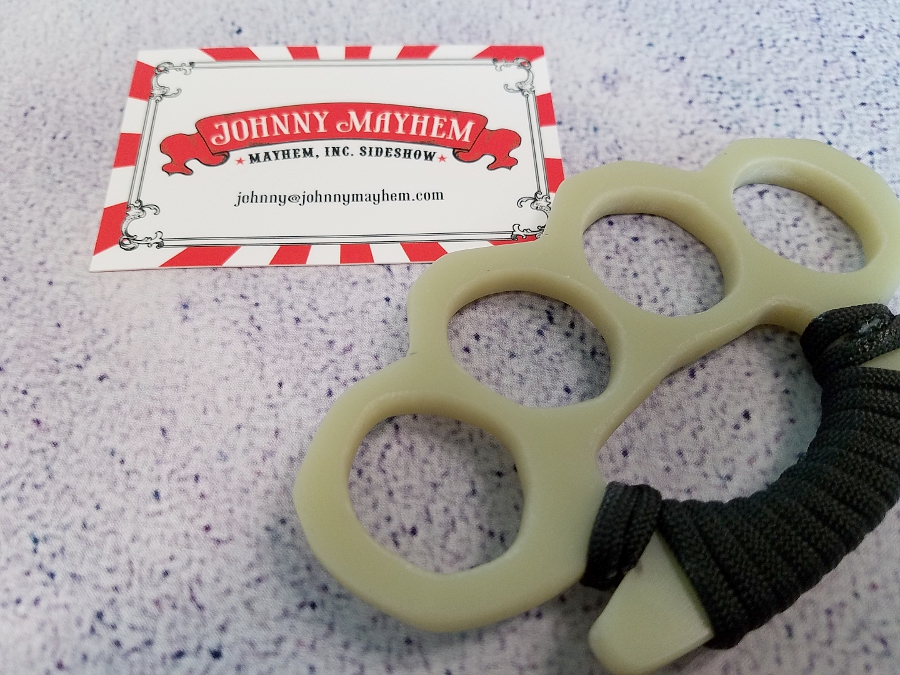 He's also a talented machinist who likes to make "brass" knuckles.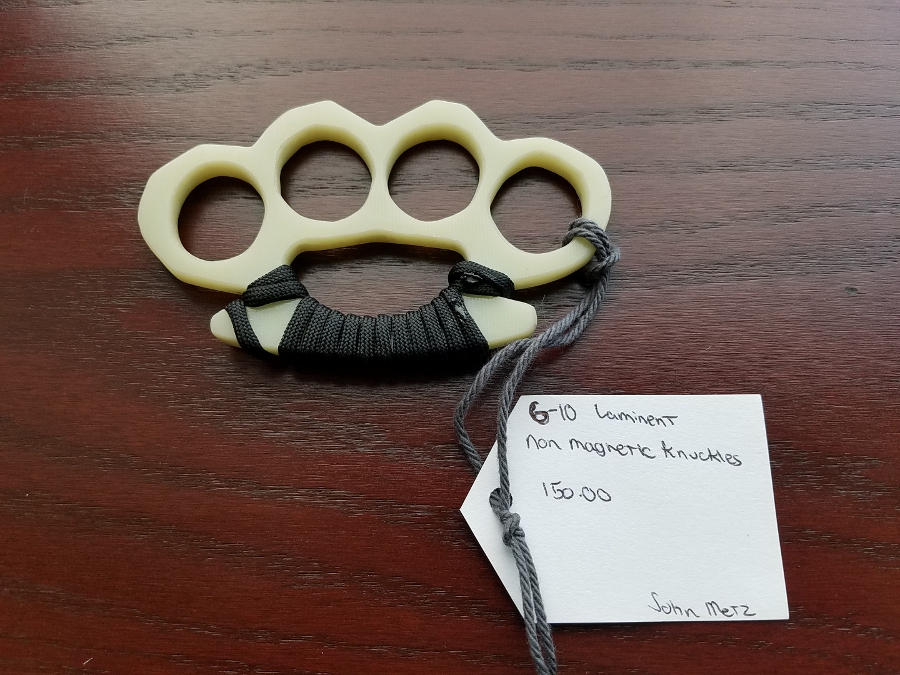 Specifically, Johnny makes and sells a variety of self-defense tools. Recently I had occasion to take a road trip with my photo mat to a locale where brass knuckles and other implements of mayhem are legal. There I evaluated Johnny Mayhem's impressive product line, which you can arrange to purchase through his Facebook Page.
The first item I looked at was this neat little kiridashi that Johnny doesn't actually produce for sale; it was a one-off. The metal knife s really slick, but what I want to highlight here is the Kydex work. I make Kydex myself through my own Engines of Mayhem page (no relation) and I was very impressed with the workmanship in Johnny's sheath. He appears to use a thinner grade of Kydex than I typically use, resulting in a sheath with incredibly good definition — so much so that seeing his stuff has caused me to consider trying out that slightly thinner thermoplastic.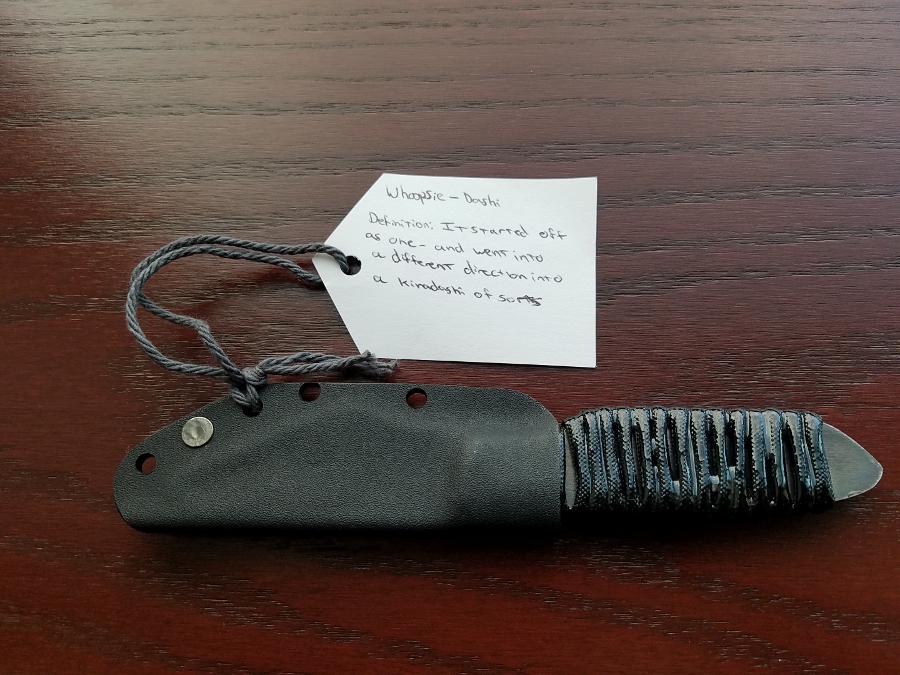 The rest of Johnny's work is nonmetallic, at least among the items I reviewed. There are some real gems among the products Johnny produces. Among them are these sweet G10 and paracord knuckles…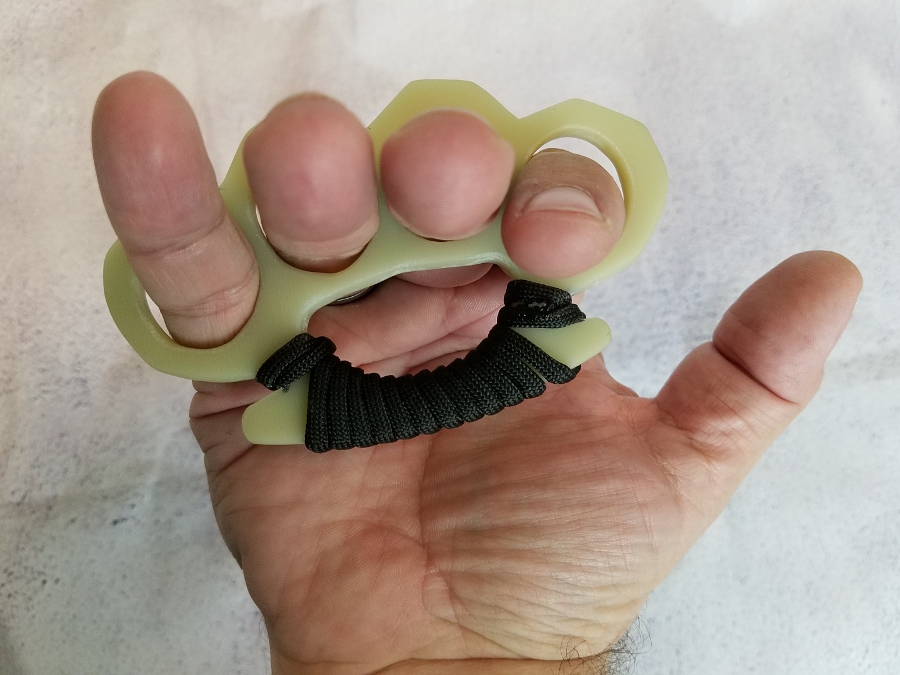 Which are extremely comfortable and nicely rounded to remove any burrs or sharp edges. They don't have the weight of brass knuckles, no, but they still hit quite hard. The trick to brass knuckles (or any knuckle-duster tool) is to wear them properly over the second knuckles of your hand. This is at the junction of the intermediate and proximal phalanges, not over the proximal phalanges themselves.
Worn this way, any hard set of knuckles can be used to deliver hooking, chipping strikes at any target with a bone inside it. The knuckles are much less effective when striking at soft, meaty targets, so hitting someone in the gut with a pair of knuckle dusters is of much less value than hitting them in the jaw. I found that, working on a heavy bag for testing, the G10 knuckles bit hard but did not irritate my mitts.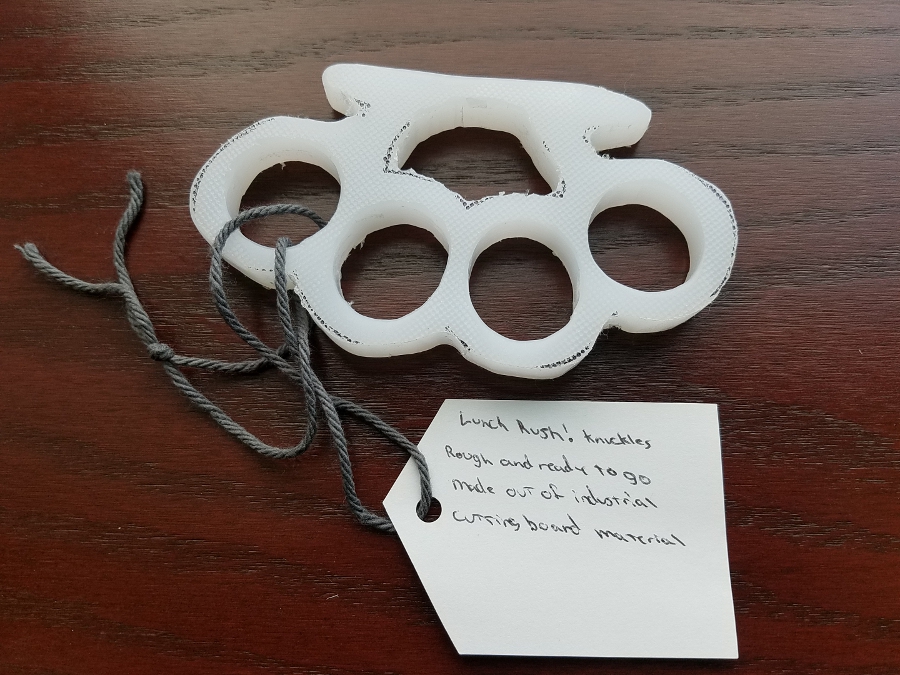 The same was true, for the most part, with Johnny's inexpensive cutting-board knuckles. These are quick and dirty tools made from a household cutting board. They were finished more roughly and thus were less comfortable, but not so comfortable they could not be used effectively. I admire the ingenuity that these knuckles represent. Johnny Mayhem is the sort of person who can look at any object and determine how to weaponize it.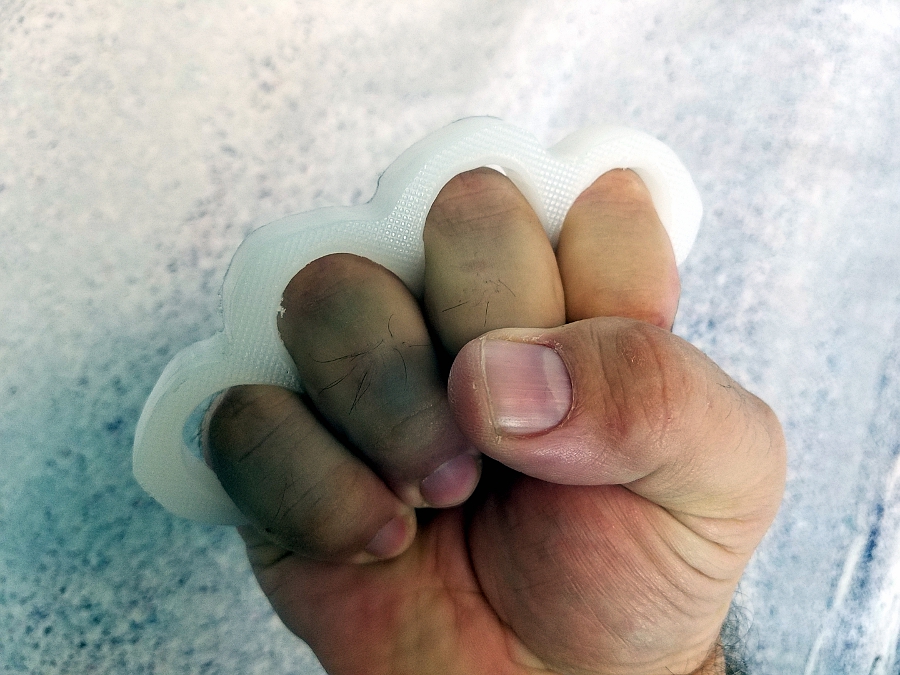 Of even greater interest to me were the G10 blades Johnny makes, which have ingenius Kydex sheaths that are completely without rivets. This means the whole package has no metal and thus is as light as possible. I was particularly impressed with the way Johnny makes tabs from the Kydex and then folds them over to seal the sheath tight. It's a simple, elegant design that he executes remarkably well.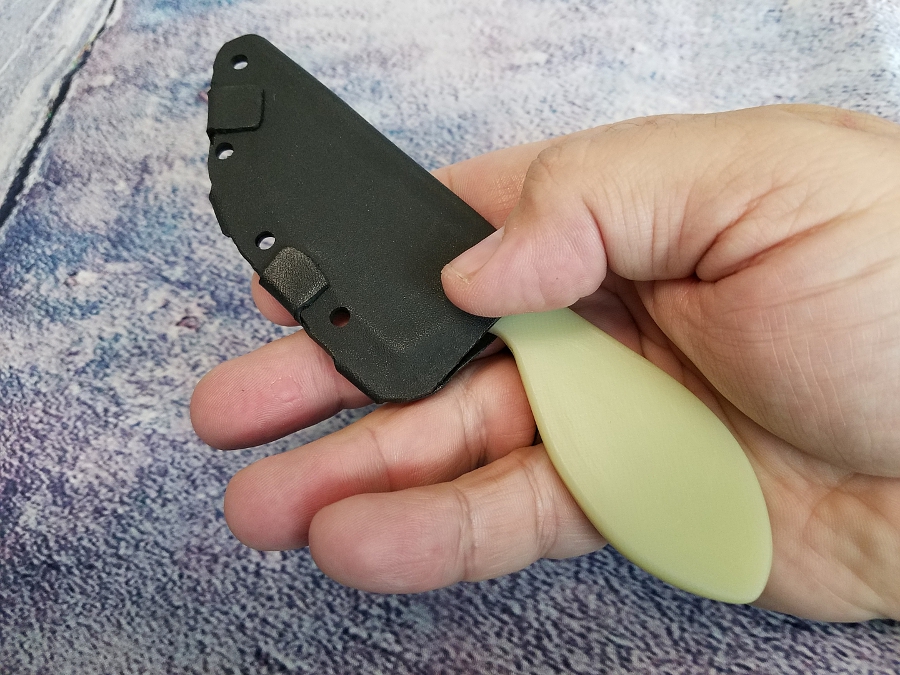 The small model shown is undeniably inspired by the Shivworks Clinch Pick, but is made of G10. Johnny's grinding is very professional and the knife is quite sharp. You'd have to work a little to use the edge to cut, but it is sharp, and the needle-sharp point is absolutely deadly. It reminds me of the Sentinel Gear Senka, another finely made non-metallic self-defense shiv.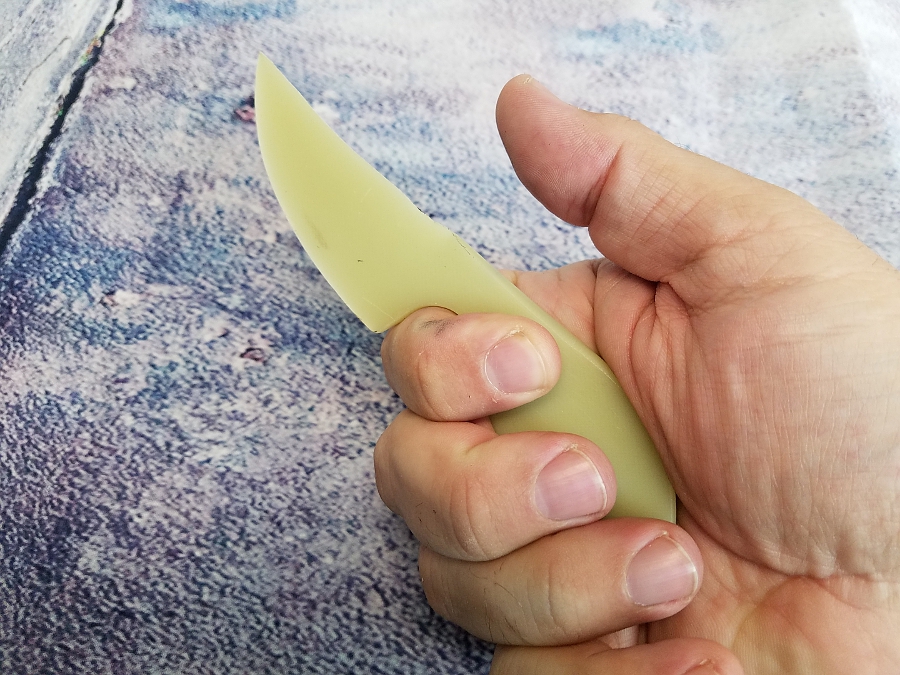 Not to be outdone, Johnny also provided me with a G10 tanto that exhibits the same high-quality, no-rivet Kydex sheath, indexing divots, and some really impressive grind work.
The knife carries easily and weighs almost nothing, is wickedly sharp at the point, and even has a fairly sharp cutting edge (though it's nothing like metal, being G10). It's ergonomic and, thanks to the divots and the shape of the handle, rests firmly and securely in my grip even though the G10 handle is relatively smooth by nature.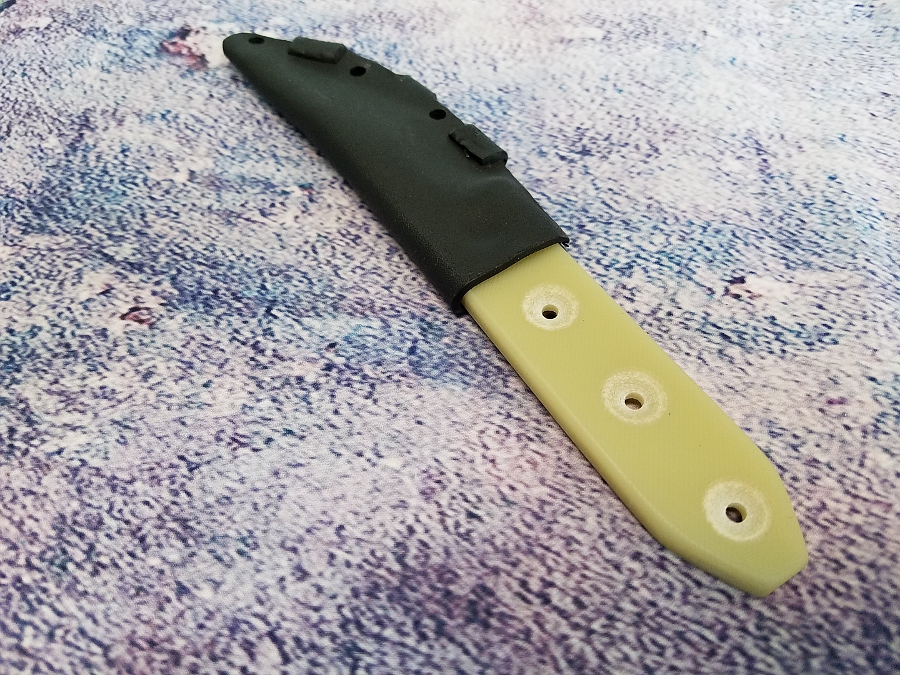 I would carry this G10 blade and feel more than adequately armed when I did so. The sheath could be carried in a number of ways, but I would recommend a static cord carry with the sheath tucked into a pocket, inside the waistband, or even behind the belt.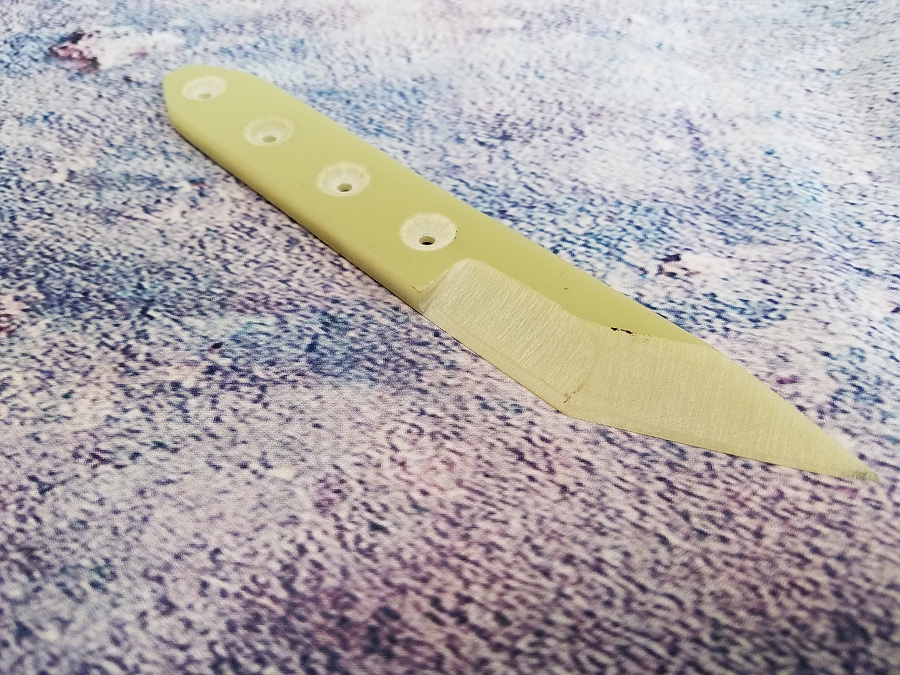 Part of the Johnny Mayhem experience is wondering what he'll make next. I'm eager to see this for myself — and I urge you to do so, too, by visiting his Facebook Page. Johnny brings a much-needed joy to the business of self-defense. He never takes himself too seriously — but he takes his craft very seriously indeed. He comes highly recommended by The Martialist and we hope you'll tell him we sent you.