By Eric Deen, 12 February 2008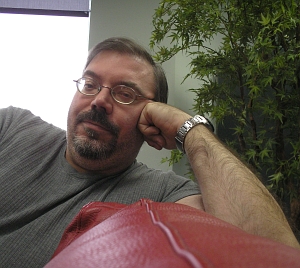 Bullshido.net is, according to the "About" section of the website, "…a virtual meeting place and sounding board for a grass roots movement to restore ethics and realism to systems shrouded in misinformation and irrational mysticism." They are, "…devoted to one goal: improving the standards in the Martial Arts…" Bullshido is the second most trafficked martial arts website on the internet, and the first category under their F.A.Q. [frequently asked questions] is about a man named Phil Elmore.
Elmore is a loved and hated controversial internet celebrity, a [30-something] year old freelance writer from [New York]. He is the writer of the online magazine The Martialist [themartialist.com], and one of the administrators of an online martialist community called Pax Baculum [paxbaculum.com] which roughly translates to, "Peace through force." Elmore is the author of such books as Flashlight Fighting and Street Sword, whose titles are self-explanatory. He is a lot of things to a lot of people, but most importantly, Phil Elmore is a martialist.
According to the Bullshido.net FAQ on Elmore, "…[Elmore] is claiming to be an expert in the field of self-defense, training, scholarly pursuits of fighting, and general warrior bad-assness despite his statements to the contrary. Therefore, it is perfectly acceptable to assess his credentials as you would anyone who presents themselves as an authority… He claims to have trained since 1990 but it appears he has never held a senior rank in any style (black belt or equivalent experience) nor has he ever been an instructor. He also has no amateur or professional fight record."
It seems Bullshido's beef with Elmore, though a long-standing and pervasive feud, is based mostly on his credentials, rather than his ideas themselves. "[The idea of] Martialism is the recognition of reality…" according to Elmore's booklet on the topic, Be A Martialist, " -– the reality of our dangerous world and the measures that best help you prepare for and achieve success in self-defense." The rift seems to stem from the fact that many at Bullshido believe that preparation should include training in sport-fighting, or MMA [mixed martial arts].
According to Elmore, "Sport fighting is not a fight, it's a duel — and in a duel, two people square off under a set of rules and try to be the toughest guy in the room. I don't want or need to be the toughest guy in the room. I just want to be safe. Fighting unfairly means taking every advantage possible to ensure that you survive and go home to your family intact."
In fact, the motto of Elmore's The Martialist publication is, "For Those Who Fight Unfairly."
Elmore believes that the bad blood is based on misunderstandings and misinformation perpetuated by ill-informed parties. Elmore, speaking without hesitation as though having spoken on the subject many times, said, "I wish that they would argue with me about my actual opinions. I am prepared for that, but most of my critics have issues not with what I've said and what I do, or don't do, but with what they think I've said and what they think I do…or don't." He added, "I'm continually accused of either not training, or not training hard enough to meet some standard of pressure testing. This accusation is made blindly and repeatedly despite the fact that I continue to train. For example, I have attended, for two years running, a class run by a narcotics officer and SWAT [special weapons and tactics] trainer who trains citizens and LEOs [law enforcement officers] alike in close-quarters combat methods… At the culmination of one of the drills, I was pinned by not one but two individuals, one of whom I was beating in the helmet with my empty gun until the instructor called a halt. These things are done full-contact with appropriate protection. That is impact training. That is pressure testing. If it's not, I cannot imagine what could possibly rise to this standard the Bullshido people do not themselves meet, but which they use as an excuse to vilify anyone who does not toe their sport-fighting line."
Alexander Thompson, an outdoorsman, martial artist, self-proclaimed "gun nut," and moderator at the Pax Baculum online martialism community said, while driving to pick up his new Irish Wolfhound pup, "[Bullshido's] arguments that Phil doesn't train are based on bullshit. Far as anyone I know can verify is that Phil trains in at least two systems along with many, many seminars with cutting edge pioneers in modern weaponry … gun fighting. What Phil doesn't train in is BJJ and Muay Thai. Therefore he is not cool [to] them."
Regarding Bullshido's claims that Elmore considers himself an authority, Elmore said, "I don't consider myself an authority, but rather an influence. If you go out on the internet and state your opinions, you will cause controversy. Controversy brings attention, and attention brings influence." Thus, it seems that though Elmore and Bullshido may be less at odds than they realize, the perceived bad blood and controversy actually benefit both sides more than would a peaceful resolution, because they channel traffic in both directions.
Thompson said, "Bullshido's opinion and criticism of Phil is not a unified voice, but it is majority negative. I think it has something to do with the zero attention span of today's younger generations. They will post a self-mocking photo Phil produced himself, and take it seriously, or just out of context, and run with it in a spree of mockery, but no one will have read the article that accompanied the photo…and of course Phil deliberately agitates these people to generate traffic and publicity."
Visitors to Elmore's sites may also find humor in the many photos Elmore has taken of himself in martial arts poses and holding various firearms and martial arts weapons. Elmore insists, however, that it is all in jest. "The reason I appear in so many pictures on the site is because I think it's funny to have a doughy white guy as the face of an online magazine. I thought I made it obvious by raising my eyebrow in every picture, but some people still don't get the joke."
Many might be turned off by the perceived aggressiveness of Elmore's site and philosophies. As Elmore put it, "The idea [of martialism] is criticized as too aggressive or combative, but it's not simply aggression. That's an oversimplification. At its core is the idea of assertive living. It's the opposite of pacifism. It's not a new idea. This is how men used to be men, how citizens used to function through common sense and ordinary drive. This is the way people used to be!" He added, "Martialism is about everything you do in your daily life. It's not a competition or a duel. It's not about who's tougher. It's about getting home. [Martialism] is about knowing that your family will be safe between work and home and the grocery store."
Regardless of his critics, Elmore will continue to write about self-defense, martialism, and assertive living on The Martialist and Pax Baculum. Elmore said, "To see people, and sometimes entire forums, arguing about things you've said, or even just hating you, can really do things to your ego. You have to remember that you're really not that important. By the same token, when someone writes to you and says that something you wrote made them change the way they lived, and you realize that what you write can and does affect people's lives, it really puts a lot of responsibility on you."
Thompson, with a laugh, said, "Is Phil any good at what he does? Who knows? He doesn't brag about his skills, or seek trophies."
Love him or hate him, agree or disagree, Elmore's supporters and critics definitely seem to agree on one thing: Elmore generates discussion, and according to Elmore, "Fair discussion is always good, and it's all I ask."