The story goes that the Smith and Wesson Model 29 in .44 Magnum was a relatively obscure revolver… until a little movie starring Clint Eastwood changed everything. When Dirty Harry hit the cinemas, suddenly the public wanted "the most powerful handgun in the world." The Model 29 was hot.   The same thing happened when Lethal Weapon featured the Beretta 92F (in what was essentially a running commercial for the weapon).
The world of knives is no different. All it takes is a prominent personality or user to show an interesting in a specific blade and a full-blown tactical fad will be born. Such is the case with the Cold Steel Kudu, previously a relatively obscure blade that is now seeing renewed interest as a "tactical" self-defense tool.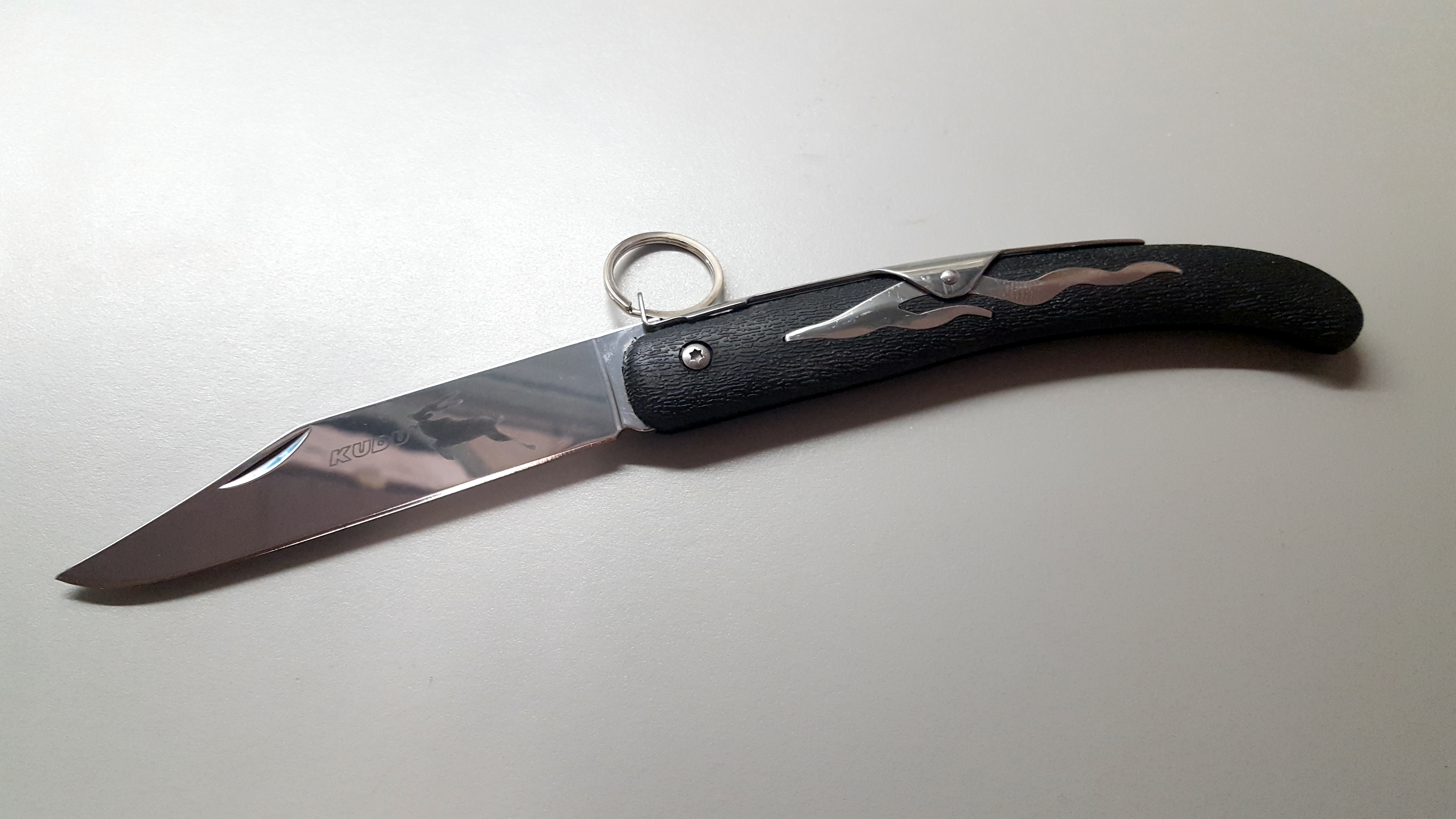 The Kudu is Cold Steel's modern production version of the South African Okapi. Lynn Thompson has a tendency to take a design he personally likes, then produce his own polymer-handled version of it. The Finn Bear and Finn Hawk knives, for example, are modern versions of staple bushcraft designs (or ripoffs of Moras, depending on whom you ask). In this case, the knife that serves as inspiration is a very basic ring-pull locking knife that is immensely popular in South Africa — to the point that hit-pieces in the media are decrying the knife's popularity with criminals.

Nathi Olifant, reporting in IOL in an article titled "Knives out for criminals," quoted South Africa's national police commissioner in asserting that knives have overtaken guns as the preferred weaposn of South African criminals. "Okapis" were specifically mentioned. (Perhaps hilariously, the reporter incorrectly claims the Okapi is "modelled [sic] on the American kudu knife.") The article is your typical media hand-wringing, in which an object is vilified in hopes of having said object regulated or banned.
"Objects like flick knives, daggers, knuckle knives, trench knives, swords, bayonets, spears or assegais and pangas, just to name a few," writes Olifant, "were viewed by [former Minister of Safety and Security Charles Nqakula] as dangerous weapons whose handling should be strictly controlled. Nqakula had also announced an extensive list of personal defence items that could be banned under the new legislation. These items include weapons such as BB guns, darts, catapults, and slingshots. He added that any item that could be used to injure or disable a person or that could cause a person to fear that someone will be injured by that weapon, should also be banned."
As Olifant weaves the tale, the Okapi lies at the center of blade rampages sweeping the nation, and about which concerned authorities are only now scheming to legislate in order to stem the tidal wave of innocent blood. "An Okapi owner told the Sunday Tribune that he used these kind of knives since he was a teenager," she goes on breathlessly. "He said while the knife was popular with school boys who are still learning the trade of stabbing, it was in fact a skill to handle it… Obviously a tsotsi (thug) in the trade, this Okapi user went as far as explaining that since there is no time to use your hands in certain situation, you can flick the knife open using the heel of an All Star takkie."
(As near as I can figure, that's a reference to Converse All Star sneakers, but I'm at a loss to explain how one's tennis shoe is more viable an option for opening a knife one-handed than… almost anything else.)
Enter the Kudu by Cold Steel. The knife was never meant as a fighting or tactical blade. The ring-pull mechanism would seem, at first, to demand two hand operation. The knife doesn't open open quickly (it ratchets open like a Spanish navaja) and it has no provision for opening with one hand. The ring pull is noisy, as it's a piece of metal banging around against the body of the knife. So what made the Kudu popular among American blade exponents, who are now carrying it for self-defense?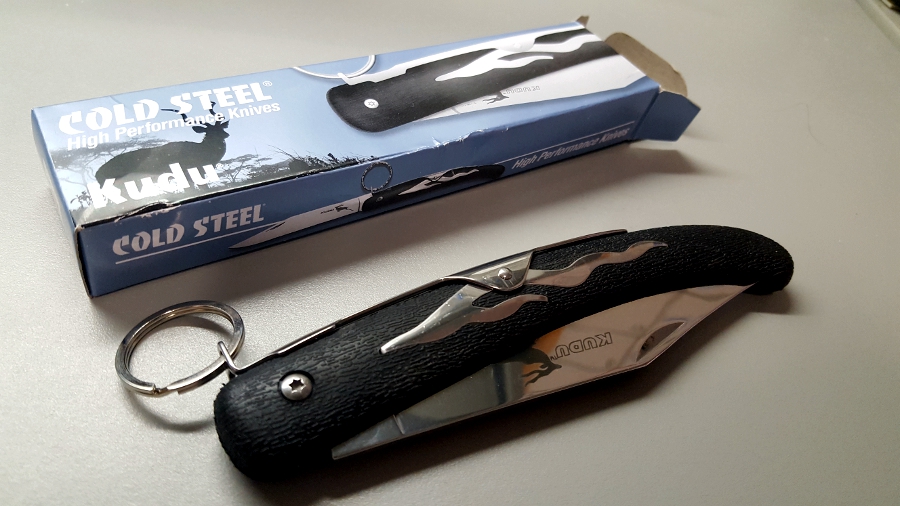 You can thank modern, pragmatic schools of blade use like Piper Knife Fighting and Libre Fighting, among others. All it takes is a few Instagram photos by modern knife-fighting devotees of their modified Kudus and we've got a tactical fad on our hands. That's where I first heard of the concept. A user I follow posted a picture of a Kudu whose ring pull had been replaced with a paracord loop. The whole knife was festooned in grip tape. I was immediately intrigued.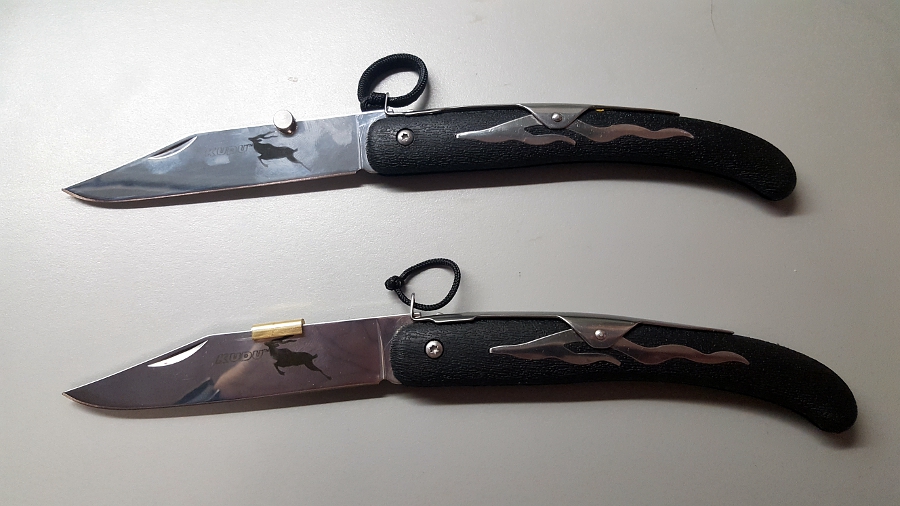 It's when you start looking at the Kudu through "tactical" eyes that you see it's potential: It has an immense, narrow clip-point blade that is fantastically sharp; it has a very strong lock; it costs as little as five to ten USD to buy one through a US distributor and less then twenty bucks to get one retail. The knife is, especially for its size, amazingly light. In other words, it's easy to carry, easy to conceal, and cheap enough to be disposable.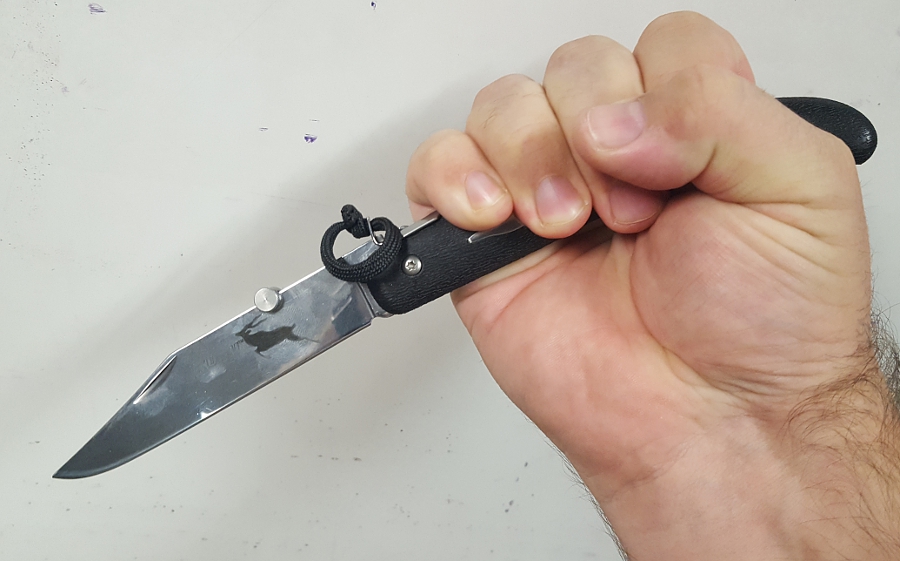 The textured plastic handle affords reasonable traction and is quite ergonomic. The blade is long enough to deliver devastating trauma when, er, inserted into someone who is deserving of potentially lethal (and lawful) force. Cold Steel ships them tremendously sharp, too. As for lock strength, the Kudu might seem flimsy at first blush… but there's an entire torture-test video online showcasing the Kudu's lock strength. Locking mechanisms don't get much simpler than the ring pull.
Speaking of the ring pull, it's easier to disengage than you might think. A lot of new users have trouble with it the first time, but it's easiest to disengage the lock with just one hand. Simply brace the knife against your knuckles with your index finger through the ring and press with your thumb against the spine of the blade. This pulls the locking tab up off the peg on the blade tang, releasing the lock.
As for opening the knife under stress, you have two options. You can do it Spanish navaja style, with two hands, or you can affix a blade-opener to it. The One Armed Bandit used to be all the rage before one-hand tactical folders got popular. Before that, there was the Flicket. I found on the market a brand called Kwik Thumb that is the same thing; they offer both studs and bars that clamp to the blade with set screws. I've found the stud opens the blade with less effort than the bar, as the stud has more leverage.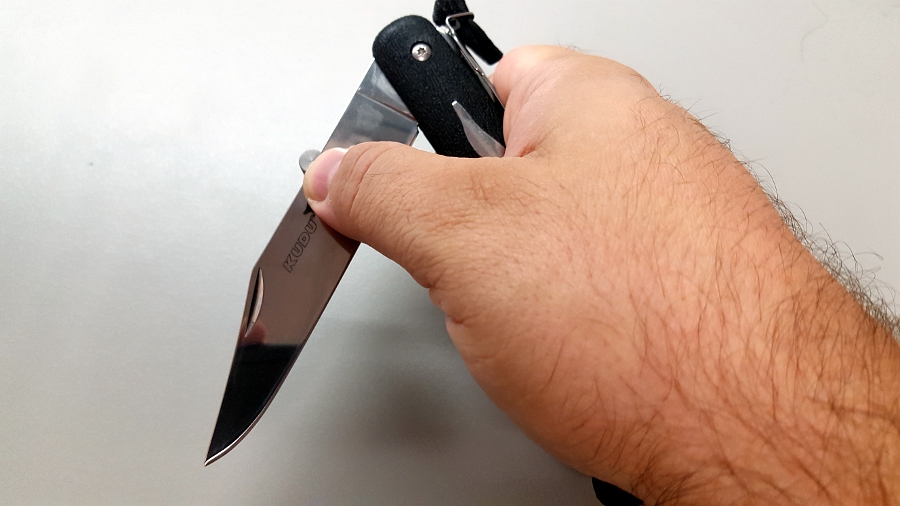 The Kudu isn't going to replace your tactical folders anytime soon. It's arguably another tactical fad like fruit knives. Still, it's an inexpensive and even "old school" way to add a powerful defensive blade to your toolbox. That alone is enough to recommend it.