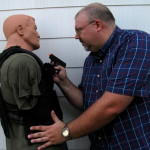 Few weapons are as frequently misunderstood as the pocket pistol. Neither as effective as even compact pistols, nor as useless as the tiny-caliber toys with which they are sometimes grouped, the pocket pistol is a niche weapon, a specialty tool that serves best within very constrained parameters. The reason so few people understand the pocket pistol is because few people understand the weapon's realistic limitations.
First, let's talk about what a pocket pistol is and is not. Pocket pistols, to truly fit within a pocket comfortably and without creating an obvious bulge, must be smaller than, say, a snubnosed .38 special revolver. I know there are people who carry such revolvers in their pockets but, frankly, I've never understood how they do so without screaming to the world that they are armed. Pocket pistols must be very small to be light enough and compact enough to disappear in a pants pocket. If they are so heavy they cause the garment worn to sag noticeably, they are too heavy to qualify.
Pocket pistols can be of any caliber, from derringers in heavy full-sized loads, to automatics in .25 ACP, to revolvers in .22 and .22 Magnum. The caliber is not the determining factor; the size and weight of the gun overall is what matters. Two of the pocket pistols I've carried most often are the .22LR NAA Mini Revolver and the .25 ACP "Raven" (classified by some as a "Saturday Night Special"). You may find that different guns, in different calibers, work more or less well for you. That is a choice that hinges on the clothing style you wear, your body type, your size and weight, and of course the gun combined with these factors.
Carrying a Pocket Pistol

A pocket pistol may be carried "loose" in the pocket or in a holster that sits within the pocket. The latter method is preferable because it helps protect the gun from dust and debris while keeping the weapon oriented the same way no matter how you sit and move. A holster also prevents any portion of your pocket from snagging inside the trigger guard of the weapon. If you cannot carry your pocket pistol in a pocket holster, you need to consider how it is carried and how it is designed. An NAA Mini Revolver, for example, is a single-action revolver that cannot easily fire by accident (and has no trigger guard, for that matter). My little Raven .25 ACP, by contrast, is a striker-fired gun that, with a round in the chamber, would represent quite a risk of accidental discharge unless the safety is engaged. If you own such a weapon and the safety is not reliable, you should consider very strongly choosing a different weapon. A weapon you must carry chamber-empty may not be very useful if you don't have both hands available to you as you deploy the pistol.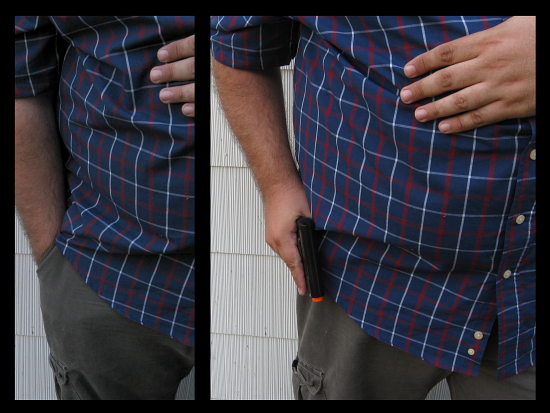 It should go without saying — but it doesn't, for many — that if you carry a gun in your pocket, there must be nothing else in that pocket. You do not put keys, loose change, or other items in a pocket that also contains a weapon, be that weapon a gun or a folding knife clipped inside the pocket. There is too much potential for something to go wrong. Loose items could snag in or on the weapon, foul your draw, or otherwise hinder the deployment and use of the weapon. Choosing to carry a pocket pistol means devoting one of your pockets (typically your strong side front pocket, but not always) exclusively to space for that weapon.
The Power Issue
Regardless of how you carry a pocket pistol, you must clean it periodically to remove the lint and grit that always build up inside a gun that is carried in this way. A holster helps to slow that buildup, but it does not prevent it completely, so even a gun carried in a pocket holster must be checked and cleaned on a regular basis. Most of the time you can clean out debris without hauling out a cleaning kit to do it. Simply running a twisted tissue down the barrel a few times, or swabbing out the cracks and crevices of the gun with a dry Q-tip, should be sufficient for routine lint removal.
There is a myth, promulgated by some within the firearms community, that any bullet below [place arbitrary caliber here] simply will not kill you. Apparently if one is shot with a .22 or, if lucky, an anemic .25 ACP round, one is to demand angrily of one's assailant, "Is that all you got? That didn't hurt, you pansy."
The reality is that even a small-caliber bullet has measurable utility for self-defense. That's a polite way of saying that, no matter how small the bullet, if it enters my body I'm going to be very upset — and the introduction of that piece of metal to my person is going to affect, probably quite radically, my behavior immediately after that round strikes me. Small cartridges like the .25 ACP are not known for their stopping power, no, but they are preferable to nothing and, arguably, have shock value equal to or greater than stabbing an opponent (especially because repeated gun shots can have a cumulative, traumatic effect to the nervous system).
This is where the limitations of pocket pistols become critical. The typical pocket pistol is a launching mechanism for multiple small-caliber projectiles. To use these to maximum effect, you must use multiple rounds and you must choose your target carefully. Pocket pistols should be used to strike soft targets only, meaning those not protected by internal bone shields (the sternum, the ribs, the skull, the pelvis). This leaves with you the belly, the neck and throat, and the eyes or face.
The Mechanics of Pocket Pistols
A typical self-defense progression with a pocket pistol in your progression, therefore, looks like this:
You get your hands up and try to defuse the situation, maneuvering out of range of your assailant if you can. You make the decision to use lethal force when you judge that you are in credible threat of imminent and serious bodily injury and you cannot simply leave without being attacked as you flee.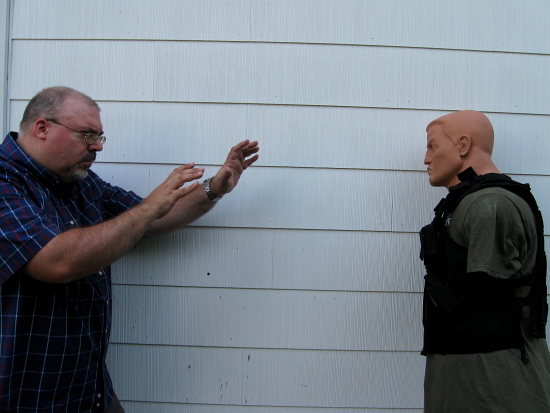 You continue to maintain space with your off hand (or, if you are already grappling with someone who has made physical contact with you, you use your off hand to deal with the attack while maneuvering your gun-hand side away from the opponent. You reach into your pocket, grab your weapon, and prepare to draw it from the pocket.  When you do, you will keep your arm indexed against your body and your elbow cocked back so that you have some idea of where the shots will go if you have to fire from this position.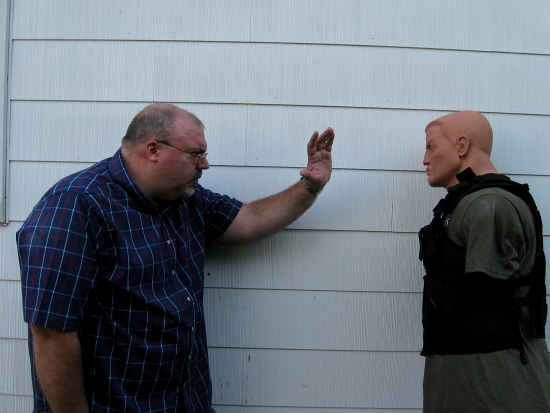 With the gun drawn you have two choices. You can keep the weapon oriented low, indexed as you've drawn it, which means your target is your opponent's belly (don't shove it into the opponent unless you are using a weapon that can fire pressed against resistance — some automatics will go "out of battery" in such a scenario).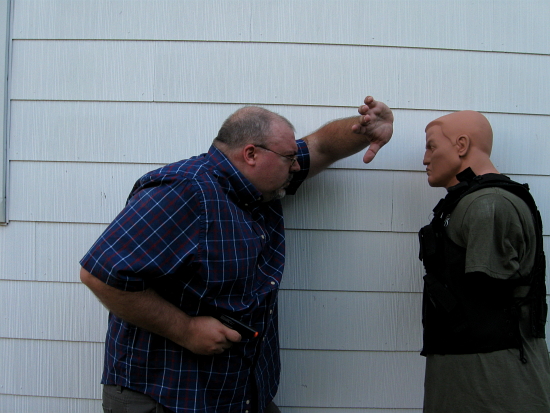 You can raise the weapon to target the throat and face.  Firing into the throat can be done at an upward angle, almost as if you were shoveling an uppercut into the opponent. If you fire at the face, your opponent will see the weapon and may well instinctively grab for it. You've got to work fast to shoot him before he tries. It's unlikely he'll be able to pull some fancy disarm move, especially with such a small pistol (which offers little leverage when grabbed), but if he fouls your shot even a little, you will waste your round shooting him through the hand or in some other area less vital than the face or throat.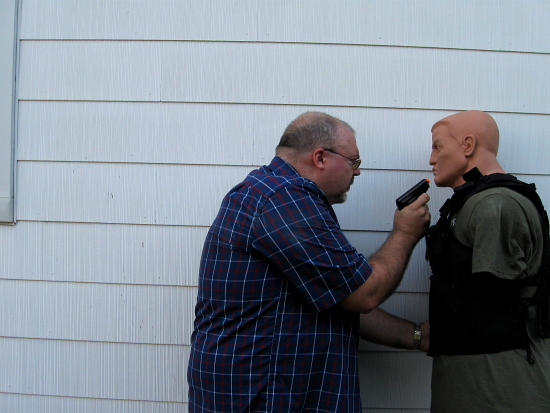 You may choose to brace your opponent with your off hand at close range. This is extremely dangerous because of the risk you may shoot through the opponent and into your own limb.As practiced in close-quarters combat, your arm should be at an angle and a level that puts it out of the effective firing line of your weapon (such as high at his head and shoulder while you fire downward, in this case into the belly). Never grab the back of the head and shoot for the throat or face.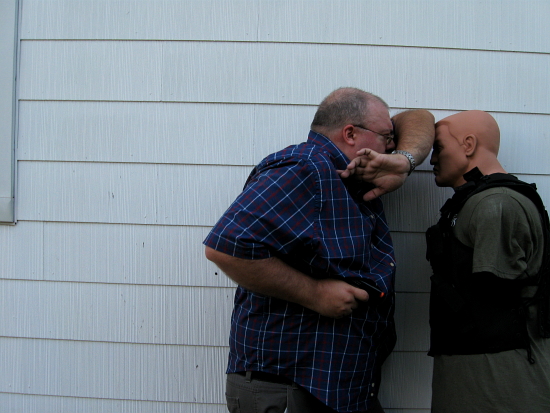 Your goal, when deploying and choosing your target, is to shoot your pocket pistol empty. You must fire and keep firing until you're out of rounds or until your target is neutralized (until he stops aggressing). Most pocket automatics can be emptied very quickly. A single .25 or .32 caliber bullet may not seem like much, but five of them delivered in rapid succession is something else again.
That said, be prepared for the possibility that the fight will go on after your weapon is empty. You may not put him down easily with such an underpowered weapon and you would be stupid to expect even a full magazine to drop him. This will be the time to use whatever unarmed combatives methods you train in order to fight your assailant off you now that he is wounded and (hopefully) less capable of fighting back. Trauma of the type you have inflicted may well trigger your opponent's desperation switch and he may fight back that much more viciously because he fears the injuries he is incurring. Fight hard to prevent him from overwhelming you and taking you with him.
Utility and Reality
The pocket pistol has been dismissed as next to useless — a "talisman" that people carry because they want to carry a gun, but are unable or unwilling to carry a "real" weapon. While not nearly as effective as larger handguns, pocket pistols are serious self-defense tools. Used at extremely close range to target the body's most vulnerable areas, they can neutralize or debilitate an assailant relatively quickly. This can stack the odds in your favor in the gamble that is self-defense. This is the definition of a force multiplier for self-defense.
Easily carried and concealed, the pocket pistol is the gun most likely to be with you when you need it. If you own larger handguns that you've left at home in a safe or locked inside your car, even a small-caliber pistol can make the difference between success and failure in self-defense. Remember this and you can keep the pocket pistol in its proper perspective.