There's a sequence in the book and movie Slaughterhouse Five in which an aggressive, militaristic character proudly tells the novel's protagonist about his triple-edged combat knife.  An ordinary dagger makes a "slit," the character opines, while a triangular blade makes a hole that "won't close up," and is thus a better killing weapon.  The politically incorrect reality of combat daggers, regardless of their shape, is that they are designed to do one and only one thing. Their purpose is to kill human beings. The only reason an armed citizen would choose to possess a combat knife is on the assumption that there are occasions when it is legal and morally just to impart potentially deadly force.  In other words, if somebody tries to kill you, you're allowed by both law (within specific parameters) and morality (within context) to hurt them badly enough to make them stop. If they die of it, that's their problem.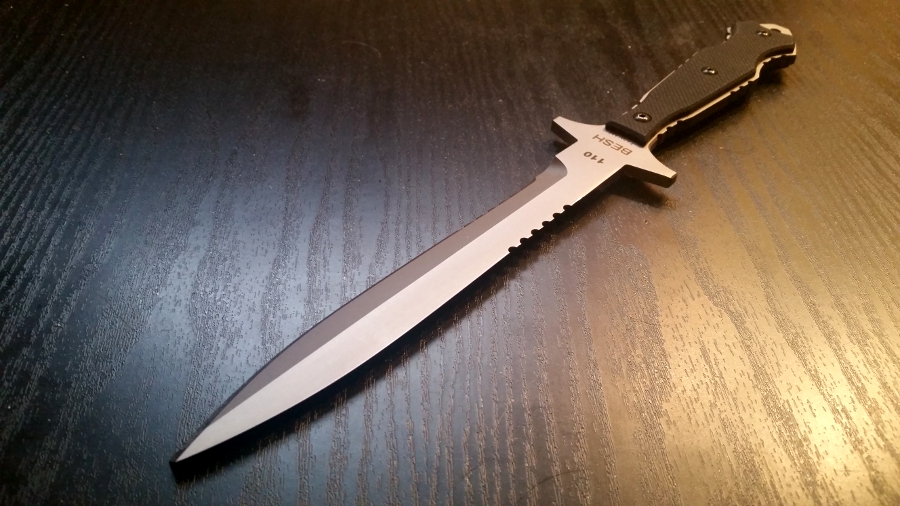 Triangular-blade daggers never caught on outside of trench warfare, for the most part.  Various incarnations of the double-edged dagger, as epitomized by the Fairbairn-Sykes commando dagger, have been introduced over the years, some of them better than others.  It's a fact that a long, slim, double-edged knife is the best tool for reaching the body's internal organs and doing them great damage. It is also a fact, however, that the thinner and sharper a knife is, the better it penetrates to those organs, but the more fragile it becomes.  It is also a fact that double-edged daggers tend not to be terribly good knives overall simply because they are so specialized.  While attempts to modernize the Fairbairn-Sykes have resulted in combat daggers of some distinction, such as the Gerber Mark II and the Applegate-Fairbairn knife, little has been done to innovate the basic concept of a double-edged combat knife.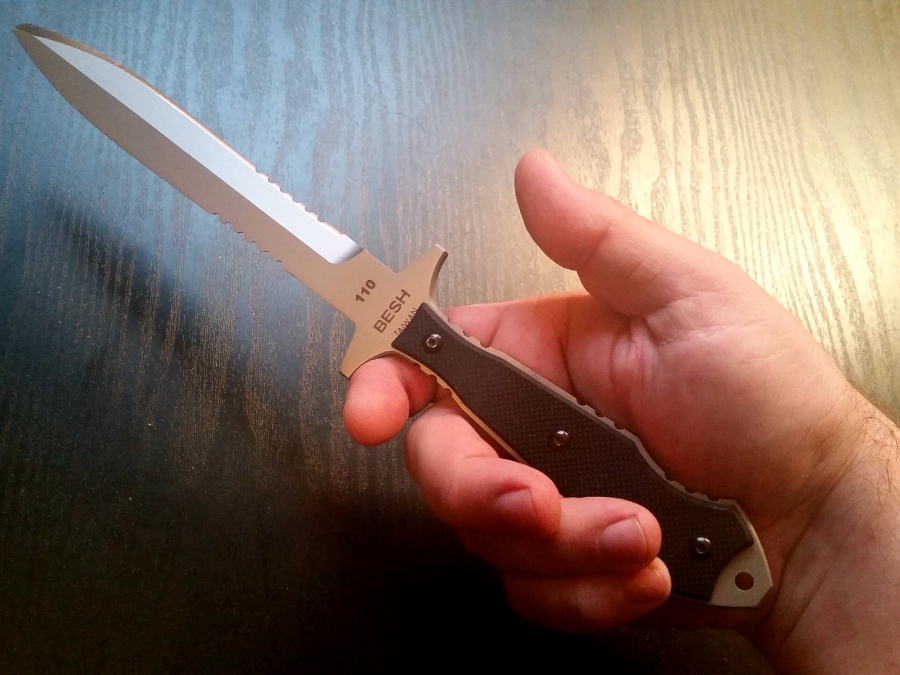 Arguably one of the first real innovations to come along in combat daggers in years is the Besh Wedge® design, which is the creation of knifemaker and designer Brent Beshara. Brent is a veteran of the Canadian military who spent 18 years as a Navy clearance diver and six years in the infantry. He is also expert in explosive ordnance disposal and a lifelong martial artist.  He is, in other words, exactly the sort of person who, understanding the realities of military combat, would find a combat dagger appealing and would spend time designing a new way to cut and stab things.  That "new way" is the Besh Wedge®, a profile that creates a diamond cross-section for knives that is offset.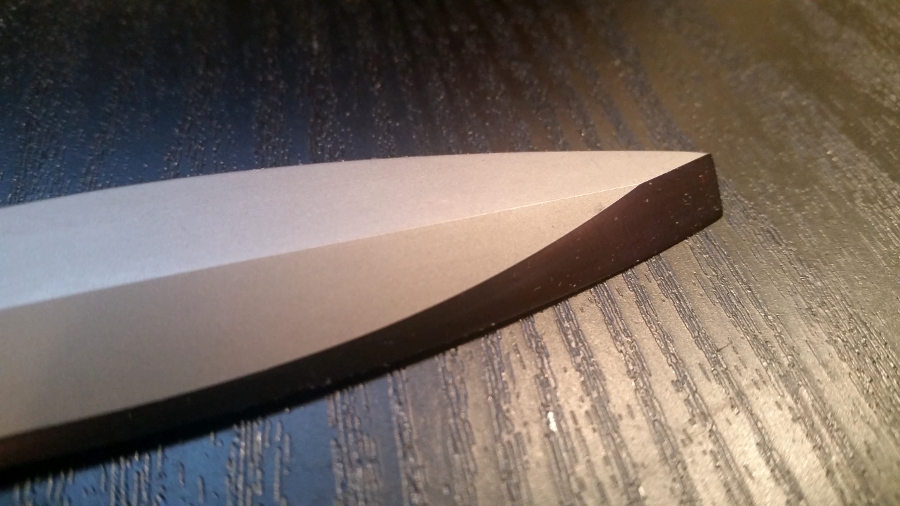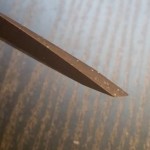 Specifically, the Besh Wedge®  comprises diametrically opposed bevels that together create a third cutting edge. It looks like nothing so much as a sharpened, stilted screwdriver tip when you look at it head on. It makes the dagger blade much thicker and stronger in cross-section than a more traditionally double-edged knife would be, allowing for limited prying while still facilitating excellent penetration. It's also relatively easy to sharpen, as the two bevels are sharpened on one side each only (like a chisel-ground knife).
The PPCLI VP-1o0 incorporates the Besh Wedge® and is billed as the Regimental Combat Dagger of the renowned Princess Patricia's Canadian Light Infantry. "The VP-100 is one of the most unique combat daggers ever produced and is distinctly different than other dagger designs," reads a pamphlet for the knife.  "…The VP-100 was commissioned to commemorate a century of ultimate sacrifice, dedication, and loyalty to Canada… We have produced this low-profile, 12-inch, full-tang, fixed-blade, MOLLE-compatible Combat Dagger to occupy a small foot print on your body armour."  The flier goes on to assert that the tip of this knife is "the strongest knife tip in the world" and that it is "not a field knife. It is mission-specific geometry designed and engineered to meet the needs of today's soldiers and the demands of the modern battlefield."
Blade steel of the VP-100 is AUS-8, and the knife is indeed a foot overall with a six-inch cutting edge. Handle slabs are textured G10.  The integral guard incorporates a finger choil, while the handle has plenty of notches and scallops for traction, a pronounced striking pommel with a lanyard hole, and an obvious full tang (the knife is basically just a single piece of steel to which handles have been affixed.  The scales appear to be removable for cleaning, although I did not try to remove them.
The hard plastic sheath provided with the VP-100 retains the knife positively but surrenders it very easily. The knife does make some noise coming out of the sheath and going back in, which is unavoidable in this material. Plenty of grommets allow for multiple methods of mounting and wearing the knife, either with the various belt and MOLLE positioners provided, or with your own Tek-lok hardware or IWB belt loop. There are no retaining straps or other gadgets — the knife sits in the sheath by friction alone.  I tried holding it upside down and shaking it, but the knife held firm.
As full-sized knives go, this one is definitely slimmer and less obtrusive than many others.  The sheath is also minimalist (although I would prefer Kydex to ABS plastic).  In the hand, the point of balance is right beneath the guard, where your index finger would sit — in other words, it's perfect. Everything is nicely rounded and the knife steel has an attractive, comfortable bead-blast finish, so there's nothing to snag or scratch yourself on.  The blade moves quickly and feels fast and light.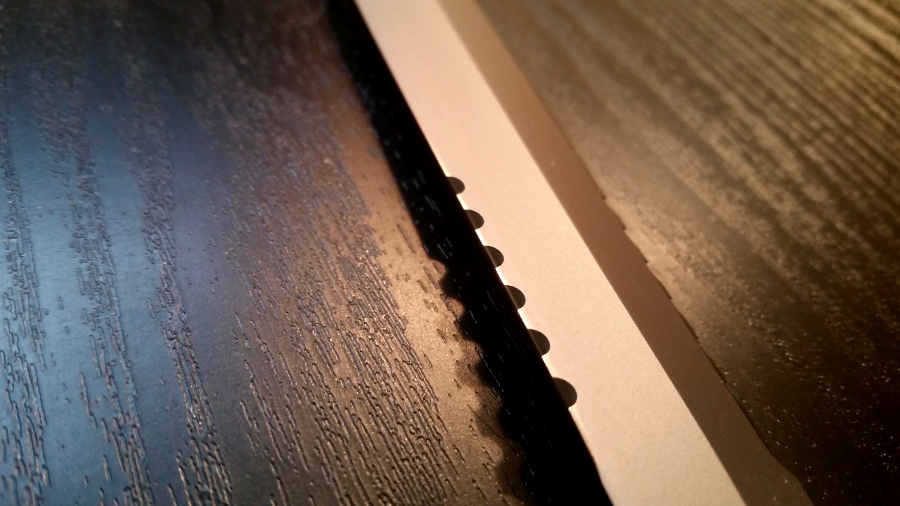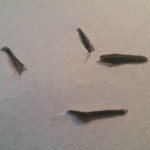 I've never cared for the extended, flat serrations found on some knives, but they are stronger than more traditional shark-tooth type serrations, so it makes sense to see them on this knife.  The VP-100 came wickedly sharp out of the box and holds an edge reasonably well for AUS-8 steel.  In cutting, the knife penetrated deeply, cut well enough (as well as a blade this thin can be expected to cut), and sliced at a bias consistent with the chisel grind.  The holes it leaves on a thrust are very telling, as they point to the knife's potential as a weapon.  With each stab, the knife does devastating damage and penetrates deeply with a little muscle behind it.
Fit and finish of the VP-100 are very nice, and the packaging and literature reflect a high degree of professionalism in presentation.  This is a well-made, high-quality combat dagger that is good only for use as a weapon.  Given my limited ability to test such a tool, it promises to perform well in that capacity.  Its most significant feature, though, is undoubtedly the Besh Wedge, which represents the first real innovation in double-edged combat daggers in a long time.®