The terms martial arts and self-defense are often used interchangeably.  In point of fact, these are not the same thing.   Martial arts (with some exceptions) refers to a body of theory in which people who have never engaged in fighting another human being (except perhaps in a sporting context) explain to other people how not to do the same thing.  Sometimes this involves the myth of pressure testing; other times it does not.
The world of martial arts runs the gamut from strip mall low- and no-contact McDojos, to full-contact mixed martial arts schools, and everything in between.  The former are fine if you're looking to build ersatz discipline, give your child a structured, aerobic daycare class, or adopt the forms and kata of a system devolved into a shadow of what it once was.  The latter is the standard against which individual competitors are judged if they want to learn to conquer their own fear while testing their physical fitness, drive, and yes, even skill, against a single unarmed opponent in a controlled environment.
Strip-mall martial arts are ridiculous because they purport to teach you how to defend yourself while doing nothing even approaching that goal.  They don't teach you to strike with force.  They don't teach you to fight in a realistic environment.  They don't even teach you to fight in something resembling your actual clothing.  They are as far removed from practical self-defense as driving a go-kart around a bumper track is from defensive driving.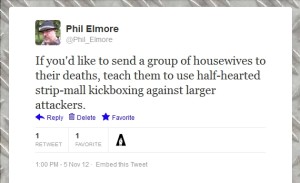 Mixed martial arts in their sporting context become just as ridiculous when their exponents tout them as "the best" or "the only" means of learning self-defense.  Certainly a large, muscular man who possesses good fitness can use UFC-style methods to defeat an attacker… provided that attacker is alone. And unarmed.  And the fight occurs on a padded floor.  And the fighter doesn't break his hand fighting without gloves.
Certainly an MMA competitor would be one of the most vicious, deadly opponents you could ever hope to fight on his terms.  Boxers are just as dangerous.  Both athletes train to take a beating while dishing out tremendous punishment.  To use the driving analogy, training in MMA is like training to drive a race car.  You are a highly skilled driver.  You are more skilled behind the wheel than the overwhelming majority of other drivers, in fact.  Yet what you do is no more defensive driving than is piloting the go-kart.  You just have more skills that transfer from your sport to reality.
Where both martial artists and MMA exponents fail is in believing self-defense occurs on their terms.  The mall-dojo karateka believes the way he moves, kicks, and punches, practiced in relaxed clothing and in bare feet, will translate to a real-world scenario in which he can achieve simulated, theorized success.  The Mixed Martial Artist believes his ability to punch hard, fight back from a ground-and-pound, or submit an opponent while fighting for position is what defines a fight.  It isn't.  What defines a fight is which person thought to bring an ice pick, a revolver, or a razor to the altercation.
Worse, the market is glutted with people who are unqualified to teach for any number of reasons that are separate and distinct from whether the systems they espouse are truly functional.  Any idiot with a worthless mail-order black belt (issued by some other fraud) can show up at his county health fair and pretend to teach "self-defense" for free to unsuspecting housewives.  Any well-meaning professional athlete can teach those same housewives techniques that are perfectly valid… if you're fighting someone in your weight class who does more or less what you do (and nothing else).
Giving our hypothetical housewives a bunch of made-up-ninja nonsense is as bad as teaching them to use Muay Thai kickboxing against larger attackers.  In the second example, these methods aren't practical for smaller people even though, on paper, there is nothing wrong with the techniques or the "art."  Thus, if the context of a martial art is wrong (from the perspective of the environment or from the perspective of the defender), even valid techniques can become a program for utter failure.
Remember that failure in self-defense isn't a loss on your record.  It isn't an affront to your honor. It isn't disappointment or discouragement.  It is death.  Fail in self-defense and you will be raped, maimed, or murdered.
This means that people who claim to teach self-defense while lacking the qualifications to do so — primarily the ability to identify context while separating practical from impractical, workable from unworkable — are deranged sociopaths.  They are people who care more about playing at self-defense, at pretending to be "teachers," than they care about the lives of the people to whom they are lying.  They may not even know they are lying.  Hell, some of what they "teach" might even work if the planets align, or if the student is sufficiently motivated.
Both MMA competitors and traditional martial artists have used what they do to achieve success in self-defense.  In some cases this was luck; in other cases, this was skill; in still other cases, success occurred despite the defender's best efforts to undercut his own efforts.  One of the Gracie brothers beat the ever-loving snot out of a mugger recently, then live-tweeted the incident while standing over the attacker's prone form.  There was a story not so long ago about an MMA athlete who submitted a purse-snatcher and then went on to win his match that night.  But there are other stories, just as true, about failure:  The Russian martial artist who was shot to death on his way to a gun-disarm seminar, for example, or the Brooklyn martial artist who was stabbed to death in a dispute involving his dog.
What any course of study in self-defense must teach you is practical force.  Practical force — the means and the methods to apply it — can be acquired while training in a traditional martial art (sometimes only rarely, and sometimes in spite of it), in a reality-based self-defense environment (if realistic contact and resistance is introduced), in a heavily supplemented mixed martial arts program (provided environment, plural assailants, and weaponry are seriously addressed and not merely paid lip-service) and, rarely, simply through practicing a single, workable method and becoming very, very good at it.
In all cases, the student will acquire much that isn't practical… and then must spend a lifetime sorting out what is and isn't.  Those learning "hybrid" arts will probably have greater success than those learning a pure system, if only because their system already has discarded some of the impractical as part of that hybridization process.
You don't have to hate the martial arts.  You don't even have to stop training in them.  But you must recognize that the dividing line between art, between system, and practical, pragmatic use of force is there.   It may be wide or it may be narrow.  In some cases, it is so great as to be a nearly insurmountable gulf.  In other scenarios, it is so thin as to be invisible.  In all cases, however, it is real.
Where self-defense is concerned, there are no martial arts.  There is only martialism or failure.   There is only practical force and impractical force.  Martial arts are what you do while you acquire one or the other.  The danger — and the responsibility — lies in identifying which is which.