There are times when the EDC Community — those folks who love gear, and who devote what others might consider inordinate attention to their "Every Day Carry" items — seems like it's getting carried away. This is not, however, one of those times. When I first discovered the Wise Men Company, it was because a friend on Instagram had posted a picture of their Wise Guy Pocket Tool. (It wasn't long after that when another friend told me about their Signet Ring accessory for select Spyderco knives). When I took the time to investigate, Wise Men won me over quickly. This is a good company run by good people who are very focused on quality. This dedication shows when you examine the Wise Guy Pocket Tool.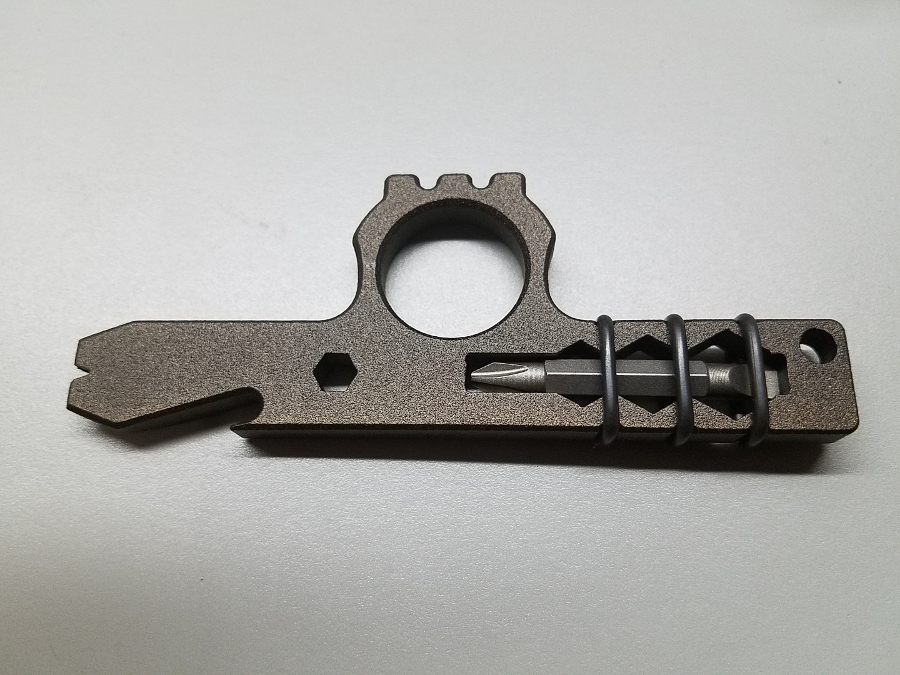 The idea behind the tool is the same one behind the Swiss Army Knife, the Leatherman Multitool, or the countless substitutes, contemporaries, and analogs we all find reason to carry every day. You never know when you'll encounter a situation for which you need a tool, and for that reason you can never be sure what tool you will require. The Wise Guy Pocket Tool approaches the multitool from the standpoint of the sharpened prybar, does away with a blade entirely, and adds a "knuckle protector," all of it in D2 steel. The result is a sizable implement of reasonable heft that could be used as an impact tool and most cetainly can be employed as a prybar. It also boasts a cap lifter, 3 box wrench sizes, and a 1/4-inch bit driver for use with the included, double-ended #2 phillips and #6 flat-head bits.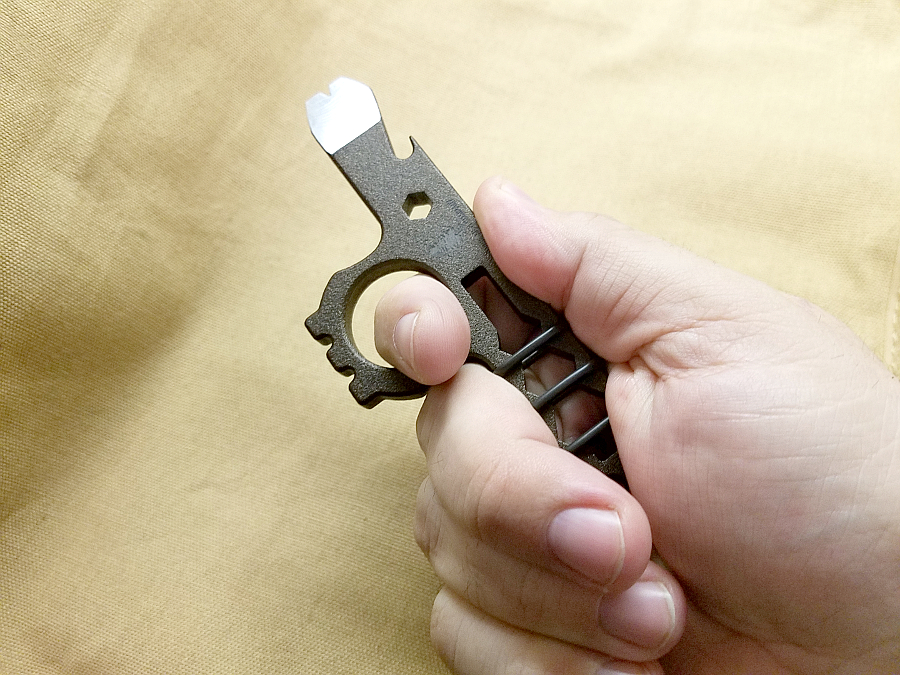 The tool exhibits excellent attention to detail. It's very attractive in its powder coat (available in Dark Oil Bronze or Gun Metal Gray). All the edges are chamfered and rounded for a comfortably ergonomic, positive grip. There is a lanyard hole, almost de rigueur for EDC community types, and several o-rings that hold the screwdriver bit in place. The face of the prybar is nicely polished.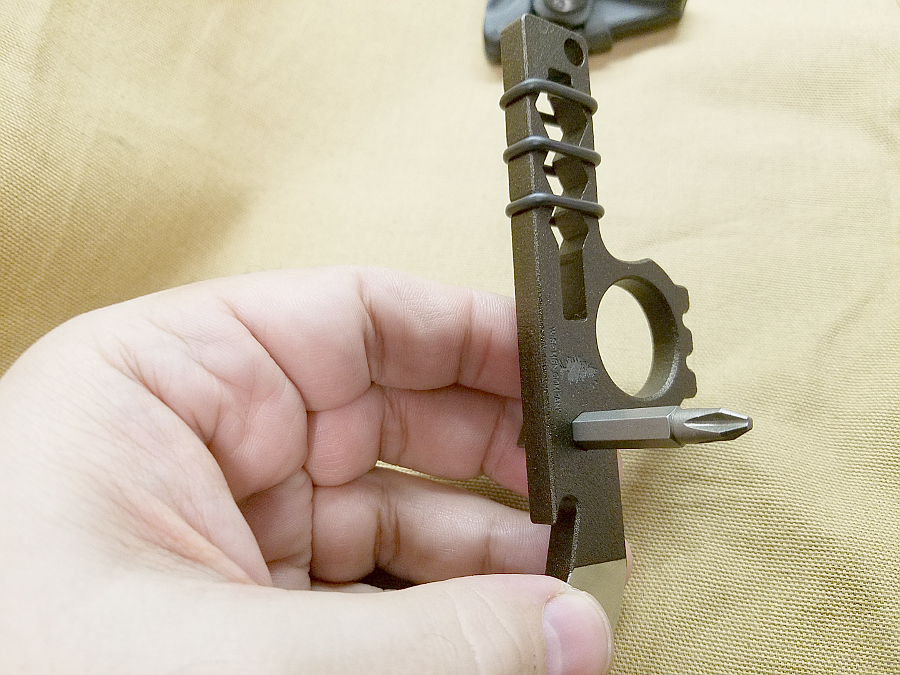 An extremely well-made Kydex belt carrier is available for the pocket tool, but if you don't mind the weight you could also drop it in your pocket. It would make one heck of a palm stick, too.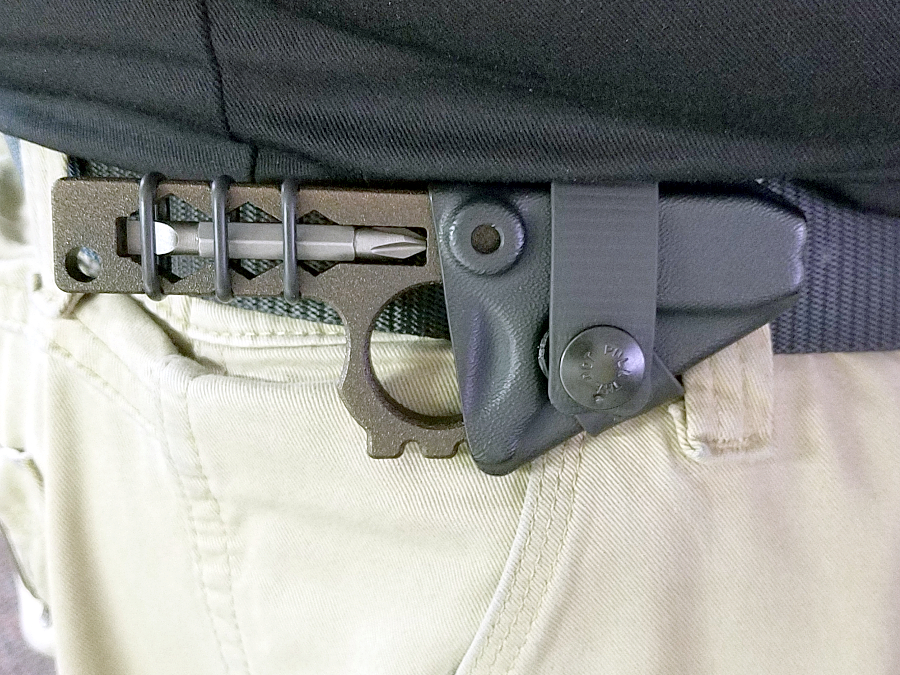 What it isn't is anything like a knuckle duster or "brass knuckles," despite the presence of the ring guard. There is no stand-off to take the impact of a blow with that guard, so you'd be as likely to hurt yourself as anyone else if you tried to punch with your finger through that ring. No, the ring is there for control and protection for the hand, particularly when prying or when using the driver in close quarters. (If you've banged your knuckles while working around metal edges, you know why this is such a good thing.)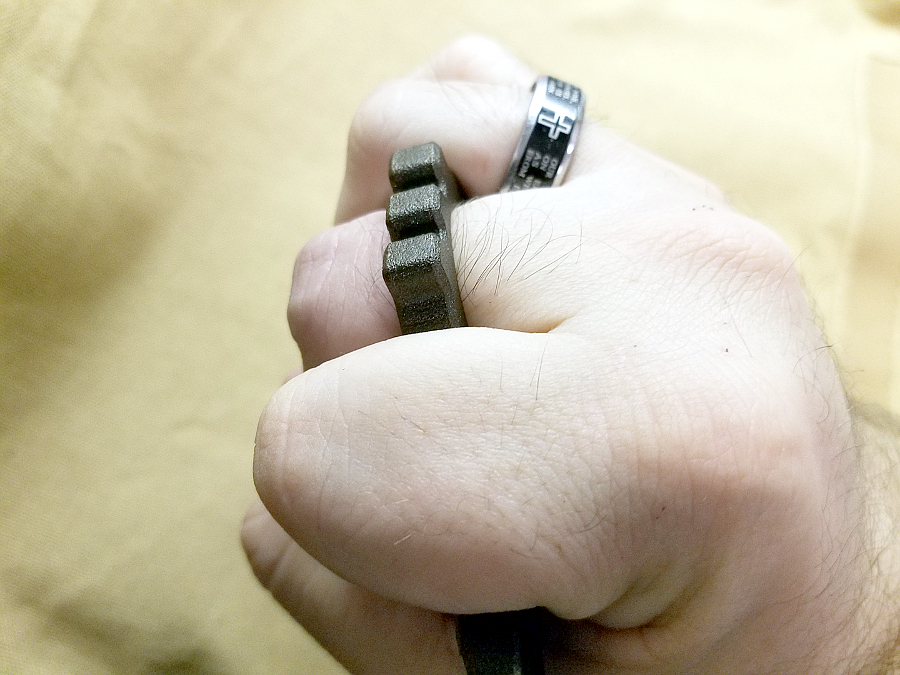 While it's larger than some pocket EDC items, it's not so large that you couldn't tote the Wise Guy Pocket Tool every day. I've become quite enamored of mine since I got it and have used it several times (most often for prying, although I've had occasion to use the phillips-head screwdriver several times). I do find it a comforting thought that the tool could be employed as an impact weapon if desired, but I don't see that as its primary function. Rather, it's a nice "oh, by the way, you can do this too" sort of feature. This is, fundamentally, an extremely durable multitool. What it loses in function by not including smaller, more delicate tools (like, say, the tiny scissors on my Swiss Army Knife) it gains in strength. When you want a robust pocket prybar, you'll have it — and be thankful for it.
You can get your Wise Guy Pocket tool at the company's website. Members of The Martialist's discussion forum are eligble for an exlusive discount. When you shop with the Wise Men, be sure to tell them we sent you.