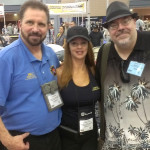 The Martialist has several times profiled the work of self-defense instructor and lifelong martial artist Bram Frank. Bram has long been a supporter of this website and was among our first sponsors. We've written up multiple iterations of his folding knives, which are intended to work with his system and have several special features to that end. Other versions of Bram's blades have been made by companies like Spyderco and Cherusker Messer over the years. His latest LLC blades are manufactured overseas in a small factory that Bram says is dedicated to producing his products.
The founder of Common Sense Self-Defense/Street Combat, Bram Frank has spent nearly fifty years training in the martial arts. He holds an 8th dan in Modern Arnis. Given this, there's no doubt that Filipino martial styles and systems heavily influence his methodology and his designs. Over the course of his career he has done a variety of self-defense instructional videos, through companies like Paladin Press and Video Quest, and has been featured in publications ranging from SWAT, Guns and Ammo, Police Journal, Tae Kwon Do & Korean Combative Arts, Filipino Martial Arts, and Tactical Knives.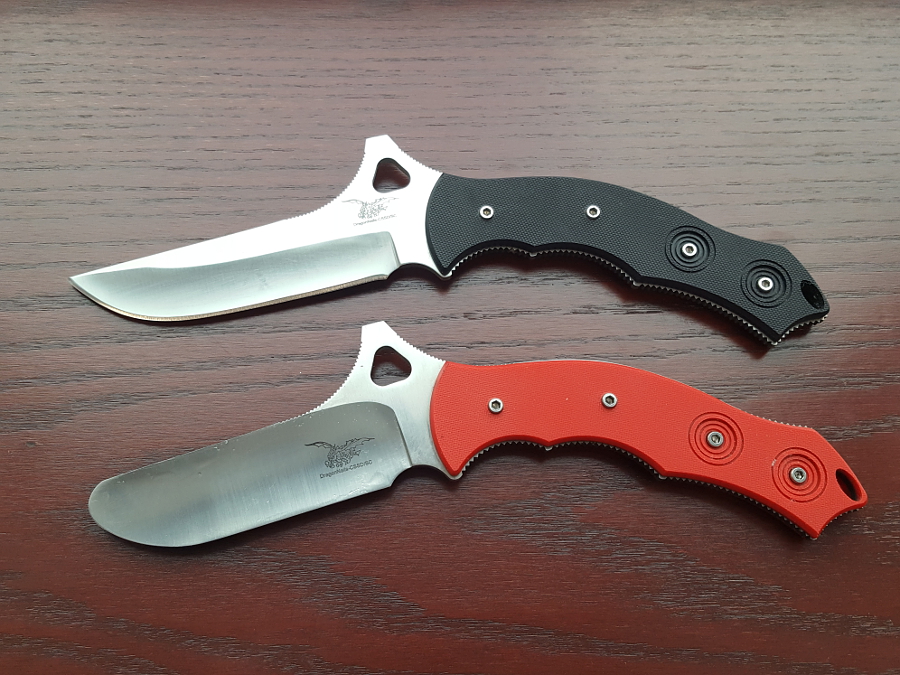 The latest knives to arrive at The Martialist are Bram's "elongated" fixed blades. These samples have Bram's Bowie-style blade, but these are just entries in a comprehensive product line that includes both folders and fixed blades in multiple blade styles (including tantos and a "katana" blade shape).
The elongated Bowie is roughly ten and a half inches overall with a five inch blade (four and three eights of which are cutting edge). The whole knife is angled both for ergonomics and to produce the "bio-mechanical cutting" that is foundational to Bram's teaching. Handle slabs are textured G10 with "post-in-hole" indexing circles to (to facilitate grip changes).
The full-tang blade is made from  8Cr13MoV (Chinese AUS-8) hardened to HRC 56-58.  The entire grip service and the front and rear of the blade spine are aggressively jimped for retention, as is the ramp (called a "bramp," natch) that doubles as a thumb rest. There is a pronounced choil which, in conjunction with the bramp, can be used for choking up on the blade for fine work.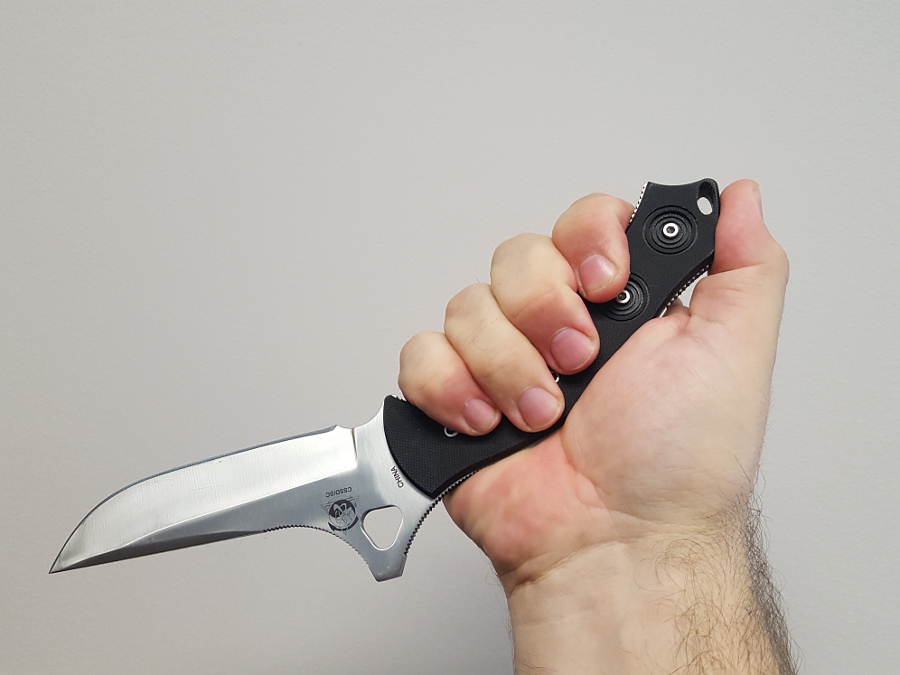 The knife is very ergonomic and fits my large hands well. It was designed to have "firearm grip retention under duress." Between the jimping, the texture of the G10, and contours of the handle, it affords a very secure grip.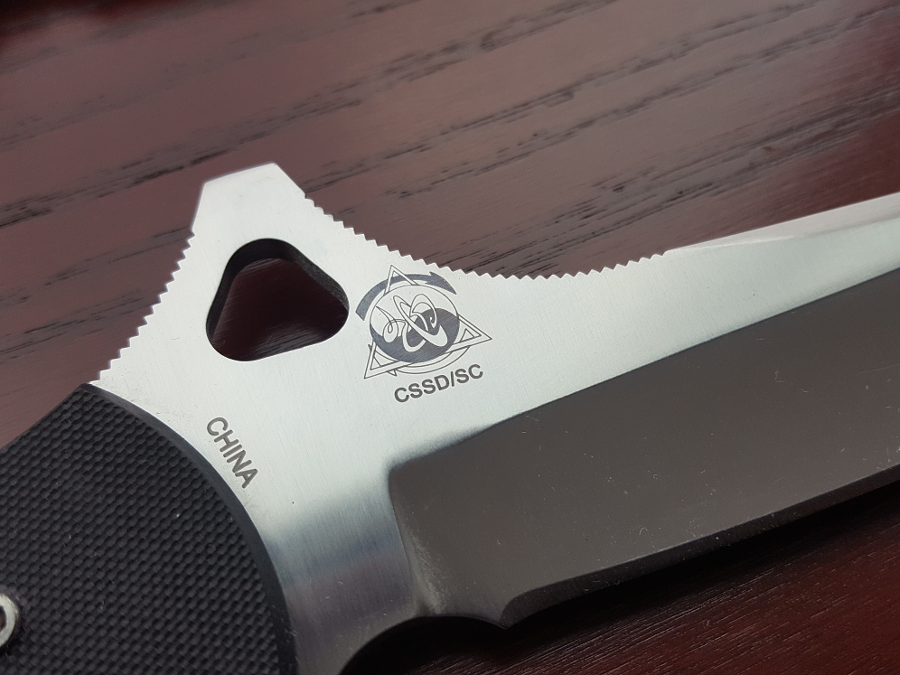 In theory, the knife is designed for traction even when wet (or slick with blood) — though I didn't test the latter concept. There is a slot in the tip of the handle for affixing a lanyard. Not surprisingly, the handle is also angled for use in striking would leave a significant dent in whatever you chose to hit with it.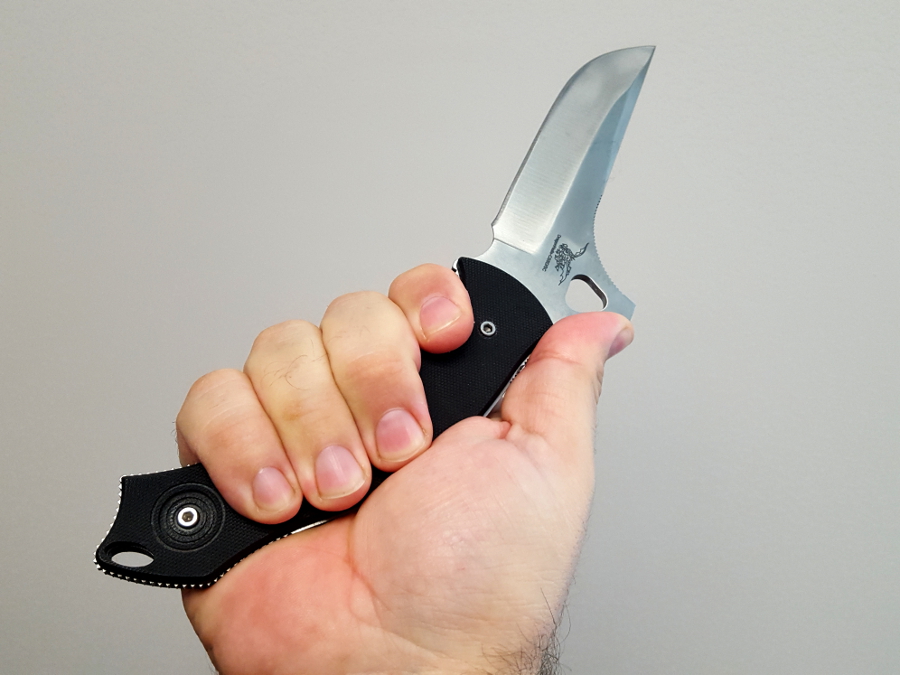 The ramp can be used for trapping, joint locks, what Bram calls "reverse upside-down braced cutting," and scraping. You could also strike with it. The ramp on the folders can be used to strike while the knife is closed, but to strike with the ramp on the fixed blade, you'd have to reverse the knife in your grip or strike with an almost ridge-hand type of body mechanic, rolling your arm to facilitate the strike.
Fit and finish are good throughout. Chinese manufacturing has made tremendous strides in the last two decades — strides that should make domestic knife manufacturers nervous, and which have seen most major factory knife makers in the U.S. produce at least some of their products overseas.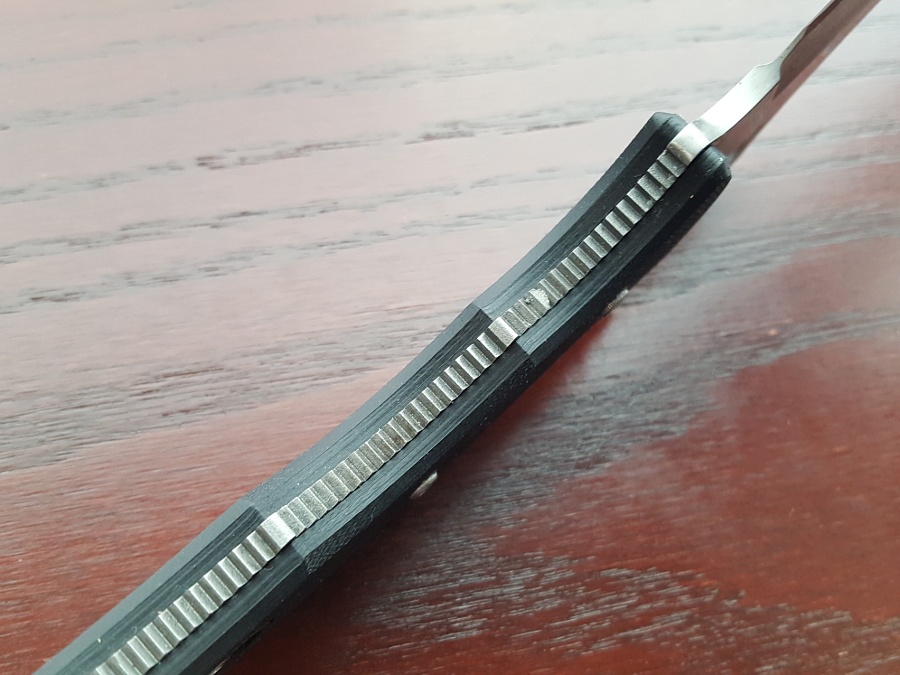 The knife moves quickly and is a pleasure to work with. The point of balance is right at the rear of the index finger scallop, which is right where it ought to be. The Bowie blade was nicely sharp out of the box, cuts easily thanks to its generous belly, and is more than long enough for any task you're likely to encounter. It penetrated stacked cardboard reasonably well and tapers to a fine point.
All of Bram's knives can be had with a trainer that matches the blade exactly. The trainers are, as is proper, fitted with red handles. There's no way to mix up the live blade with the trainer, but the trainer is made of the same materials and has a Kydex sheath that matches the one for the live knife.
The sheaths are relatively wide to accommodate the blade ramp. They are also an "open" construction, secured with spacers and folded over at the blade tip only.
Mine came with belt hardware, but these could be removed and other mounting hardware substituted. You could even rig up a paracord shoulder harness if you wanted to, although concealing a knife this large will require an outer garment. With the knife on my belt under my coat I felt like a gunslinger.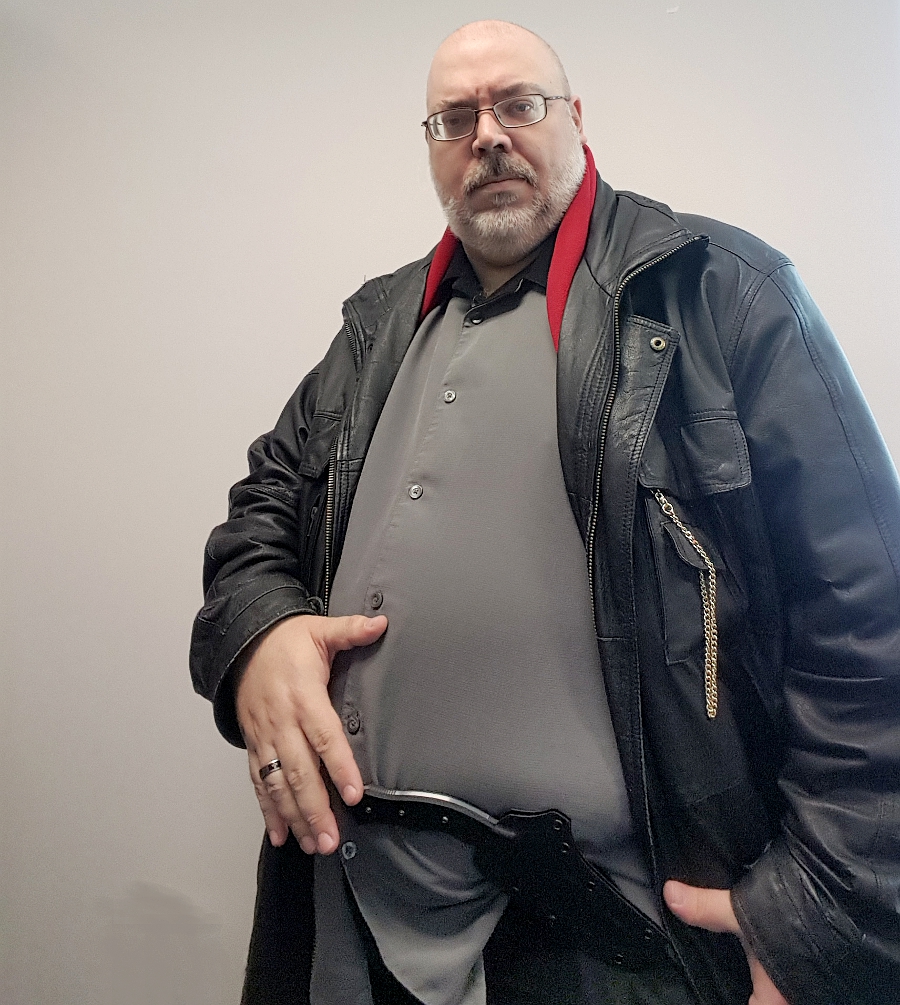 The sheaths are well made. The knives fit positively in their sheaths with only  a little movement once secured. There is a distinct "clack" when the knife is drawn.
While obviously intended as a self-defense blade, this is a substantial knife that could also be used for utility work. It is well made, well thought out, and useful independent of Bram's system — meaning that you don't have to be a student of Bram's work to find the knife worth your while. Obviously, if you do study his system, Bram's knife will definitely be to your liking. Either way, this is a great fixed blade that would serve well in a defensive capacity or as a working knife.