"A man's worth," wrote the Roman emperor Marcus Aurelius, "is no greater than his ambitions." By that measure, Dane Wallisch is quite a worthy man. An MD, Wallish has been a radiologist in Carlisle, Pennsylvania since 1985. He is also a long-time knife collector who holds multiple patents, one of which is a knife derived from the Roman gladius sword.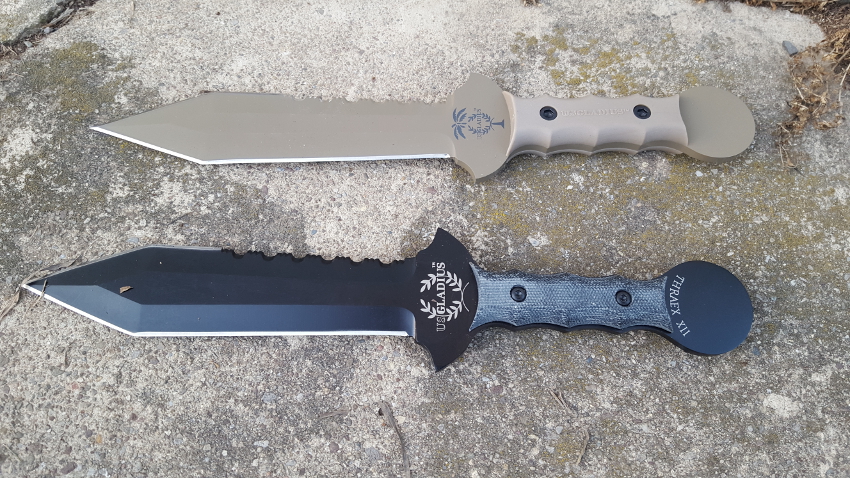 "This is actually my fourth patent," Wallisch explains.  "I didn't think I was going to get it…  Apparently nobody has come up with a design like that.  The swords have been there forever, but I took the concept, the design of the sword, and made a knife. Nobody's ever done that before."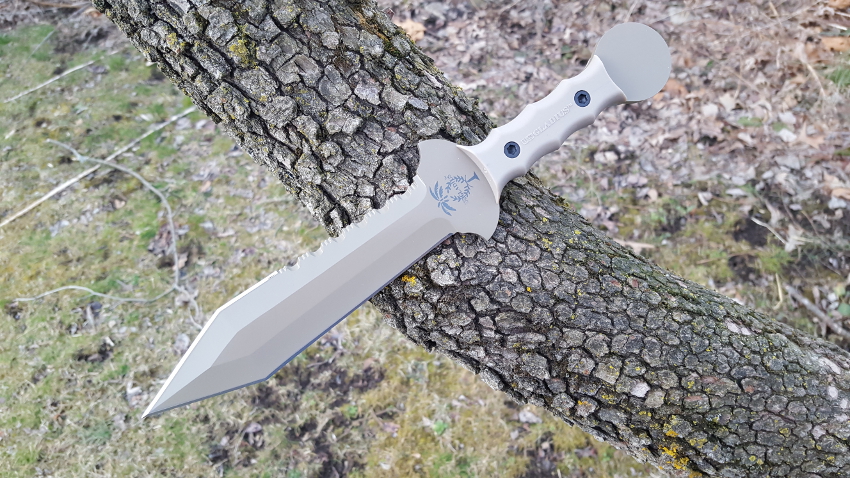 Wallisch's patent, D648,414, describes his claim as "an ornamental design for a knife."  Two of his previous patents were for exercise equipment that he has marketed in the past.  His knife company, USGladius, is a division of his exercise company, Praetorian Fitness.  Wallisch is a history buff who says it was his interest in ancient weaponry that prompted him to move in the direction of knife design and manufacture.
The Martialist's History with USGladius
I originally wrote the profile of the USGladius Thraex and Tactical 12 prototypes, an article that appeared in Tactical Knives magazine. (Those blades were hand-made by Al Warren, a Roseville, CA-based member of the Professional Knifemakers Association.) Given my history with them, it was with pleasure that I purchased a production version of the Thraex XII Tactical Gladius when I saw it available in a distributor's catalog. Something about holding the production version in my hand — after being one of the first to see and test the prototypes — really appealed to me. Not long after, USGladius sent me a production version of their Desert Legion XII.
In my original interview with Dane, he explained that he was inspired by the tactical tomahawk, which just about every company makes these days. "I was looking at these, thinking, 'that's really cool, how they took an ancient weapon and modernized it.'" he told me. "…On the wall I had a gladius [sword]. That's when the lightbulb went off. Why not take that ancient weapon and modernize it? That's one of the most famous swords in history.  I smoothed out the lines and streamlined it and came up with this design."
Wallisch has always been interested in Roman history and Rome's gladiators.  "Today's  modern armies are really based on the organization of the Roman army," he points out.  "I think that's a good marketing point for this knife. It's got a historical background. People love gladiator stuff."  He also sees the knife having military potential, although he intends it more generally as an all-purpose sport-utility knife.  "I use mine to cut a lot of kindling for firewood," he says.
A collector of Bowie knives, Wallisch engages easily when discussing blades in general and his new company in particular. "I have a bowie knife collection," he explains. "I probably have 20 Western-type bowie knives on the wall in the room where my fireplace is. …If you had the choice of having one tool in the wilderness, it would be a knife, because you can do so many things with it."
Testing the Thraex XII Tactical Gladius And Desert Legion XII
Both blades are a foot overall, with four-inch handles and eight-inch blades offering a 6.25-inch cutting edge. Made from titanium coated, 0.2-inch thick 8Cr13MoV, the blades boast a point of balance right at the top of the guard. Both are keen, double-edged knives that are ground on both sides (except for the serrations, which are ground on one side only). The tips are needle sharp. The wide, integral guard protects the hand and prevents the user's fingers from slipping down onto the cutting edge.
My original prototype samples came without sheaths, but Wallisch promised that a MOLLE-compatible scabbard was in the works. He made good on his word. Both the Thraex XII and the Desert Legion XII ship with plastic scabbards that incorporate ballistic Nylon MOLLE straps. The Desert Legion came with an add-on pouch on the sheath that could be used to carry a small length of cord, matches, other small survival items, or perhaps a very small sharpening stone.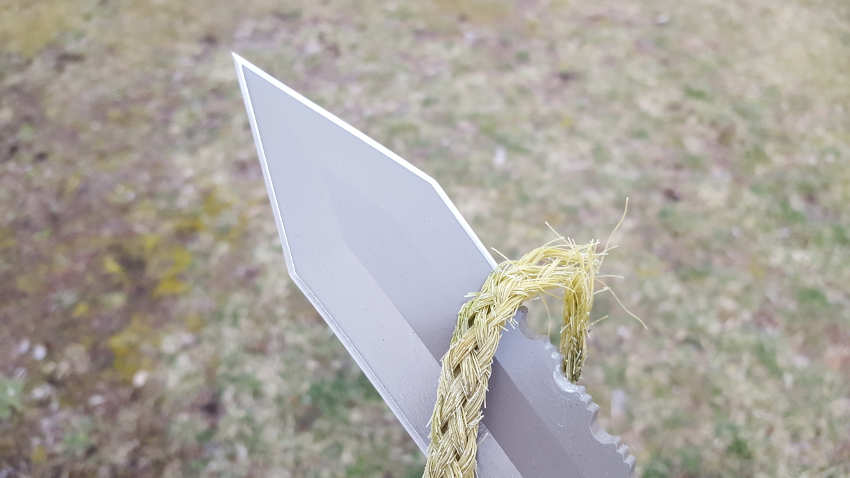 In testing, both knives penetrated well (as one would expect) in a variety of test media, from stacked cardboard to heavy plastic shipping containers.  The line cutters proved helpful when slicing rope, while the serrated sections made quick work of slicing through lengths of heavy clothesline. I did find that the serrations, coated as they are, performed much better once I scuffed the coating off with a diamond rod, revealing the cutting edges.
From a "tactical" perspective, either knife would prove a vicious stabbing implement. They could hardly be otherwise, given that their design is derived from one of history's most efficient cut-and-thrust military weapons. While they have no "belly" for slicing, the length and angle of the blade relative to the centerline of the knife make each an able cutter.  In self-defense, a man wielding this blade could easily puncture and cut his way through his opponent like a sewing machine, relying on the knife's design to do the worst of the work.
The knives also move very well thanks to the balance afforded by the oversized disc pommel. Ergonomics of the handle slabs are quite good. The micarta handle slabs of the Thraex are nicely textured and the finger grooves improve traction, while the swells of the pommel disc and the integral guard help lock the user's hand between them. (The Desert Legion has rubberized polymer scales, not micarta. I think I prefer the feel of the micarta to the tackier feel of the polymer, but only barely.) In the hand, each blade describes quick, tight arcs and effortless thrusts.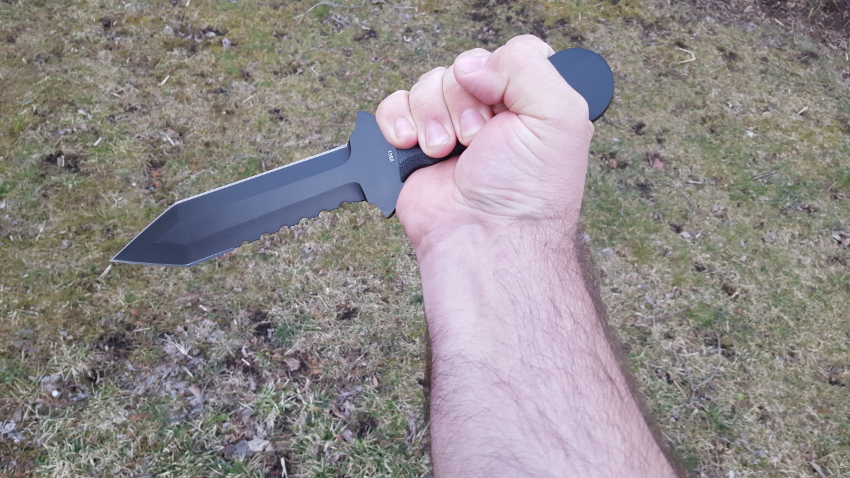 At four inches long, the handles are a little short for my size XL mitts, but I do not find them uncomfortable. Those with smaller hands will probably find the grip just the right length. Handle slabs are removable for cleaning; the knife is designed to be carried and used without the handle slabs in place.
The Future of USGladius in the Tactical Market
Can a knife design based on the Roman gladius truly perform in a general-purpose capacity?  Doesn't the needle tip and double-edged design limit the knife's ability to perform field chores and other non-combat work, compared to more traditional field knife designs?
"Does it?" Wallisch counters.  "Mine works well. I put the cord cutter on it and the serrated edge on one side so you can use it to cut through rope and cord… This knife could serve as a diving knife as well."  Asked whether the needle tip is fragile, Wallisch does not hesitate.  "I've found it not to be. I have a couple that I use outside. I throw them and cut wood with them. I have not found that to be a problem. You can break it if you really try. Throw it against a rock real hard and you might chip the tip."
As for whether he's limiting his blade's potential market by offering only a double-edged version, given the varying legality of double-edged knives, Wallisch is untroubled.  "That's something I didn't know," he admits.  Given the size of the knives, however, chances are good that if a customer can't legally carry a double-edged knife, he may not be able to carry a 12-inch fixed blade anyway.
With multiple knives now in production, it will be interesting to see where USGladius nexts makes an impression. Will the knife take off in "tactical" circles? Will its utility as a cutting and thrusting blade ensure its success? It's too early to tell. The knife certainly has potential. Regardless, USGladius' customers can buy knowing they are purchasing a historically derived design from a man who is as enthusiastic about knives as they are.
"To me, a knife is a work of art," says Wallisch. "It's a wonderful tool. Even the shape of a knife is cool." Given that the appeal — and the patent — of the gladius blades is tied fundamentally to their shape, chances are good that USGladius' buyers will have plenty of reason to offer a "thumbs up"as Wallisch and his team continue bringing their designs to market.