The casual reader of these pages could be forgiven for thinking I am simply a "Bram fan boy," as we have profiled several blades from martial arts and self-defense instructor Bram Frank. One of the reasons for this is friendship and long association; Bram was among the first advertisers at the earliest version of The Martialist. He was also personally supportive of my work, encouraging me to establish what has been a presence in the online "tactical" community since 2003. Most recently, we covered his Magnum Persian folder. The knife you see here is identical to that knife except for the blade shape.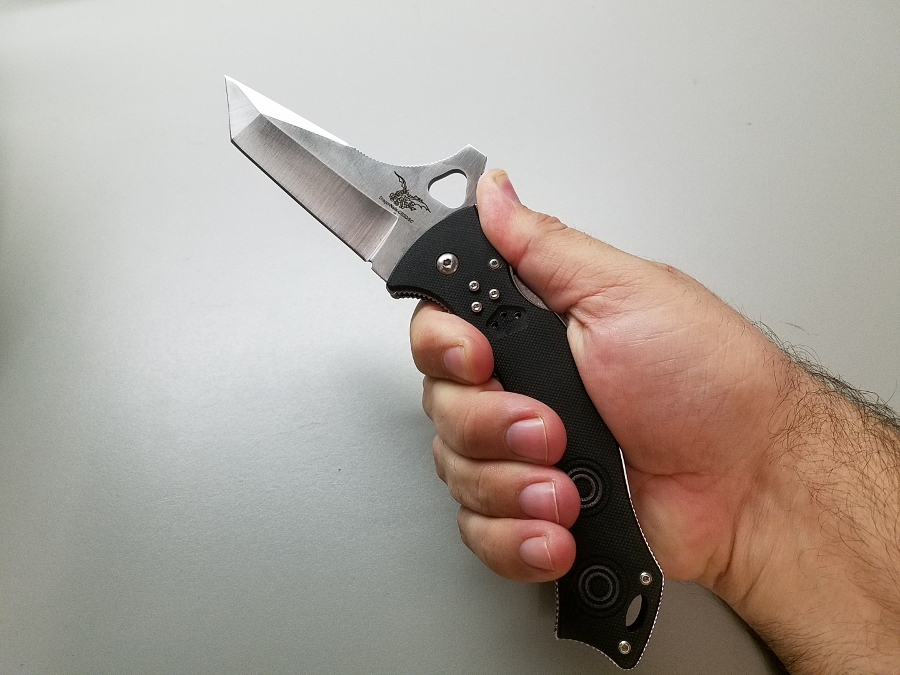 Previous entries in Bram's extensive product line have, over the years, been made by other manufacturers, including Spyderco and Cherusker Messer. Bram has worked hard to make his product line uniform. Like the orderly blocks of a planned city, all his knives fit into a grid of similar product options and sizes. There are fixed blades, there are "standard" sized folders, and there are larger, "Magnum" sized folders. The designs are coherently linked in a way that means you can, if you like Bram's knives, pick up any one of them and find it useful and familiar.
Bram's knives are made overseas in a small factory that Bram says is dedicated to producing his products. He takes a very practical view towards the use of weapons in self-defense, and his training programs reflect this.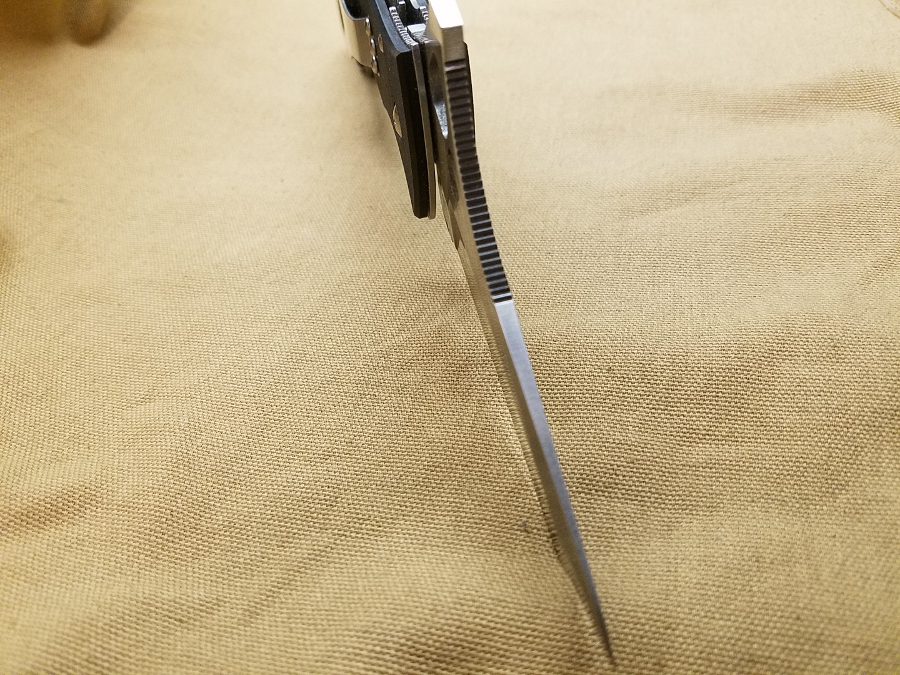 "Human beings are tool users," he says. "Given a choice of 'tool' or 'no tool' we will invariably choose to use a tool. Since tools exist to make work easier and to allow us to function at peak efficiency… we willingly seek out tools to accomplish even the simplest tasks."
The founder of Common Sense Self-Defense/Street Combat, Bram Frank has spent nearly fifty years training in the martial arts. He holds an 8th dan Modern Arnis. Given this, there's no doubt that Filipino martial styles and systems heavily influence his methodology, right to the name of the "Gunting" self-defense knives and tools he first designed years ago. (A gunting, in Filipino martial arts, is a "scissors" maneuver). Over the course of his career he has done a variety of self-defense instructional videos, through companies like Paladin Press and Video Quest, and has been featured in publications ranging from SWAT, Guns and Ammo, Police Journal, Tae Kwon Do & Korean Combative Arts, Filipino Martial Arts, and Tactical Knives.
Like all of the other folders Bram makes available, the tanto comes in two sizes: Standard and Magnum. The sample seen here is the Magnum version. The pronounced ramp, or "Bramp," has two uses: It can be used to open the knife kinetically on an opponent's body (but NEVER on your own limbs, as you could be cut) or, when closed, it can be used to deploy the tool like a tiny hammer or hatchet. In hatchet mode the knife delivers painful, even debilitating strikes and could even be used to facilitate pressure point strikes and joint locks. The butt of the knives is also designed for blunt strikes.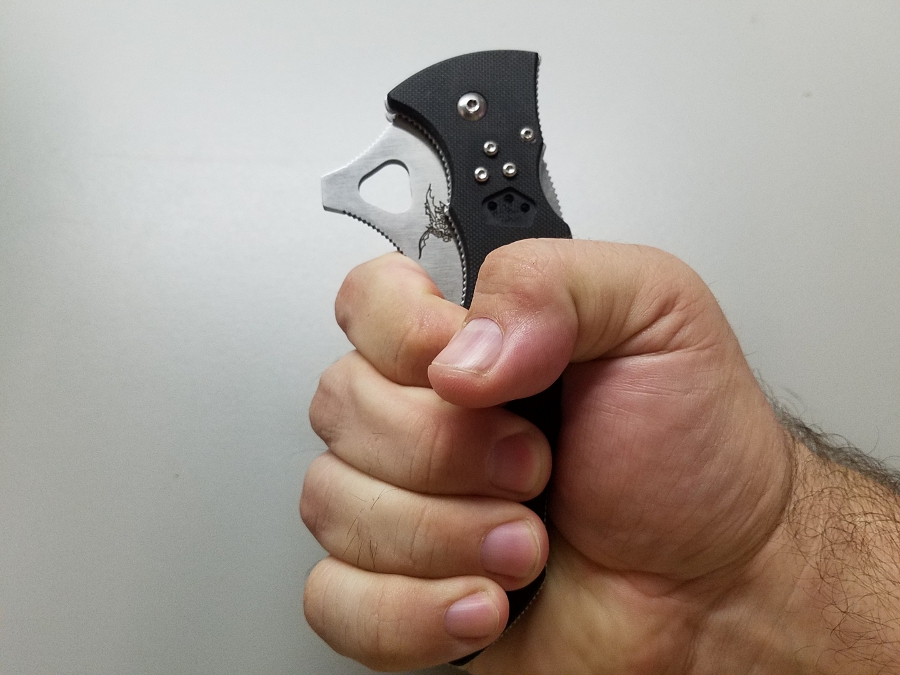 The knives feature multiple indexing points, including the spoon-shaped divot in the pocket clip. The "post in the hole" indexing circles are intended to facilitate grip changes, in fact. There is also a triangular hole in the Bramp for more conventional one-hand opening. The pocket clip is reversible for right- or left-hand use, oriented for tip-down carry only. The handle shape is marketed as "bio mechanical" for ergonomics and retention under stress, allowing a locked three-finger grip similar to what you might use on a firearm.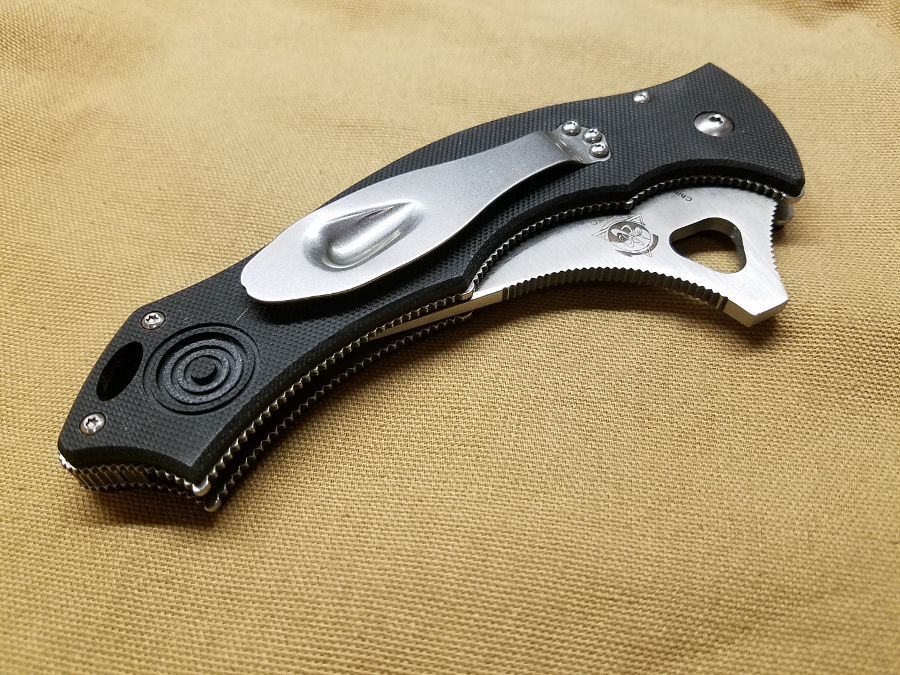 The Magnum-sized LLC tanto is six inches closed. The blade is four inches. Blade steel is 8Cr13M0V steel, the Chinese equivalent to AUS-8, hardened to HRC 56-58.
Handle scales are G10, which (combined with the jimping everywhere) provide excellent traction. Fit and finish is good, with no blade play. The blade opens smoothly and locks positively. I have always found that position for the lock a little awkward to disengage with one hand, but with practice I'm getting better at it (and, full disclosure, I haven ever been a student of Bram's system specifically).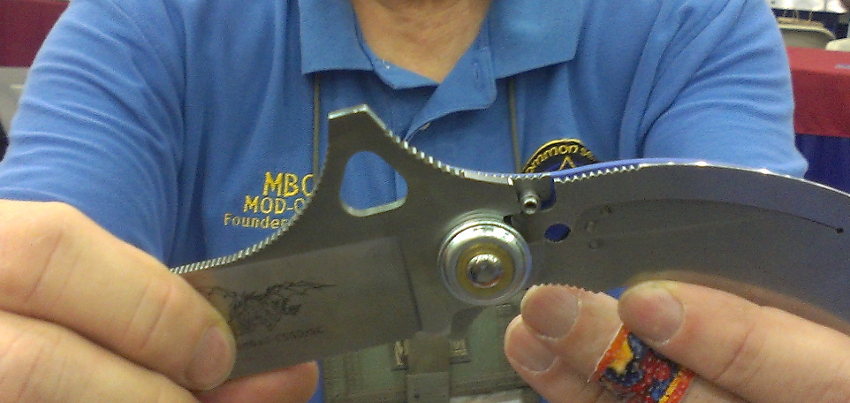 The liners are hardened steel, while the dual-access pivot pin is polished. The "compound puzzle lock" is a dovetail joint-into-blade arrangement similar to the "compression lock" found on some other knives. (The lock is actually an improvement on the compression lock, as it features a stop pin for, as Bram puts it, "Mr. Murphy." It looks like nothing so much as a liner lock in the dorsal, rather than the ventral side of the handle.
The tanto blade was nicely sharp out of the box. It scrapes easily and hacks deeply. The primary tip is needle-sharp and penetrates as well as any tanto does. By that I mean that driving this relatively thick blade profile into any target requires a certain amount of brute force. Given the heft of this knife, though, it's all about brute force. This is a beast of a blade and I feel very well armed indeed when I carry it. Of course, the large size overall also makes the knife very comfortable for my hands. I wear a size XL glove and some smaller knives are simply too small to be comfortable for me.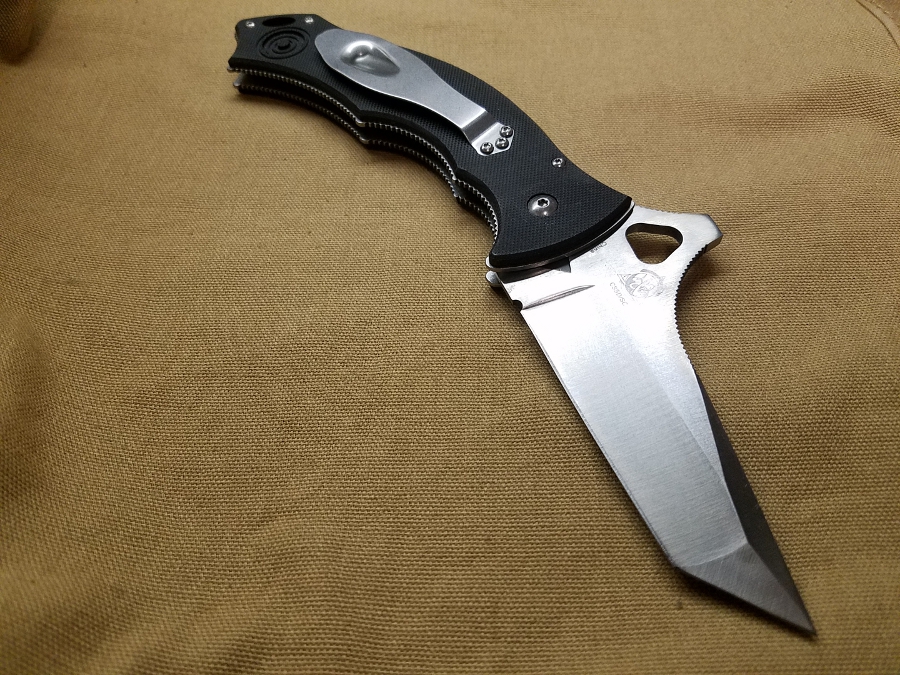 As you would expect, Bram offers a red-handled, unsharpened tanto drone for training. It's the same knife for all intents and purposes, making it perfect for practice. Bram also offers standard and magnum sized CRMIPT2 tools. These are impact devices marketed to law enforcement. The Close Range Medium Impact Tool is the latest incarnation of a device that, like Bram's knives, has been around for years, and which is already in use with a Florida police department. Bram's knives are color-coded by design: red for trainers, blue for the impact tool, and a variety of color options for the live blades.
"I'm trying to make a modular family of knives, regardless of whether they are fixed or folding," Bram explains. It is this philosophy that drives every new entry to his product line.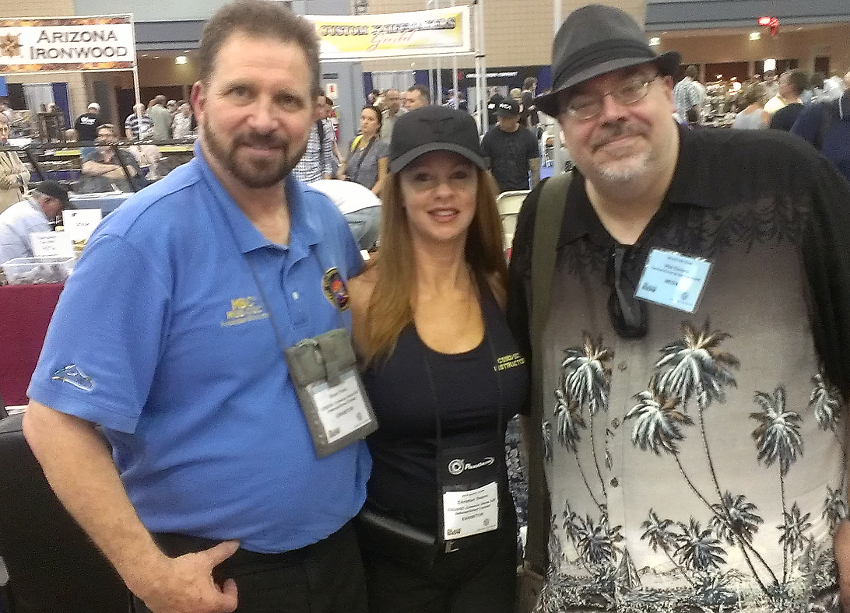 My Magnum Tanto has become my go-to self-defense weapon for when I travel in some of the more… interesting… areas of the cities where I live and work. I'm extremely pleased with it, but then, I knew I would be. When you've reviewed other knives in Bram's product line, there are no surprises in the latest iteration. These are well-thought-out tools that work, work well, and serve the user as intended and designed.