Previously in The Martialist I have covered the innovative #RedTeam marketing campaign for gear and lifestyle manufacturer Delta2Alpha. The company's product line includes the H2Sierra folding tactical knife, gear hanger and impact tool TheMark, a neat little EDC utility pry tool and bit driver called TheLolly, and a smartphone and tablet stand hook called TheMik. We've not, until now, covered TheMik, which has become a favorite of mine (thanks to a burgeoning smartphone addiction), but all the other products have been mentioned in these pages. It was with interest, therefore, that I took delivery of new versions of these tools — which were excellent before, but which have continued to improve.
I'll start with the practical aspects: Delta2Alpha sent me a rubber trainer version of TheMark which I've found incredibly useful. I've become a huge fiend for trainers over the years, assembling an entire plastic tote of "fake knives," rubber pocket sticks, and other training implements. Having the ability to safely train with a force multiplier so you can work out the body mechanics of using the tool is incredibly helpful, particularly in the beginning stages of training when you lack adequate control. A good trainer saves you as much as it does your partner; when working with weapons, there is always a certain degree of danger to the user as well as to those around you.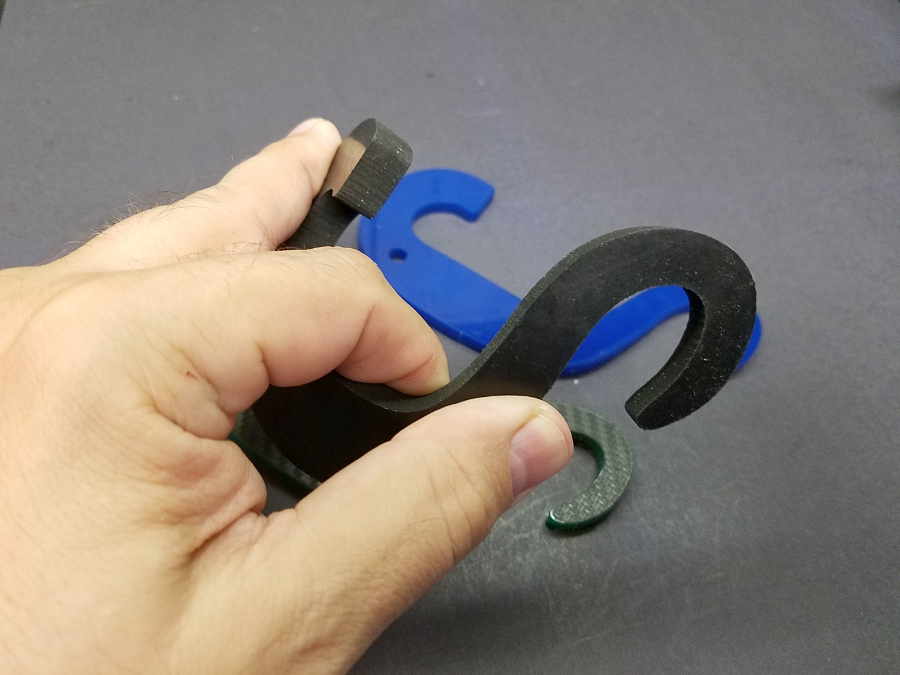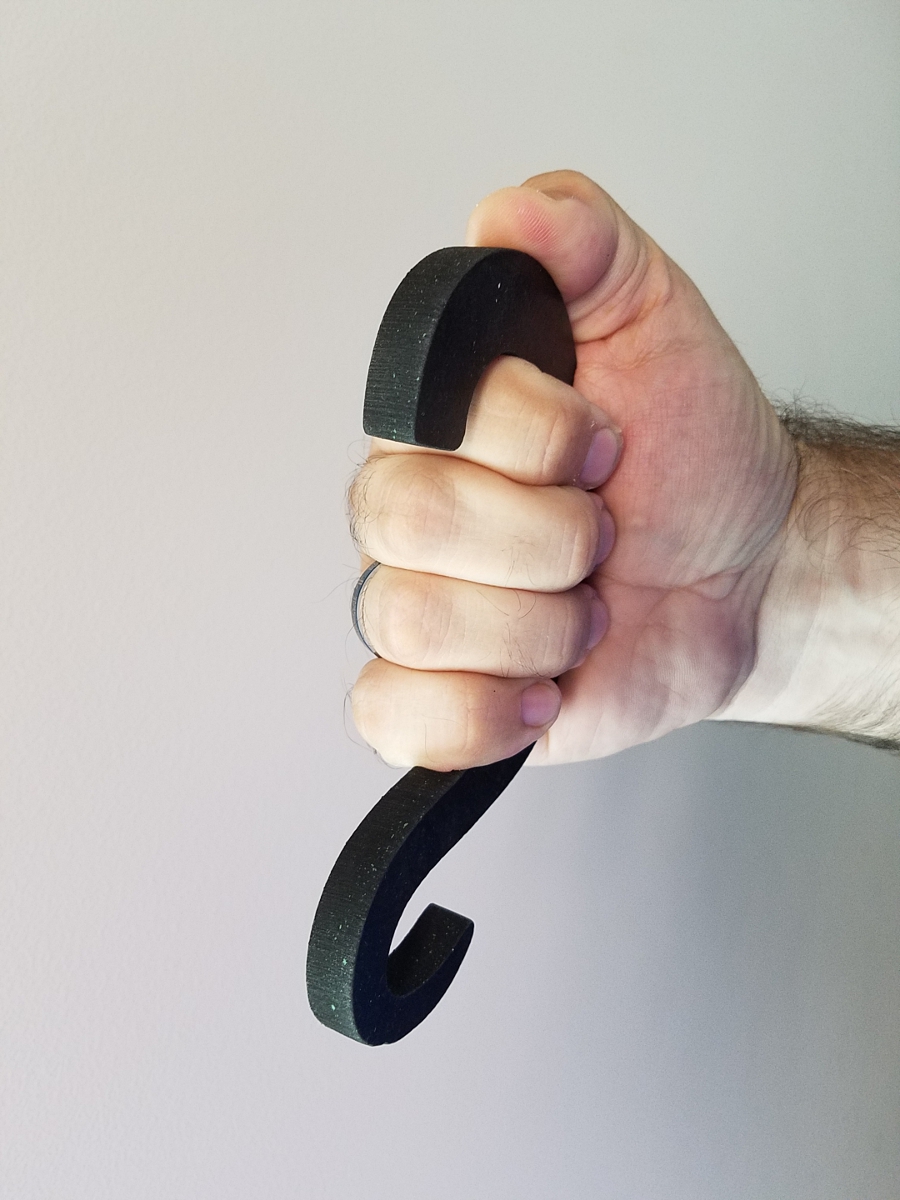 I'm a firm believer in the utility of improvised and purpose-built impact tools. TheMark serves in this capacity very well and has the advantage of being a great utility tool besides.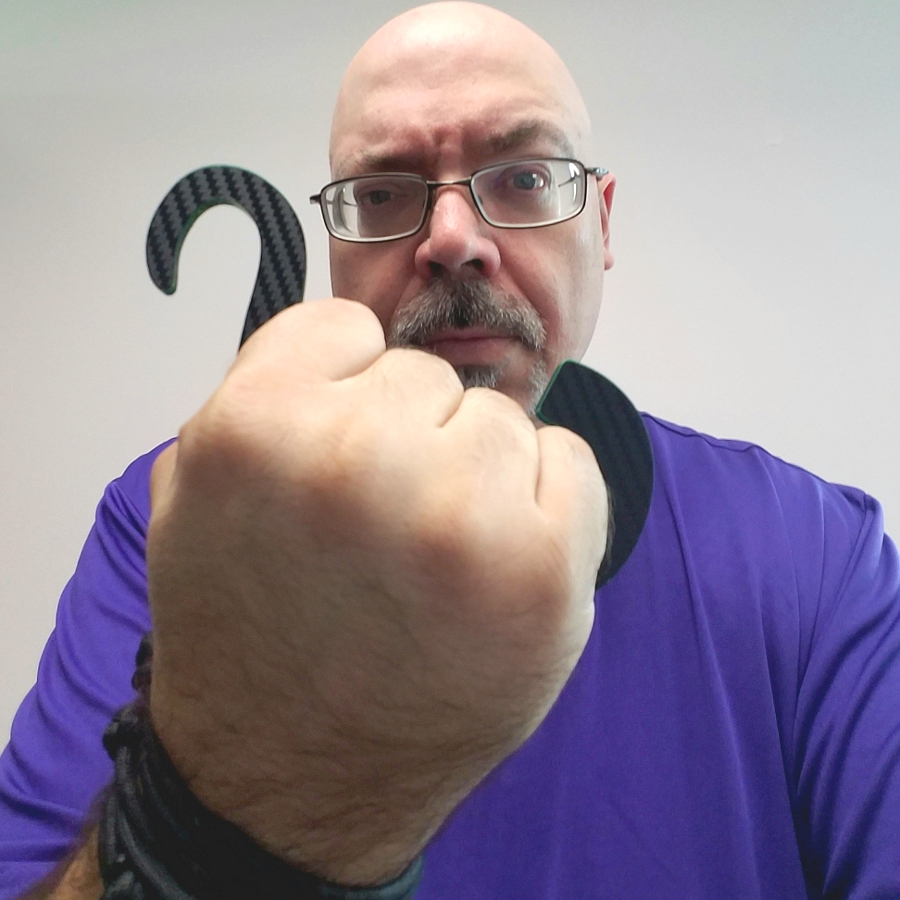 What really turned my head, though, were the new "Accent Series" versions of TheMark and TheMik. It makes no logical sense because the aesthetics of the tool do not affect its function. I nevertheless find myself wanting to carry "the pretty ones" when selecting gear for my Jack Bauer bag or my pockets. The Accent series consists of tablet stands and impact tool/gear hangers that are of  laser-cut acrylic with a vinyl carbon-fiber-style car wrap over it. While the tools don't do anything "new," as such, they are dramatic in appearance and somehow more appealing for it.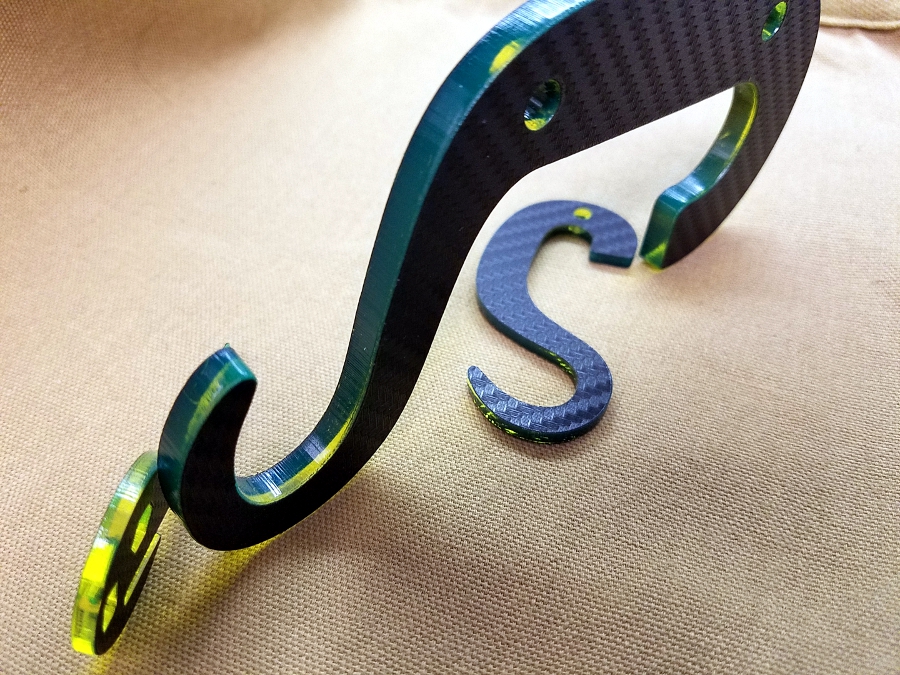 Material changes, however, have also enhanced the function of TheMark. Original versions of TheMark were HDPE (high-density polyethylene), chosen for its high strength-to-density ratio. The newest opaque version in my hands is G10 (silica-based fiber composite). It's more rigid and even stronger than the original, meaning it hits harder as an impact tool and can hold more weight when used as a hanger. I use my daily carry HDPE TheMark for this purpose all the time, as I commute long distances and regularly make use of public restrooms (which don't always have a place to hang my stuff).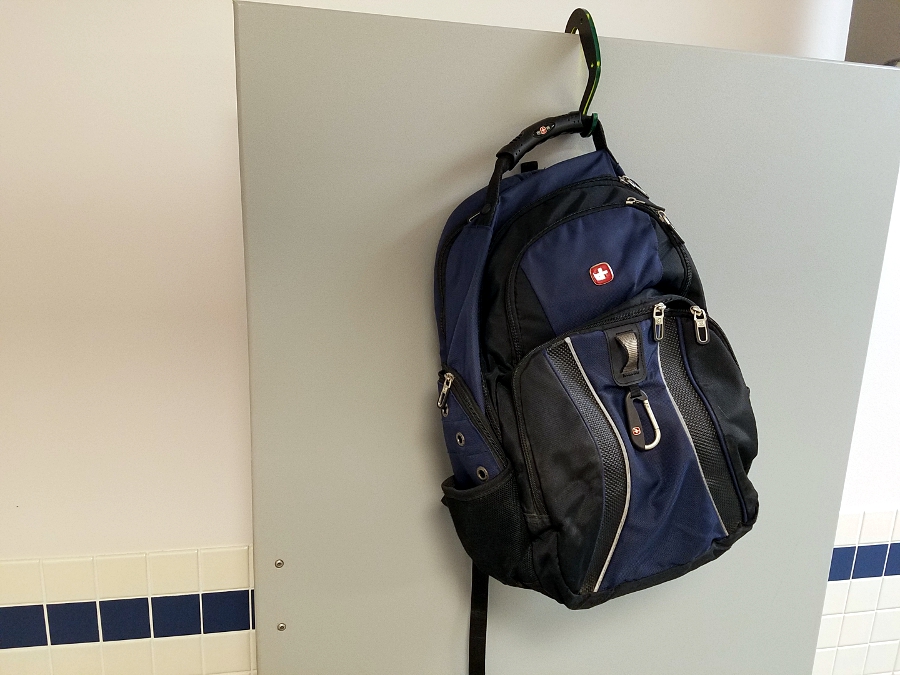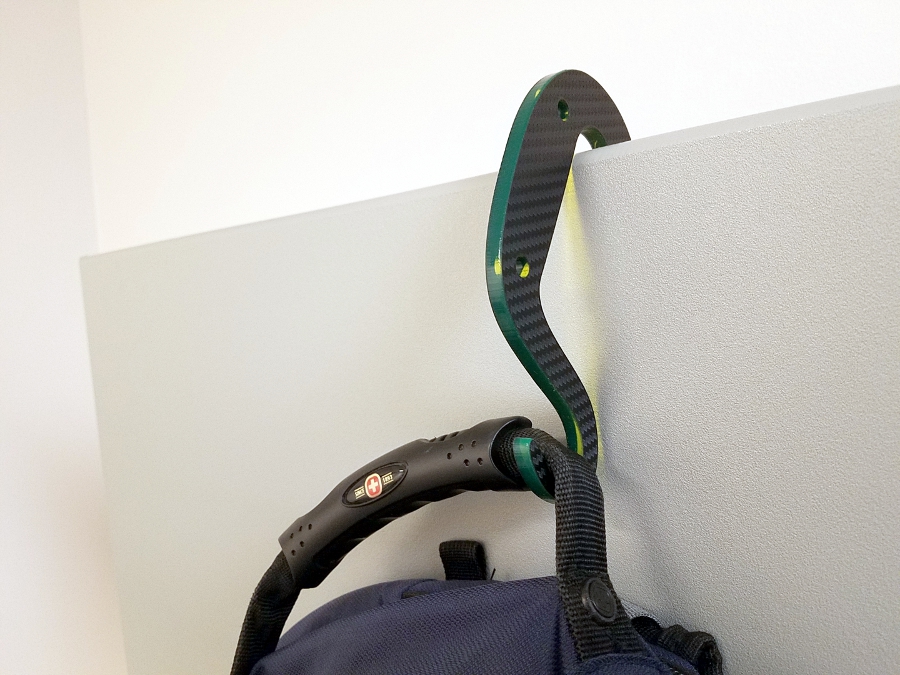 The newest versions of TheLolly I was sent (in Phantom Grey and Predator Clear) are laser-cut from cast acrylic. According to Delta2Alpha's Tumblr account, "TheLolly was developed as a 'fingernail saver' pocket prybar and scraper that will be less likely to leave scratch marks [on metal gear]. TheLolly "also features a ¼" bit driver." Subtle design innovations have been made to the original design, including the addition of a slot for tucking TheLolly into a waistband or the lining of a garment.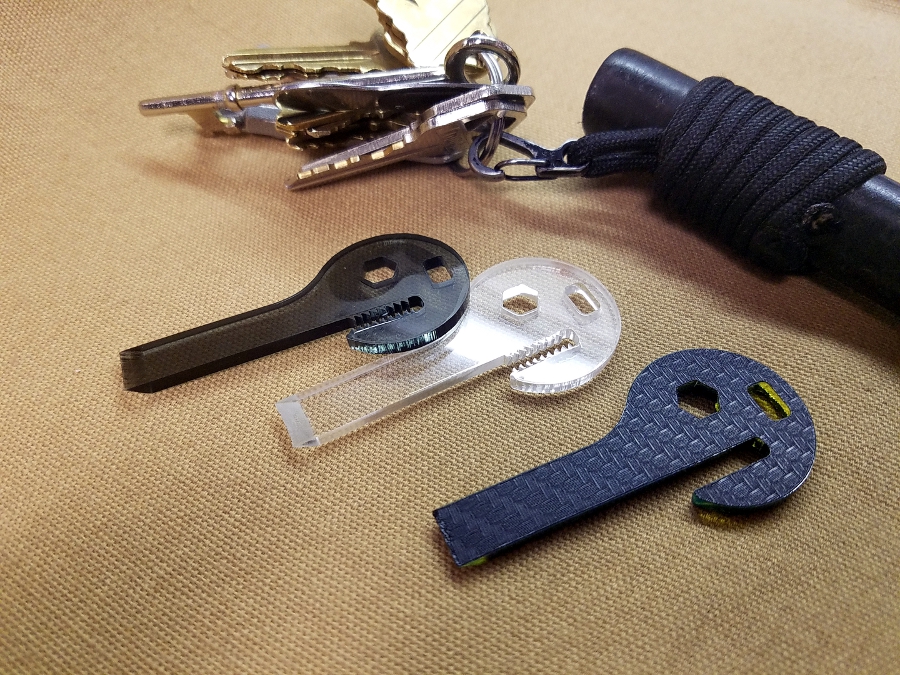 Acrylic-only versions have saw teeth in this slot (not available on Accent versions because of the material over-wrap) for more "grab" when tucking TheLolly into a waistband. The bit driver feature remains a welcome one and has been part of the tool since its inception. I have a lot of little bits floating around for various tools, so I find this quite useful. I am also amused by the occasional request I see online for a metal version of TheLolly, which would defeat the purpose of a prying tool that won't scratch your gear too much. You already own a metal pry tool; it's called a screwdriver.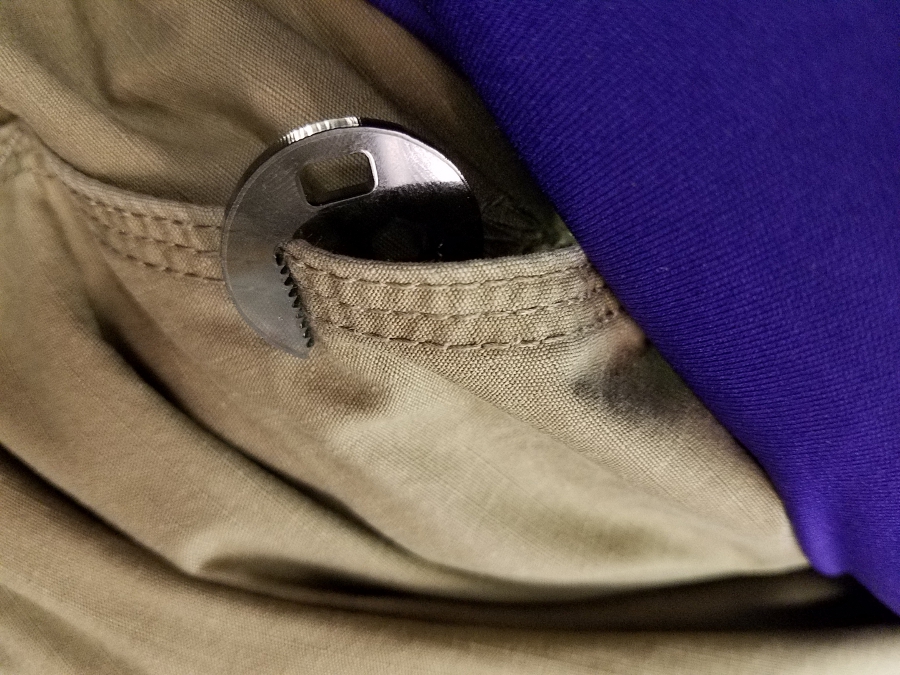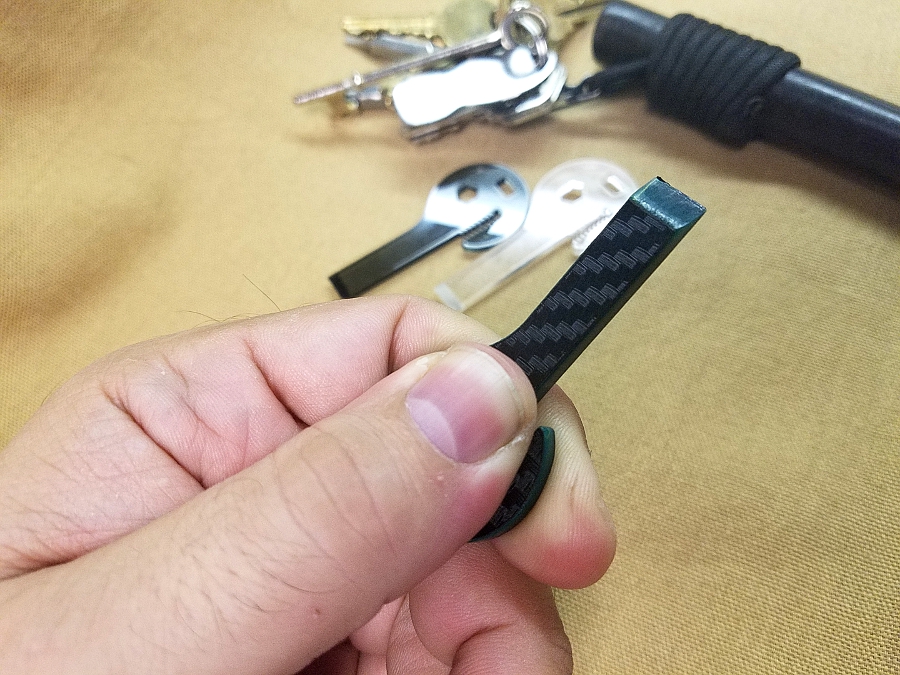 Of all the Delta2Alpha products I now own, I'm getting the most use out of TheMik. Thanks to a good wireless connection I use my smartphone to watch television and streaming programming online. The mobile feature is important because I tend to set up the phone wherever I'm working, be it in the Engines Of Mayhem lab or in my office. TheMik lets me set up my phone or tablet wherever I want, yet it is small enough and unobtrusive enough that I can carry it everywhere. It is conveniently sold in packs of two, so I keep one in my pocket and one in my bag. Of note is the fact that TheMik is not an impact tool, nor is it intended as such. It's simply too small and light to be of much use in that regard — which is the point. It's meant to fit on your keychain and go anywhere that you go.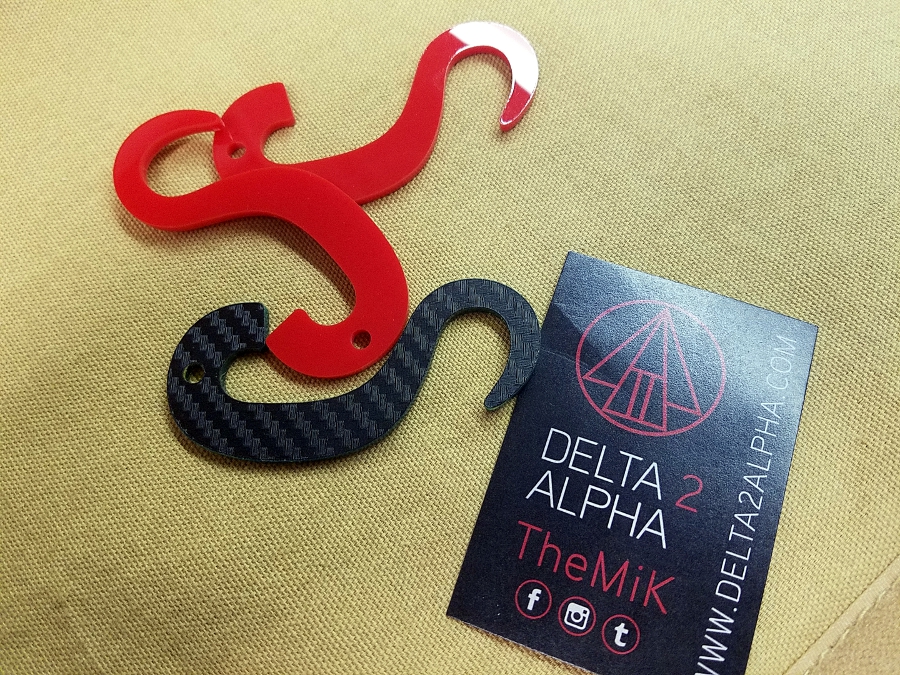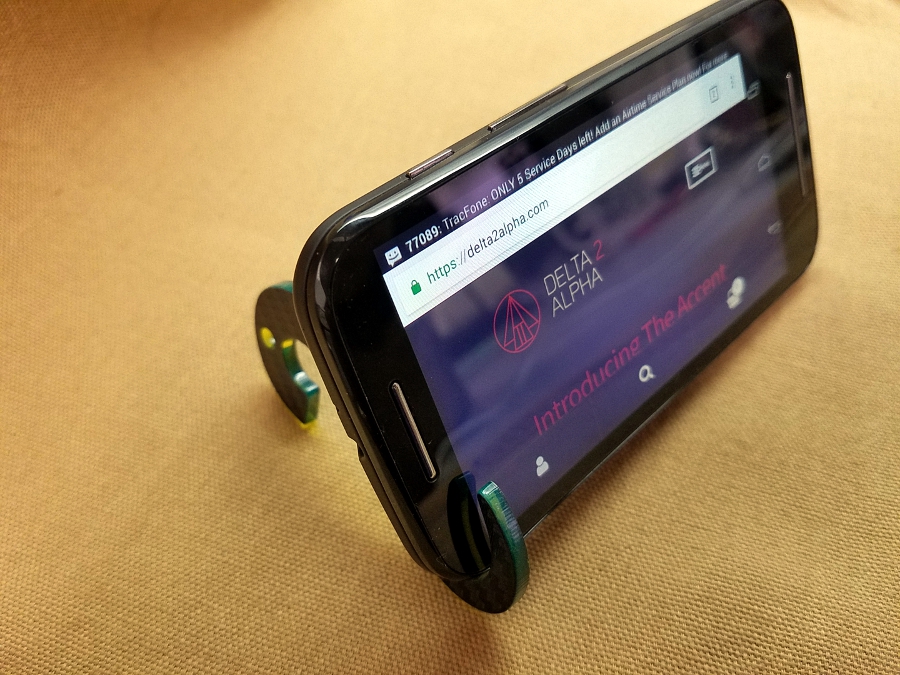 I could not be happier with my Delta2Alpha products. They are well thought out, executed nicely, and exhibit good fit, finish, and overall quality. If experience is any guide, however, Delta2Alpha is never satisfied with "good." They are always making their products better — and I eagerly anticipate their future offerings.